Several years back, when Seton Rossini was working as an associate design director at Food & Wine, she started a blog, Pixel Whisk, chronicling her adventures in baking. Then, one day, out of the blue, prestige publisher W.W. Norton came calling.
"One of the editors said to me, 'I love your blog,'" recounts the Annapolis resident. "'What do you want to write for us?'"
The result is Sweet Envy: Deceptively Easy Desserts, Designed to Steal the Show, Rossini's love letter to sugary stuff, from Limoncello Tarts to Irish Cream Marshmallows. Her dedication to desserts started early on.
"I come from a family of five," explains Rossini, who wrote, designed, photographed, and illustrated the book. "My mom made a hot meal every night, but she wasn't into sweets."
Her mother, did, however, give her daughter free rein in the kitchen. "I would bake anything I wanted, whenever I wanted," Rossini recalls.
And while the Parsons School of Design grad's creations might look difficult to duplicate, baking neophytes should give it a go.
"These recipes do not require double boilers or candy thermometers," she explains. "I've tried to make the techniques as simple as possible. You should never spend an entire day slaving away in the kitchen. Most of these recipes are the fastest possible route to the most beautiful desserts."
---
Tips & Tricks
Follow Rossini's simple tips for confectionary conquest.
1. Ugly cake still tastes great: "This tip came from celebrating my mother's birthday," says Rossini. "She spent forever making the cake and it fell on its way to the table. She scraped it off the ground, cut away the part that touched the floor, then cut it into slices and used more icing before serving. Each person was served an individual slice. No one ever knew. People only saw a pretty slice on the plate."
2. Measure for measure: "Liquid measuring cups are different than dry measuring cups," says Rossini. "Know the difference. It will make a big difference in the success of your project."
3. You can't sew a silk purse . . . "The most important thing in baking is using good ingredients," says Rossini, "especially full-fat butter. The fewer ingredients, the more important it is that they are high-quality."
---
Recipe: Rocky Road Cookies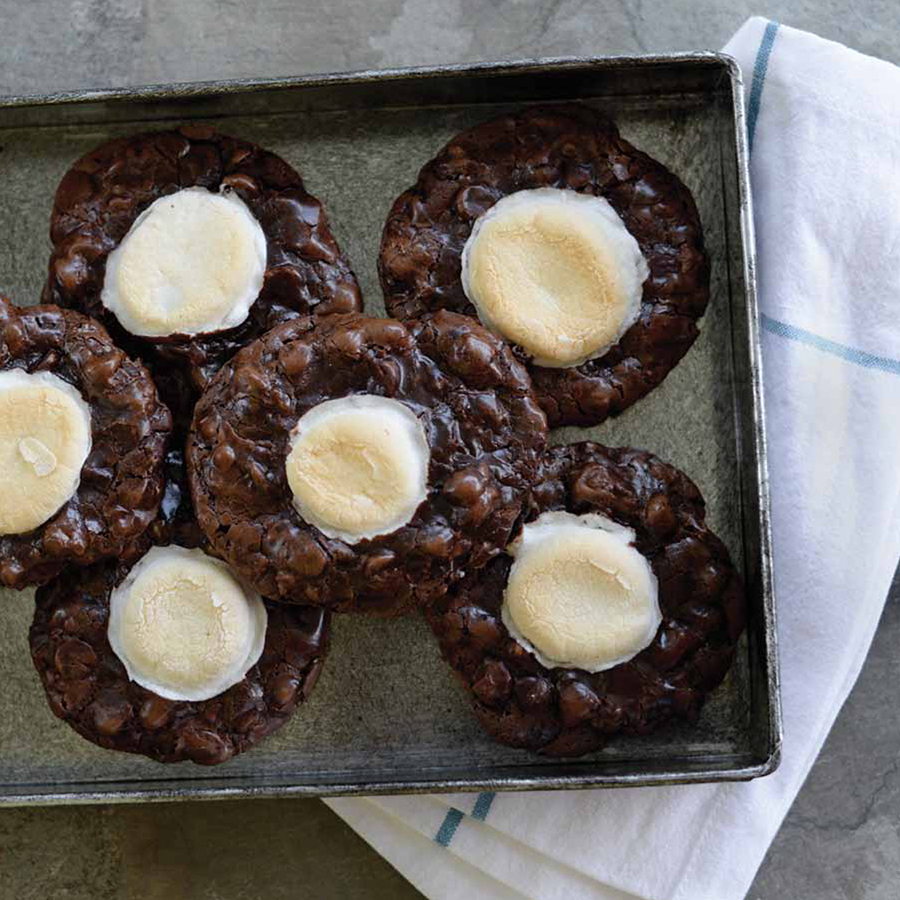 These flourless, gluten-free goodies can be concocted in 10 (or less) minutes. "They have very few ingredients and they're easy and delicious," Rossini says.
2 ½ cups confectioners' sugar
1 cup unsweetened cocoa powder
¼ teaspoon salt
1 teaspoon instant espresso powder
3 egg whites
1 teaspoon vanilla extract
¾ cup semisweet chocolate chips
¾ cup chopped walnuts
6 large marshmallows, cut in half with kitchen scissors
Preheat the oven to 350°F. Line two baking sheets with liners or parchment paper.
In a large bowl, whisk or sift together the confectioners' sugar, cocoa, salt, and espresso powder. Mix in the egg whites and vanilla until smooth and no lumps remain. Add the chocolate chips and walnuts, stirring until fully incorporated and dough is gooey. Use a cookie scoop to drop round balls of dough on the baking sheets. Leave about 2 inches between cookies. Press a marshmallow half firmly into the top of each dough ball. Bake the cookies for 10 to 12 minutes, or until the marshmallows are nice and toasty on top. The cookies will look shiny and cracked. Cool slightly before eating. Makes one dozen cookies.
Photos from Sweet Envy: Deceptively Easy Desserts, Designed to Steal the Show by Seton Rossini. Copyright © 2015 by Seton Rossini. Reprinted by permission of W.W. Norton & Company.
---
---