2016 Holiday Gift Guide
Colorful gifts for everyone on your list.
By Lauren Bell | Photography by David Colwell - December 2016
---
RED
Help everyone on your list paint the town red with these great items.
---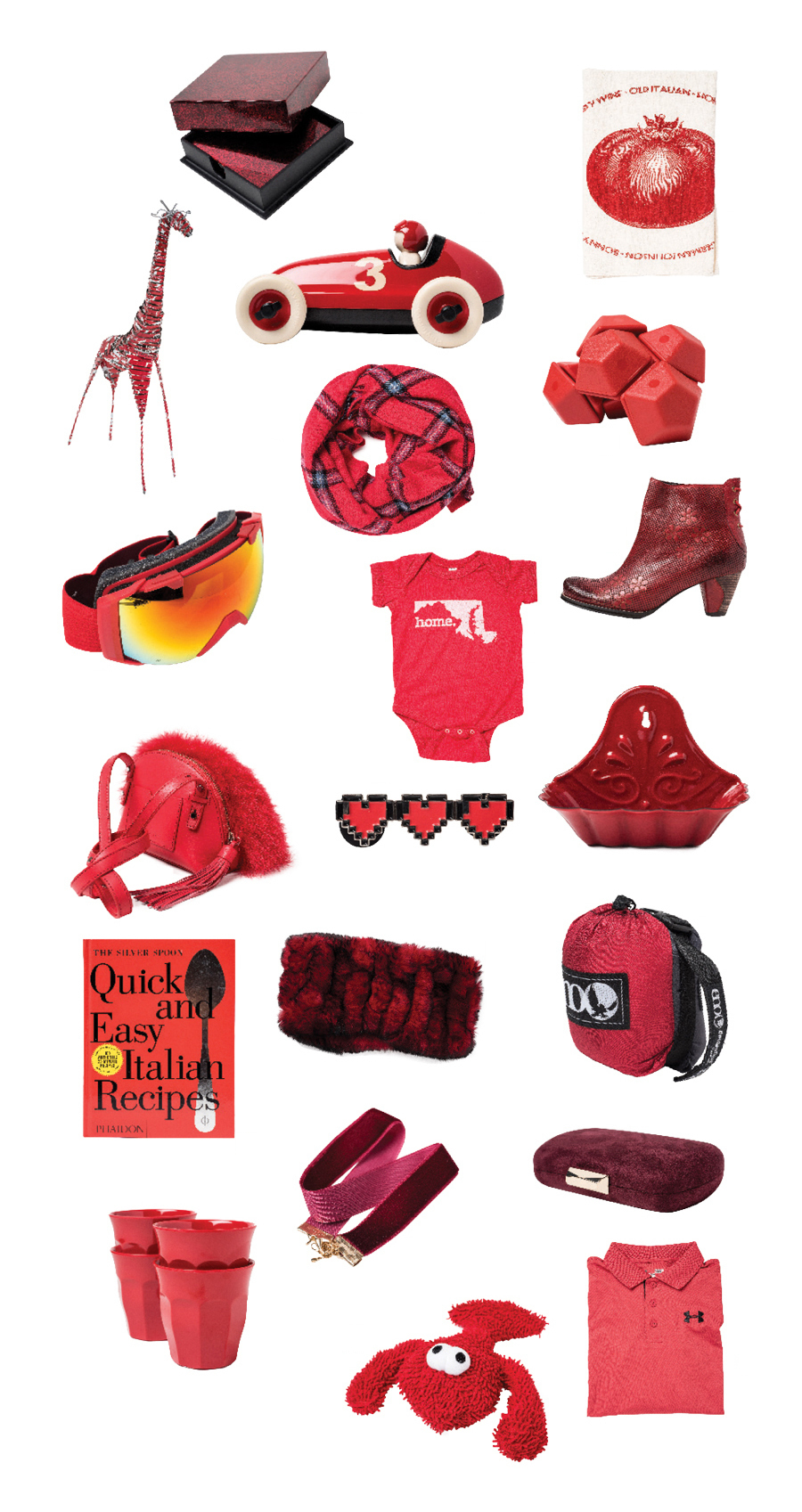 Give A Little
Celebrate the true meaning of the holidays by donating to those in need. We guarantee the good cheer will be contagious.
Needs: Travel size toiletries, chapstick, hand sanitizer, body spray, sweaters/sweatshirts, new underwear, socks, and hand warmers. Deadline: No later than Dec. 20. Address: 17 W. Franklin St.
Needs: Gifts for our Adopt-a-Family program and Holiday Wish List. Deadline: No later than Dec. 20. Address: 2201 Argonne Dr.
Needs: Items for men and women. New or gently used coats, toiletry kits, gloves/scarves/hats/socks. Deadline: No later than Dec. 20. Address: 620 Fallsway.
Needs: Gifts for adults such as: Christmas stockings, socks, gloves and hats, toiletries, household products, pillows, pillowcases, sheets (full size), blankets, and pots and pans. Address: 1010 East 33rd St.
Needs: Children's gifts such as Legos, Barbies, and arts and crafts. Grocery gift cards, gift certificates for events. Deadline: No later than Dec. 20. Address: 520 W. Lombard St.
---
BLACK
Back to black with these great gift options for the person on your list who is never out of style.
---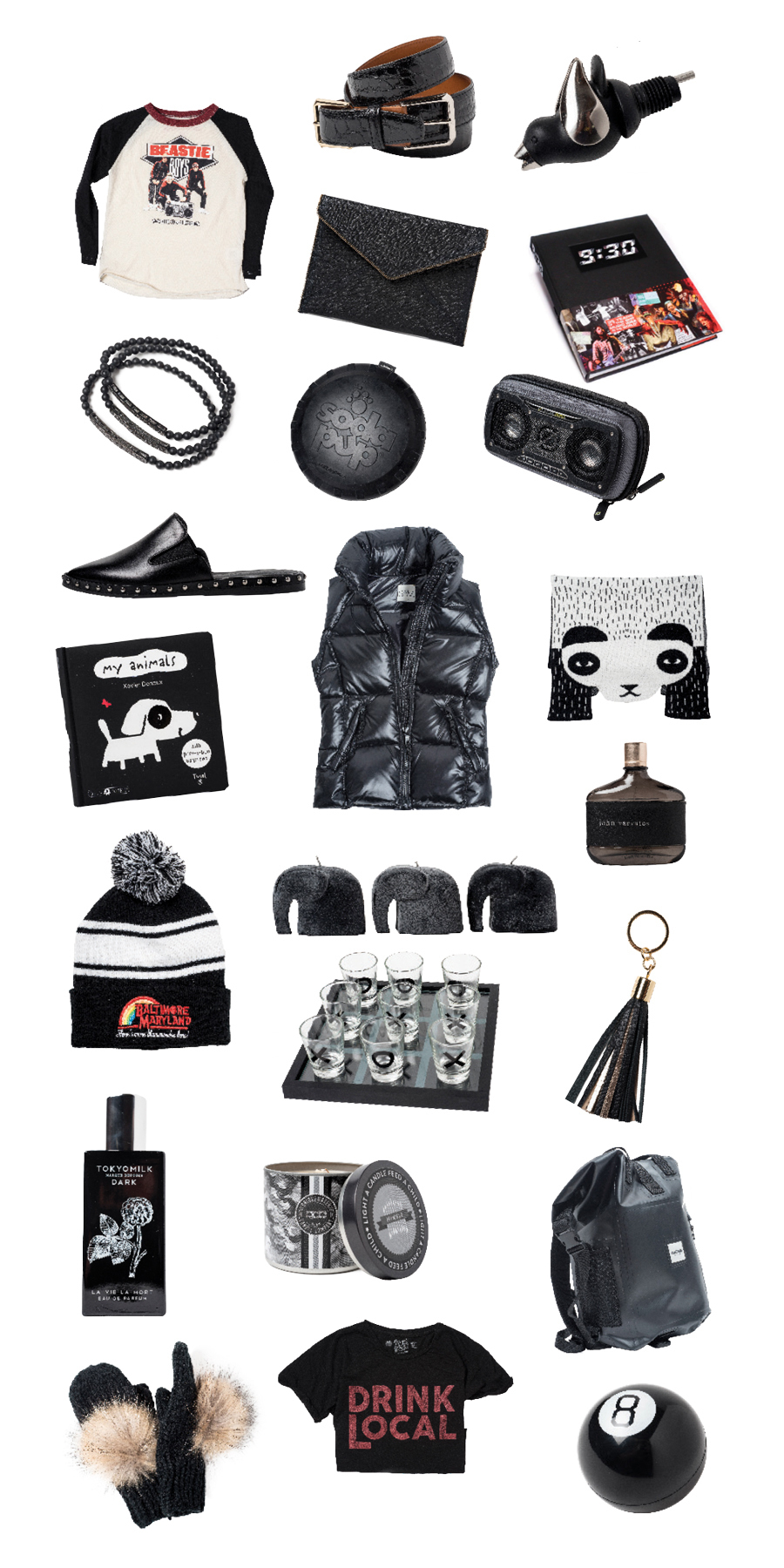 ---
GREEN
It may not be easy being green, but it is easy to find a great selection of green gifts.
---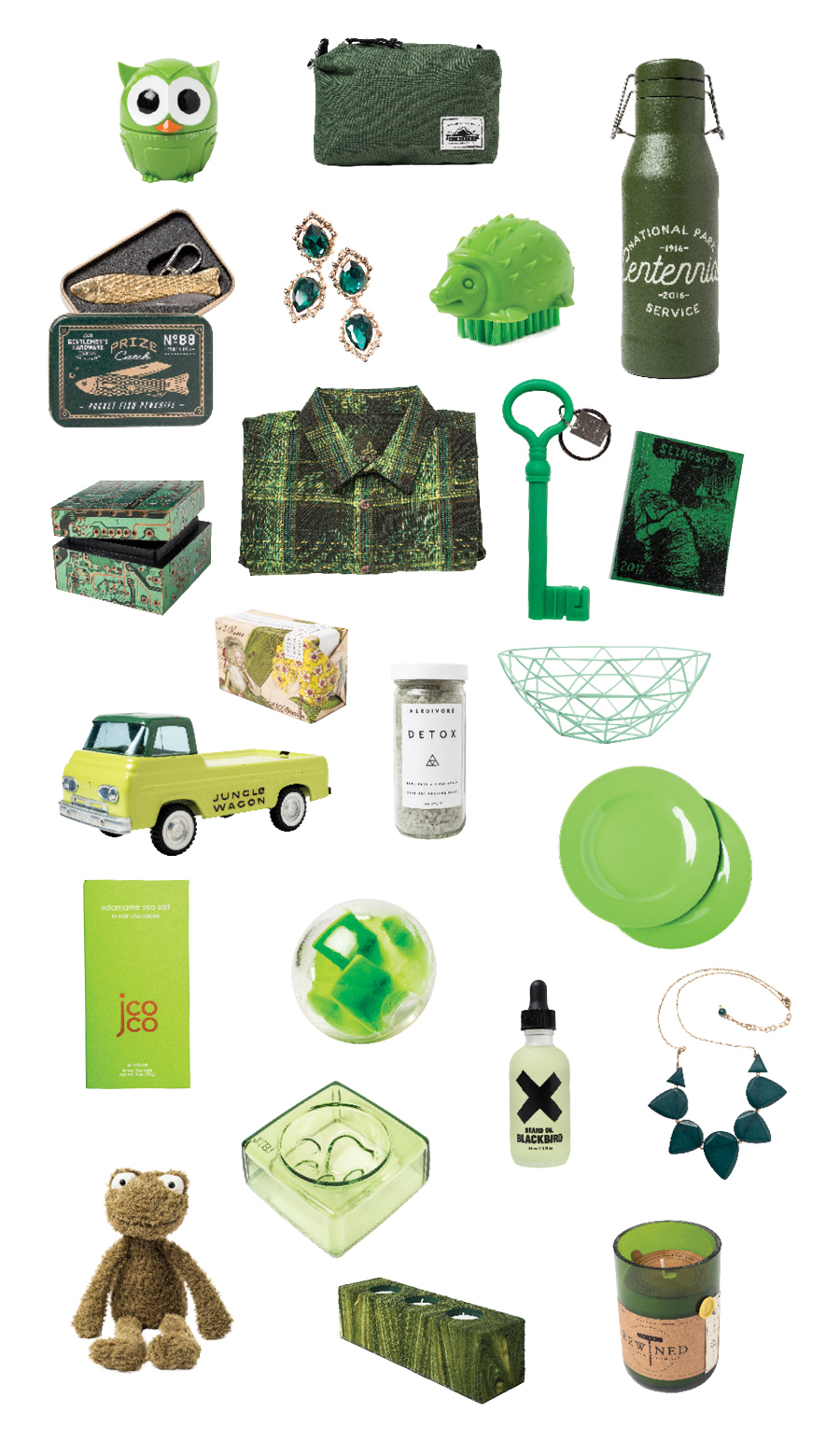 Outside the Box
As the holiday season nears, it's hard to not get swept up by the whole gift-giving extravaganza. Go a different route this season and give the gift of experience. Whether it's fulfilling an item on a bucket list or something new entirely, an experience gift is the perfect gift for all on your list.
For the Thrill Seeker
There is no better way to get your heart pumping than to jump out of an airplane 18,000 feet in the sky. The adrenaline junkie in your life will definitely be up for the challenge. 3536 Aldino Road, Churchville, 410-734-4888; 8209 Town Center Dr., White Marsh, 667-888-4359
For the Struggling Cook
For the friend who can't seem to cook anything other than ramen—Baltimore Chef Shop is calling your name. From soups and risotto to crepes and macaroons, choosing from the multitude of classes they offer is easy as pie. 807 W. 36th St., 443-759-4291
We all have that one classy friend in our lives who prefers to drink wine with a pinky in the air. This swanky friend deserves a wine tour ASAP and Vino 301 is the gift that keeps on pouring. 301-807-2683
For the Instagram-famous hipster who is one with nature, give them the opportunity to document their travels with a National Parks pass. With more than 2,000 recreation in the U.S., they'll be on the road faster than you can say trail mix. 410-252-5920
We all know that one die-hard Maryland enthusiast who doesn't even live here anymore. They miss the Old Bay Seasoning, the UTZ Potato Chips, but most of all the variety of flag themed attire. To help ease the pain of living elsewhere, give the wonderful gift of Baltimore with Baltimore in a Box. Feel free to pick and choose from a list of Baltimore inspired goodies to send to the friend who wishes they still live here.
---
PURPLE
Purple reigns supreme. Whether you're a fan of the home team, or simply a fan of this royal hue, we have the perfect gift you.
---