Though she hails from Wilton, Connecticut, and has only lived in Charm City since 2012, Sue-Jean Chun, who cofounded the local small-batch food fest, The Emporiyum, is one of Baltimore's biggest boosters. 
"People in Baltimore have this crazy Baltimore pride," she says. "I love how Baltimore feels like a small town with a real sense of community. This city is amazing, and I love the crabs."  
As the child of hard-working immigrant parents who ran a family dry-cleaning business, Chun and her siblings were schooled early in Korean-kitchen basics. "I watched my mom cook, and I can remember helping her out in middle school," says Chun, "but when my older sister started driving, we were in charge of everything, from grocery shopping to cooking." 
That was no easy feat for such a complicated cuisine. "Korean food is all based on side dishes," says Chun. "My mom would carve out several days a week to make several side dishes. Every night, there's a main entree like a roasted fish or Korean barbecue and beef—usually a sliced short rib you'd marinate and eat it as a lettuce wrap with lettuce and rice and sauces. But on top of those dishes you'd always have the kimchee—one or two kimchees such as steamed sautéed garlic spinach and bean sprouts. There were always a lot of dishes." 
Chun learned to cook beyond kimchee while attending Middlebury College, where she worked as the co-head chef at the school's student-run restaurant. "There was no budget," she recalls. "We could order whatever we wanted, and since I'd never had the ingredients to cook solid American and French dishes, for me, it was a total blast."  
In those college years, Chun—who now, along with overseeing The Emporiyum, does publicity for big-name restaurant groups (Foreman Wolf) and mid-Atlantic chefs (Erik Bruner-Yang)—took quite seriously the task of feeding some 88 starving students every Friday night. 
"My goal is to encourage Josephine to be an adventurous, studied eater," says Chun.
"The menus could range between shrimp and grits on some nights to a three- to five-course night with duck breast and glazed cherries," says Chun, who also has enjoyed stints as a publicist for Kwiat Diamonds and L'Oreal Paris.  "We even did a lobster night. Working there was my first real food job."
And though she enjoyed branching out, the married mother of 19-month-old Josephine likes keeping the Korean kitchen of her childhood alive. "I crave Korean food every day," she says. "We eat it three or four times a week. My go-to's right now are vegetable fried rice, whether with chicken or shrimp or some sort of protein. Whatever I cook, I embrace each season and try to keep the food wholesome and clean."
Another staple is Chun's recipe for spicy sweet-potato soup. "This is a soup I make for the whole family," she says. Chun's version is a little East-meets-West. "This is a riff on a dish Koreans love to do using kobucha squash," she says. "My mom uses acorn squash or butternut squash. They make something called hobakjuk, which translates to 'squash porridge.' I grew up eating this. I add sweet-rice powder at the end, and it gets really thick—almost porridge-y oatmeal. This is a more Americanized version with sweet potatoes." 
Feeding Josephine, says Chun, has helped her and her husband, Paul, become more conscious about what they eat. "We eat healthier because of her," she says. 
While Chun says that seeing her daughter eat the soup that she ate with her own mom is a point of pride, her ultimate goal is for Josephine to have an eclectic palate. Says Chun, "My goal is to encourage Josephine to be an adventurous, studied eater who can appreciate all types of food."
---
Spicy Sweet-Potato Soup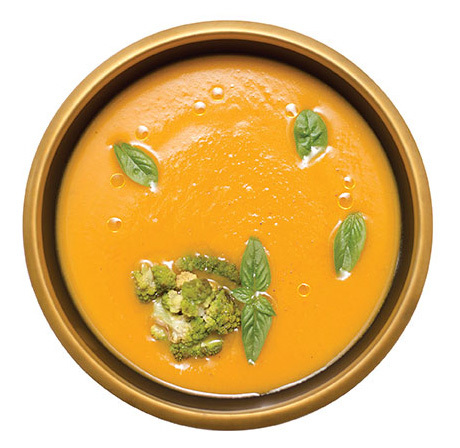 Ingredients
2 tablespoons olive oil
1 large onion, diced
2 garlic cloves, minced
1/4 teaspoon gochugaru (may substitute with crushed red pepper if need be)
Coarse sea salt
Ground black pepper
2 large sweet potatoes, peeled and diced
1 large apple, peeled and diced
6 cups vegetable stock
Optional toppings: shrimp, chicken, granola, cooked vegetables, freshly grated cheese
Directions 
Heat the oil in a large pot over medium heat.   Sweat the onions, garlic, gochugaru, a heavy pinch of salt and a turn of freshly ground black pepper. Cook and stir frequently until softened, about 6 minutes.   Add the sweet potatoes and apples. Stir to combine. Add the stock to the pot and turn up heat to high. Get soup to a boil and then lower the heat and simmer until potatoes are tender, about 30 minutes. 
Turn off heat and let cool.  Carefully purée the soup in a powerful blender or use a hand blender. If you want that restaurant-quality, smooth texture, pass the soup through a fine sieve or mesh strainer.   Optional: Top with shrimp, chicken, granola, cooked vegetables, or freshly grated cheese. 
---
---