What started as a solution to her newborn daughter's extreme discomfort has turned into an adorable and functional baby clothing brand. Natalie Feild created and nurtured Softsie as it has grown from its roots in Baltimore to reaching families worldwide. Even celebrities like Katherine Heigl and Kim Richards have dressed their little ones in these cooling-infused onesies. We sat down with Natalie to learn more about the growing brand.
How was Softsie created?
Natalie Feild:I was on maternity leave in the Fall of 2014 with my first daughter. She was about six or seven months old and developed severe eczema. It got infected and was only getting worse. One day I was putting lotion on her and I thought to myself, "I wish this lotion was just in your clothes." I wondered if anything like that was on the market. When I found out there wasn't, I set out to create it myself.
---
⇓ Article continues below ⇓
---
What makes the fabric unique?
NF: The fabric is incredibly soft and organically infused with aloe vera, jojoba oil, and Vitamin E. The ingredients are deeply embedded into the yarns of the fabric and only released when touched by human skin. It offers comfort, antioxidants, and anti-inflammatory properties so it gently nourishes and protects babies' skin and it's made right here in the U.S.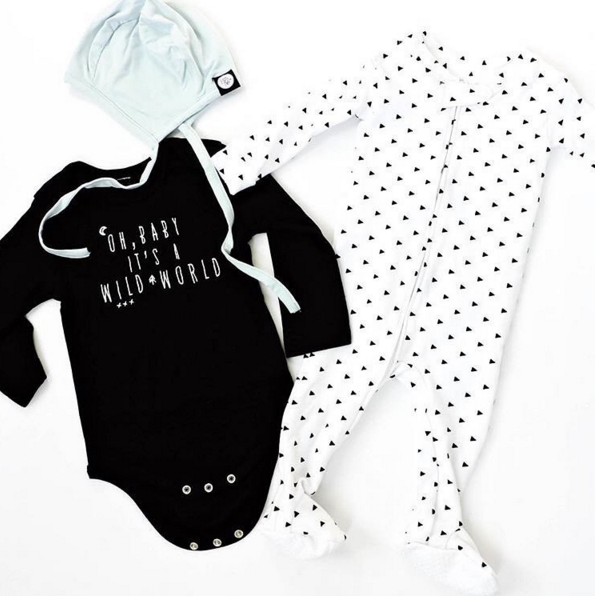 What do you enjoy most about owning Softsie?
NF: The fact that this all started with my own daughter and that I could bring her some comfort and happiness when she was struggling. Now I get to bring that to so many other little ones and families, it fuels my passion to grow this business. 
Where do you see Softsie headed? Any new designs or products in the works?
NF: Right now I'm working on a new print for the holidays that will be launching this fall. I have so many other ideas for new products like sheets, socks, and larger sizes—even sizes for adults.
How did you come up with the patterns?
NF: I knew I wanted to have gender neutral patterns and colors that are modern, different, and fun, not the typical baby blue and baby pink. In terms of print, the first few came to me while doodling. I was at a restaurant drawing these sketched stars and I took a picture of it and sent it to the fabric mill. That was the birth of that print.
Did you always know you wanted to start a clothing brand?
NF: I have vivid memories of being a little girl and dreaming of starting my own business.I knew that I would only start a business if it were the right time and the right idea. At first, it was initially to help my daughter but then it organically grew into this idea that grew into a product and now a brand.
---
---