Allison Robicelli had zero intention of moving from Brooklyn to Baltimore. "You have this view that New York is the center of the universe, and I was taught that from birth," says the Brooklyn-born-and-raised Robicelli. "I was like, 'Why would I ever leave New York?'" 
But after enduring the rat race of running a successful bakery business, dealing with difficult customers, and putting in grueling 90-hour work weeks, she had second thoughts. "It was like 1,000 little cuts," she says. "We felt trapped in the city, and it was only getting more expensive. I went on Facebook and said, 'Someone give me a reason to stay in New York.'" The responses surprised her. "The reasons to stay were bagels and pizza, but I got 100 responses, all from friends, saying, 'Get out!'"
So, on a lark, the James Beard Award-nominated writer and her husband, Matt, made their maiden visit to Baltimore in October 2015.  "I had a friend who had just moved back to Baltimore," recalls Robicelli, "and she said, 'I'm so happy here.' When we spoke, I was like, I know the Yankees played there, but I had never been to Baltimore."
The duo fell hard—and fast. "We drove around from neighborhood to neighborhood, north to south and down Charles Street," she recalls. "What got us were the small businesses in Hampden and the fact that there was a record store there, and then there was this woman playing the tuba as she hung off the side of her house and started talking to our kids. The soul of where we'd been living was gone—it's what we missed in New York, but found in Baltimore." By August 1 of 2016, Robicelli's birthday, they had relocated to Charm City.
---
Cranberry Mocktail
Ingredients
8 ounces cranberry juice
½ teaspoon ground cinnamon
¼ teaspoon clove
¼ teaspoon ginger
¼ cup sugar
 8 ounces apple juice
12 ounces Mobtown Fermentation apple spice kombucha
Directions
In a medium saucepan, combine cranberry juice, cinnamon, clove, ginger and sugar. Bring to a boil, stirring to dissolve sugar, and remove from heat. Cool completely.
In pitcher or carafe, mix cranberry syrup with apple juice and kombucha. Pour over ice and garnish.
---
In fact, Robicelli, now a Pigtown resident with Matt and their two sons, Toby, 10, and Atticus, 9, has become such a booster of Baltimore that she's already written 111 Places in Baltimore That You Must Not Miss about her newly adopted city, including the food scene, of which she has become a fast fan. "The food scene here shows so much promise, and there's room for experimentation," says Robicelli, who features The Charmery, Chaps Pit Beef, and Hoehn's Bakery in her book. "It reminds me of the creative spirit we came into Brooklyn with. There are people here who have really found their voices, like Avenue Bakery and Dovecote Cafe."
Robicelli first found her own voice—and calling—in her teens. "It was a friend's birthday, and I said, 'I should make a cake,'" she recalls.  "And another friend was like, 'You can't make a friggin' cake,' and, I was like, 'Watch me, asshole.' So I made a cheesecake and it wasn't terrible, then I got into a thing where I was like, 'I'm going to bake a cake for every one of your birthdays.'"
Shortly before her 21st birthday and while still a student at The New School, Robicelli was diagnosed with Stage IV Hodgkin's lymphoma. She found herself with tons of time on her hands between treatments.
"I thought, 'I can sit here and cry and let cancer have this year, or I can have this year,'" she recalls. "I got into reading about cooking, and then, when I got better, a neighbor said, 'You should do this for a living.'"
---
Pumpkin Kasekuchen
Ingredients for Dough

¾ cup whole milk, scalded and cooled to room temperature
½ cup unsalted butter, melted
4 cup all-purpose flour
½ cup sugar
2 teaspoon kosher salt
1 package instant yeast
2 eggs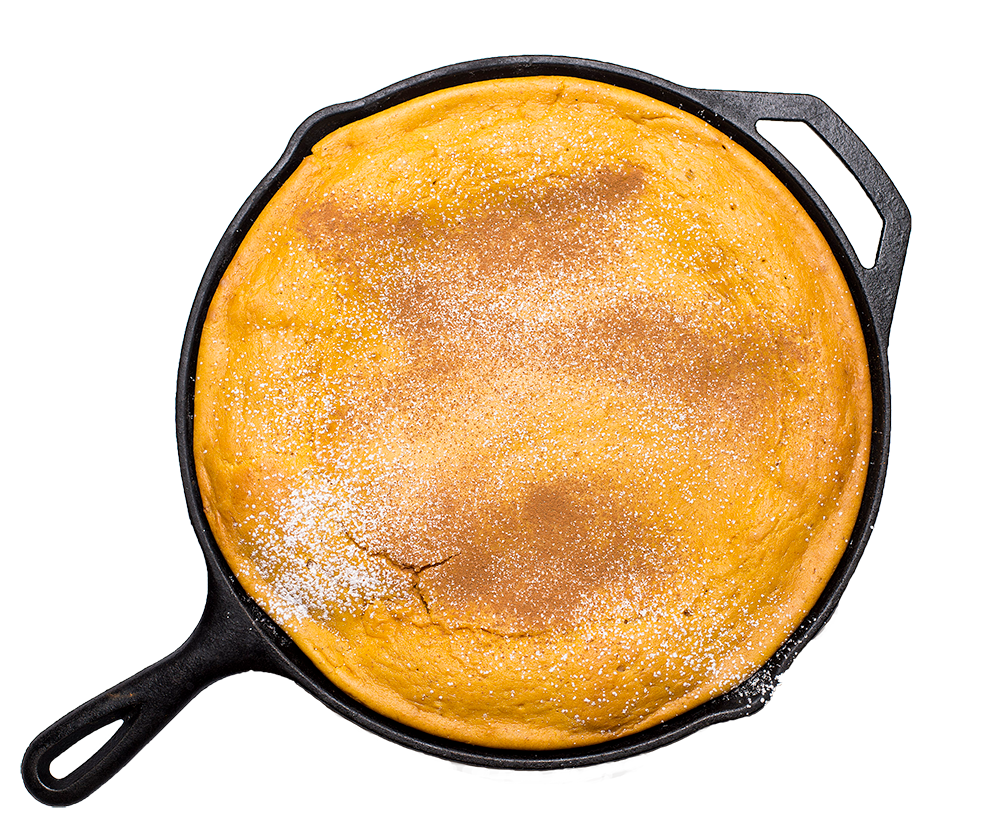 Ingredients for Filling
1 stick unsalted butter, room temperature
⅓ cup brown sugar
2 eggs
1½ cups cream cheese or Farmer's cheese
1 small can pumpkin
2 teaspoon cinnamon
1 teaspoon vanilla
3 Tablespoon cornstarch
½ cup Confectioners sugar
Directions
Combine the milk, sugar and yeast in the bowl of a stand mixer. Let sit until yeast begins to bubble, about five minutes. In a measuring cup, whisk together the eggs and the melted butter.
Add flour to the bowl and place on the mixer equipped with the dough hook attachment. Turn to medium for one minute, then slowly stream in the butter and eggs. When it begins to make a dough, add the salt. Continue to run the mixer until the dough becomes shiny and forms a ball that does not stick to the side of the bowl. Take the bowl off the mixer, remove dough hook, and cover loosely with a kitchen towel or plastic wrap. Allow to rise in a warm place until doubled, about 90 minutes. (Note that this can take longer or shorter depending on the heat of your kitchen.) When dough has doubled in size, punch it down to deflate. Lightly grease a large cast iron pan or skillet with butter, then press dough across the bottom to make the bottom crust. Set aside, loosely tented for another hour. Alternatively, you may wrap the dough in plastic and refrigerate it overnight until ready to use.
Preheat the oven to 375.
In the mixer, cream the butter, sugar, pumpkin and cheese together. Scrape the sides of the bowl to make sure the mixture is smooth, then mix in eggs and vanilla.
Once again punch down the yeast dough, using the bottom of a glass to flatten. Pour the pumpkin mixture evenly across the cake. Using a mesh sifter, evenly distribute the cornstarch across the top of the cake, then place on a rack in the center of the oven. Bake for 35-45 minutes until just a bit jiggly on top.
Let cake sit for at least 30 minutes. Dust top with powdered sugar before serving.
---
"The soul of where we'd been living was gone—it's what we missed in New York, but found in Baltimore."
Robicelli worked in New York neighborhood restaurants and also catered, including one gig for the grandson of President Theodore Roosevelt. "On my block, everyone was always sending food to each other, and that's how we learned," she says. "You got excited when the Greek woman down the block was making cookies or the Polish people were having a party. We were middle class and I could never afford to travel, but with cooking, I could travel the world in my backyard."

With their beloved bakery, which featured hundreds of whimsical flavors of cupcakes (and mad cooking skills evident in the dish and drink like the ones on these pages), the Robicellis were a fixture on the New York food scene and have fast made their mark here.

With all the growth and development in Baltimore, Robicelli is hoping that Charm City will be able to maintain its many charms. "We got gentrified out," she says of why she left Brooklyn. "I won't have any part of it. We want the underdog. We put the work into Brooklyn to make it better—and then, suddenly, we didn't exist. We want other people to come see Baltimore and invest in it, and that will give meaning to what we did. People are so proud of Baltimore, and they make me proud of it, too."
---
Butternut Panzanella
Allison Robicelli's Butternut Panzanella features items from two of the writer's favorite local haunts. "The panzanella highlights the rolls from Avenue Bakery and the bacon-stuffed bacon from Krakus Deli," she says. Serves 6

Ingredients
1 tablespoon sugar
3 tablespoons olive oil
½ teaspoon salt
4 ounces Boczek parzony i faszerowany Polish bacon from Krakus Deli
 6 "Poppy's" Rolls from Avenue Bakery
2 large shallots
1 ½ tablespoons Dijon mustard
4 tablespoons balsamic vinegar
⅓ cup olive oil
5 ounces baby arugula
1 ounce fresh sage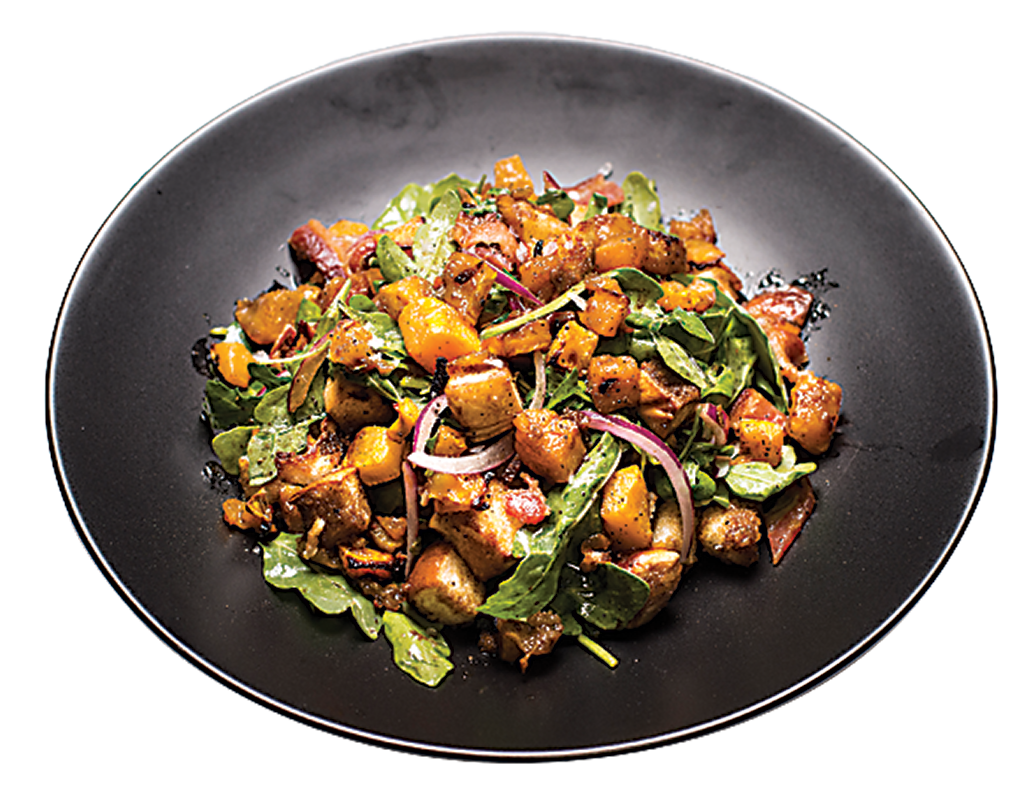 Directions
Preaheat oven to 400 degrees. Line three sheet pans with parchment or aluminum foil.
Peel butternut squash, scoop out seeds, and cut into 1-inch cubes. Toss with sugar, 3 tablespoons olive oil, ½ teaspoon kosher salt, and freshly cracked pepper. Spread in a single layer on baking sheet and roast for 40 minutes, flipping squash over halfway through the cooking process. Set aside to cool completely. 
Slice the Boczek parzony i faszerowany into strips and arrange evenly on the other sheet pan. Roast until crispy, between 10-15 minutes. While that is cooking, prepare the croutons. Cut the Poppy's rolls into rough 1-inch pieces and spread out on the third baking sheet. After the Boczek comes out of the oven, pop in the rolls and bake until dry and crisp.
Finely mince one shallot and add to a large bowl with Dijon mustard and balsamic vinegar. Slowly add olive oil while vigorously whisking to make the dressing.
Place the arugula in the bowl with the cooled butternut squash and croutons. Slice the remaining shallot into thin pieces, thinly chiffonade the sage, chop the Boczek, and add everything to the bowl. Toss for at least a minute to make sure all the ingredients are well coated with dressing and butternut squash. Allow to sit for at least 20 minutes before serving.
---
---