When you hear the term "pole dancing," the idea of achieving your fitness goals may not be the first thing that comes to mind. But Tegan Williams, owner of Xpose Fitness in Parkville, is looking to change that. After owning her studio for four years, Williams has taught countless students (ranging in age from 18 to 65) that pole classes have similar benefits to yoga and pilates and that they can be an amazing core and upper body workout. We decided to try it for ourselves and talked with Williams about her inspirational beginning, surprising clientele, and breaking down certain stigmas.
How did you get started at Xpose Fitness?
Out of grad school, I set a weight loss journey for myself. After I accomplished that goal, I was just looking for yet another challenge. I found Xpose Fitness on Groupon, and I just decided to try it. Surprisingly, I ended up really loving it! I became an instructor after about a year. Then, a year or so after that, the current owner approached me about purchasing the business, and I've owned it for almost four years now.
What kind of classes do you offer?
We offer five different levels of pole classes where we use isometric exercises to strengthen and tone. Our pole fit class is an all levels class where there's no routine. You just work on strengthening. There's also floor/chair, which is a combination of yoga and pilates moves with exotic dance. Tricks and spins is also an all levels class where there's no routine, but it is more individually focused, so you can come in and let the instructor know which move you want to work on or improve. Our sexy stretch class is pretty similar to yoga, but it involves more active stretching. Finally, there's our x-fit class, where we mainly use exercise balls and bands.
What is the recommend attire for classes at your studio?
It's a little different for each class—anything you are comfortable moving in is fine. We do recommend barefoot or socks for sexy stretch and floor/chair classes and tennis shoes for x-fit. Heels are not really required, but if you would like to wear them, there are certain heel specifications we follow. Additionally, you can purchase heels at our studio if you'd like. For pole classes, we recommend above-the-knee shorts because skin helps you stick to the pole.
Who typically attends these classes?
We have mostly women, but we do have some co-ed classes. The typical age range is 18 years old to 65 years old. However, if you're older than 65 years and you still want to come, I'd say come on and try. There are modifications for you.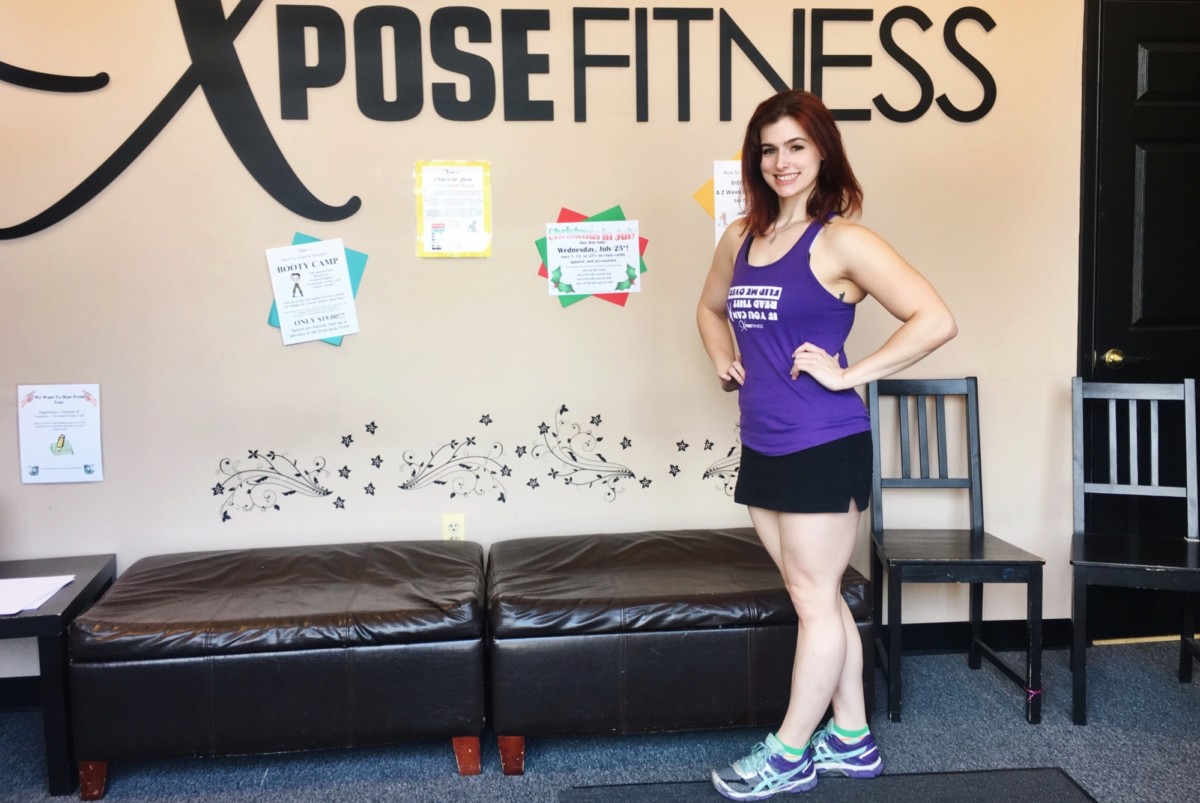 Tegan Williams at Xpose Fitness. -Karmen Osei
How do you make people who've never taken classes like these before feel comfortable?
We really try to make personal connections. I always try to introduce myself to everyone that pops in the class. If you are nervous, I understand, you can bring a friend. In pole, a lot of people are really nervous because it is really different. We encourage people by reminding them that it is about them and their journey, and everyone else is on a different journey.
What are some of the exercise benefits?
You are definitely strengthening your arm, abs, and back. Even though we don't have a lot of cardiovascular classes, any repetition of a movement is going to give you some heart-healthy benefits.
Do you have any success stories of clients?
We have a couple of clients that have been attending for about 13 years. They are some of the strongest women I know. They keep coming back because they love the way the feel. Other clients have lost weight from the classes, and some are training for competitions.
But I think my favorite success stories are the little ones. I had a client who doubted she could ever invert. I encouraged her to keep coming in and trying. A week after, she accomplished it. I have a lot of clients that have doubts here and there about if they can do a particular move and I always tell them, Wwe are just going to keep working on the muscles that you need for it.'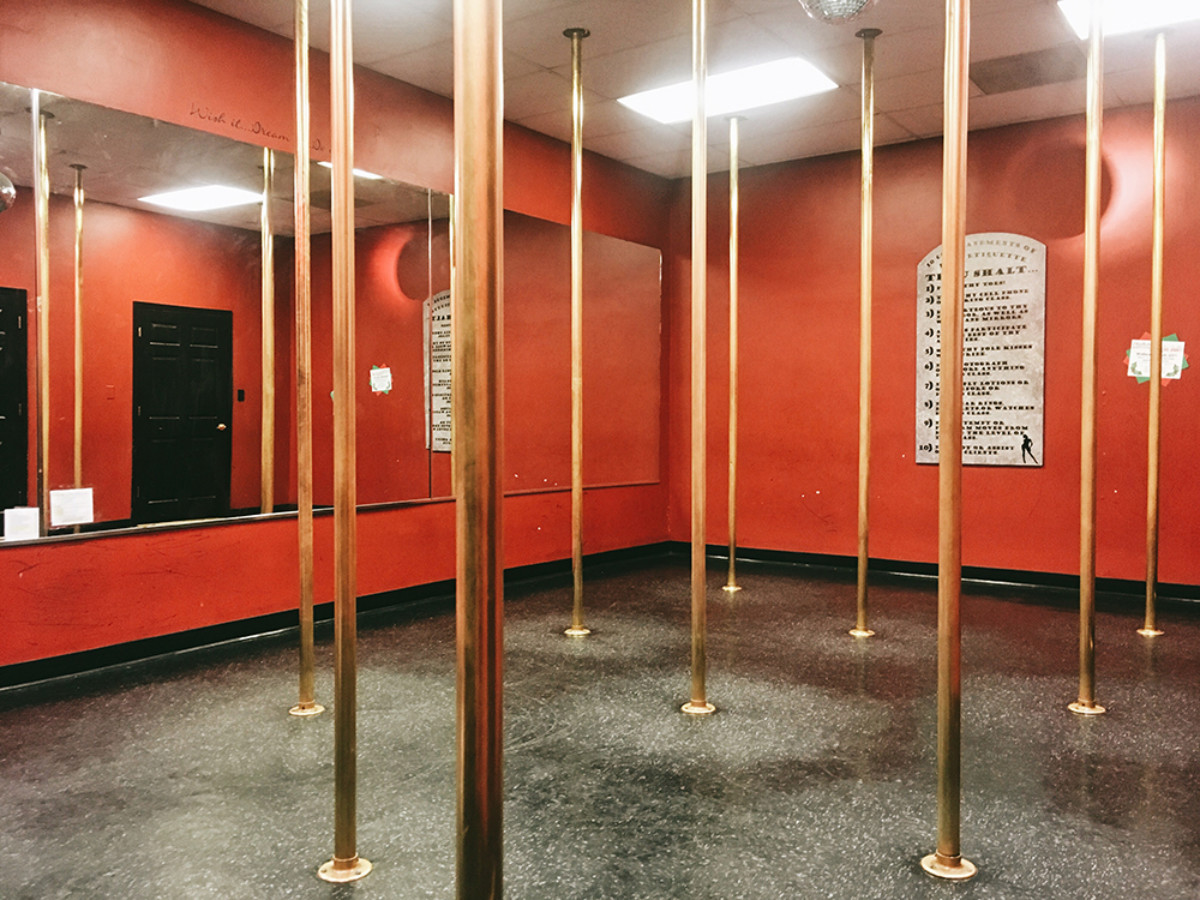 Inside the Parkville studio. -Karmen Osei
What are some of your favorite classes to teach?
I love them all, but I really love teaching tricks and spins. I especially love it because people come in and share their goals, and I can help them towards that goal.
What are your favorite songs to teach to?
It changes a lot because I love music, but lately it's been "Bacon" by Nick Jonas and "Girls Like You" by Maroon 5.
What is the ultimate goal you want people to achieve at the end of a class?
I want clients leaving empowered and strong. Sometimes you leave with a new goal. I really try to turn 'I can't' into 'I can' or 'I can't yet.' Sometimes you go to a class—and I've been there—that's really challenging, and you say to yourself I couldn't do any of those things. I still want you to leave feeling like you can do them some day.
What would you say to someone who is a little apprehensive about taking pole classes?
I think 13 years ago, when the studio opened, there was a big hurdle to go over where pole dance was viewed as this really taboo thing. I think it is less of a taboo now. There are people who do pole for sport just like you would do gymnastics or ice-skating. That's what we do here—we dance sexy, but mostly we want to be strong.
Also, if your barrier is that you don't feel sexy or you don't want to feel sexy, I'd say there's probably an instructor for you. We have instructors that are sportier, instructors that are really sexy, and some that are moderately sexy. I didn't feel sexy when I started, so I decided I just wanted to do it for the fitness. It took me a little bit to feel more comfortable doing sexier things. So I'd say, honestly, just try it. There's someone for your style.
---
---