Bel Air Dental Care
2300 Belair Rd, Fallston, MD 21047
410-879-8424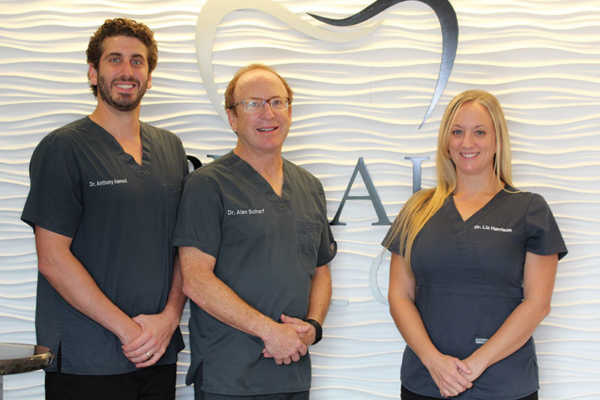 Left to right: Drs. Anthony Hamod, Alan Scharf, and Elizabeth Harrison
In its 30 years, Bel Air Dental Care has developed a reputation for caring. The clinical staff, including three doctors, customizes care based on individual needs, delivering compassionate treatment for each patient.
In their newly renovated state-of-the-art office, the doctors at Bel Air Dental Care focus on family dentistry, with specialties that include dental implants, oral surgery, periodontal treatment, cosmetic dentistry, dentures, crowns, and snoring-induced sleep apnea.
The evidence of a successful practice is not only happy patients, but a happy staff. Bel Air Dental Care prides itself on its low turnover. In fact, five team members have been with the practice for more than 20 years.
Drs. Scharf, Hamod, and Harrison have extensive postgraduate hospital training at Bayview Medical Center, The Johns Hopkins Hospital, and the Baltimore Veterans Administration Hospital. They also maintain membership in the American Dental Association, Academy of General Dentistry, and Harford County Dental Society.