In 2020, JHU Acknowledged Enslaved People Were Held at Clifton Mansion. The Reckoning Continues.
Directed by professor and historian Martha Jones, the new Hard Histories initiative examines how racism has persisted over a century and a half at Hopkins.
Perhaps it is fitting that the "discovery" three years ago that enslaved individuals were held at Johns Hopkins' Clifton Mansion was made during a graduate seminar at the university named in his honor.
In the summer of 2020, former Maryland state archivist Edward Papenfuse led a class that was looking into how Hopkins had come upon his great wealth in a fast-changing Baltimore in the years before the Civil War.
"In other words," Papenfuse says, "where did he get his money from in order to leave as much as he did for the purposes outlined in his will? And what was the world like that he operated in?"
As part of the effort, Papenfuse suggested an examination of Hopkins' sprawling Clifton property, which he had developed into a summer estate, and an investigation into how he put his wealth to work in his personal affairs. Papenfuse does not know if he was the first historian to come across the 1850 census and accompanying "slave schedule," which listed four enslaved men as the property of the head of the Clifton household—Hopkins, in this case—but he may have been. Under normal circumstances, it would not have been considered especially unusual. Enslaved African Americans were held on estates in surrounding Baltimore County and elsewhere. Except, of course, the esteemed, 147-year-old university and associated hospital and medical school had long held up its benefactor as an abolitionist with no direct connection to slavery.
One of the attendees of the seminar was Allison Seyler, the program manager of Hopkins Respective, a university-wide public history initiative begun in 2013. She had previously worked with Papenfuse while part of the Legacy of Slavery team at the Maryland archives. At Papenfuse's suggestion, she located a digital copy of the 1850 slave schedule through the genealogical website, FamilySearch. She also found the 1840 slave schedule, which showed one enslaved person—likely owned by Hopkins' brother—held in his household in Baltimore City. After further research led by Seyler along with Winston Tabb, dean of the university's libraries and archives, and Society of Black Alumni Presidential Professor and historian Martha Jones, Hopkins announced the finding in late 2020.
"It was a moment that stopped me in my tracks," Seyler says of seeing the slave schedules. "The record suggested a narrative that ran counter to the narrative we'd been told [as employees] by the university. I'm also a native Baltimorean, and so I had also heard 'abolitionist' associated with Johns Hopkins' name even before I began working here."
For Jones, a contributor to the acclaimed 1619 Project who has written extensively about the period, including the award-winning Birthright Citizens: A History of Race and Rights in Antebellum America, which was set in Baltimore, the finding certainly felt historically significant. But the fact that it went unreported for so long was not surprising.
"It was a moment that stopped me in my tracks," says Allison Seyler—the program manager of Hopkins Respective, a university-wide public history initiative started in 2013—of seeing the slave schedules.
"It's important for an institution to understand how it is when you put the telling of the past in the hands of understandably admiring family members, or staff, or people whose job it is to raise money or promote the image of the institution," Jones says, highlighting a grandniece's hagiography that became the basis for much of the understanding of Hopkins' life. "If you leave your history to those sources, it's nothing exceptional that we wind up with a self-serving version of the man and never bothered to look carefully at the slim but important archival record related to things like, 'Who is in his household in the decades before the Civil War?' We just had never done it. The story had served us well."
Ultimately, the fuller picture of Johns Hopkins that has emerged since the revelation of enslaved people in his household—the interpretation of which has been debated by a handful of local scholars—lays bare the myth that the university's founding benefactor was an abolitionist.
Along with Hopkins' announcement of its troubling finding about its namesake benefactor also came complicating information regarding his paternal ancestors. Johns Hopkins' grandfather, also named Johns Hopkins, held a large number of enslaved people, manumitting some, but hardly all, Jones, Seyler, and their team learned in the run-up to the school's official statement.
The elder Hopkins, an Anne Arundel tobacco plantation owner, had indeed manumitted nine enslaved adults in 1778, but in the same year, he merely switched the status of 33 enslaved young adults and children to "term slaves," which meant girls and boys had to serve him until 21 and 25 years old, respectively. When died, he bequeathed 14 enslaved individuals that he still considered his property to his children, including one boy to Johns Hopkins' father, Samuel.
Samuel Hopkins' estate did not report enslaved individuals among his property when he died, but Johns Hopkins' father did enter into an indentured service contract with the mother of two Black boys—Thomas, 7, and Jeremiah, 10—until they reached 21. It's worth noting that the typical indentured contract of the period—along with an obligation to house, clothe, and provide food—included a promise to teach the bound children to read and write. The surviving indentured contract reveals Hopkins' father had that stipulation stricken.
Interestingly, Papenfuse is one of several scholars with Hopkins ties who have pushed back against the conclusion from the 1850 census that Hopkins owned slaves. Papenfuse, along with Hopkins senior lecturer Sydney Van Morgan, School of Public Health professor emeritus Stan Becker, and Samuel Hopkins, a descendant and retired attorney, believe that because there is no record of Hopkins buying, selling, or paying taxes on the enslaved men held on his property, they likely "belonged" to someone else—a contractor, maybe. Or Hopkins or someone in his family held them under a temporary arrangement. It is not quite a distinction without a difference, but legally, while the four enslaved men, aged 18-50, were held at Clifton Mansion, the head of the household would be considered their "owner," as indicated by the census.
Van Morgan, who started a House of Hopkins blog after the university announcement, believes Hopkins' affiliation with the Quakers of the period, who were largely opposed to slavery, his support for the Union cause, and his bequests—including for a hospital that would serve Black Baltimoreans, if separately—remains evidence of his abolitionist feelings. But Van Morgan, like Papenfuse, readily acknowledges that Hopkins' main interest was his business interests, which included a large financial stake in the B&O Railroad.
"[Mayor] Swann, who owned slaves, was a good buddy of his," Van Morgan says. "When the Civil War breaks out, most of the unionists leave the Maryland Club and it becomes very much a Confederate club, and Hopkins did not leave. My instinct was he was playing both sides. He wasn't going to alienate those prominent businesspeople in the Maryland Club."
None of this makes Hopkins comparable to say, Joseph Donovan or Austin Woolfolk, owners of the notorious Baltimore slave jail/holding pen. Or the Ridgelys, who held enslaved people on their Towson estate until the Civil War. But to put it simply, in the context of previously known information about Hopkins—his business ties to enslavers, his friendship with Swann, his support of the xenophobic Know-Nothing Party, his involvement in an effort to ship free Black Americans to Africa—his life is now cast in a different light.
"As a historian who studies slavery in Maryland in the 19th century, I would not use the word abolitionist when referring to Johns Hopkins," Seyler says. "In my studies and going through the historiography, the primary sources, archival records, looking at documents that talk about this period and what folks are doing, I believe that abolitionism requires action. It's speaking on the abolition circuit; it's going to church and interacting with the Black community. It's outright doing things to help folks on the Underground Railroad. It's financing freedom-seekers. I don't have historical records, letters, documents, newspaper articles that tell me that Johns Hopkins was taking these abolitionist actions."
At the same time the revelations were made public, the school announced the launch of a new initiative: Hard Histories at Hopkins, which has since produced an ongoing, meaningful series of webinars, events, classes, and research-based writing. Just last month, Hard Histories hosted its second two-day symposium: "Reckoning with Racism, Forging Just Futures," which featured a conversation with New York Times columnist Jamelle Bouie, former president of the NAACP Legal Defense Fund, Sherrilyn Ifill, and Baltimore Museum of Art director Asma Naeem.
Directed by Jones, it's been the mission of Hard Histories to examine how racism has persisted over a century and a half at Hopkins, as well as a broader exploration of racism related to the university, hospital, and medical school's environs—Baltimore and Maryland. Hard History talks have included discussions with Hopkins professor, author, and native Baltimorean Lawrence Jackson about Frederick Douglass, a contemporary of Johns Hopkins; Savannah Wood, who is archiving the Baltimore Afro-American newspaper; and scholar Jennie Williams, who has created a database of the coastal slave trade between Baltimore and New Orleans. Hard Histories has also dug into the remarkable life of Kelly Miller, Hopkins' first Black student and a polymath known as "the Bard of the Potomac" in the early 20th century.
"History is not an artifact," says Jackson, who is also the founder of the Billie Holiday Center for Liberation Arts, "it's a process."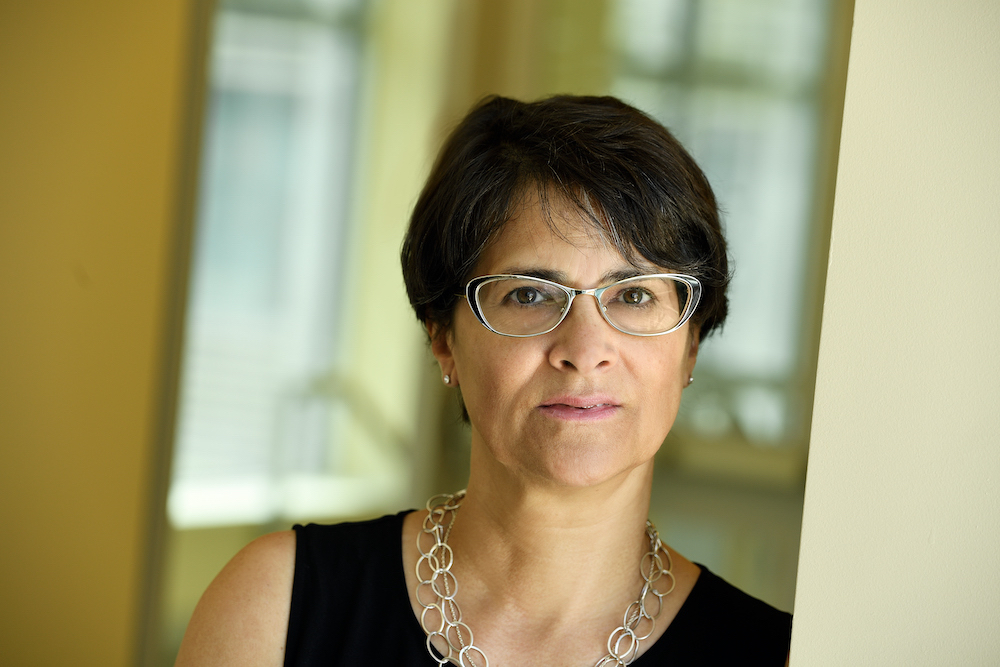 The news from Johns Hopkins, of course, came on the heels of even more profound revelations from other elite universities and their connections to slavery. In December 2021, a year after the 1840 and 1850 records came to light, Jones and the Hard Histories initiative hosted a symposium, "Conversations on Slavery, Racism, and the University." The virtual event included historians from Hopkins and other schools, including Georgetown, which acknowledged in 2016 that it had benefitted from the sale of 272 enslaved individuals from Jesuit-owned Maryland plantations. Hopkins, like Georgetown, is now one of more than 90 institutions in the U.S., Canada, Colombia, Scotland, Ireland, and England, including Allegany College, Goucher College, Loyola University Maryland, Morgan State, Towson University, and the University of Maryland, that has joined the Universities Studying Slavery consortium based at the University of Virginia.
Christopher Celenza, dean of Krieger School of Arts and Sciences at Hopkins, who served at Georgetown as it worked through the acknowledgment of its debt to enslaved individuals, says looking at the past truthfully can bring our own actions in sharper relief.
"It was important to memorialize and apologize for what took place," he says. "But at Georgetown, much of the effort was also a kind of scrutinizing. What could it be that we're doing now, that 100 years from now, 200 years from now, might seem misguided or immoral?"
Closer to home, Hard Histories recently hosted a discussion about writing "hard histories" with Harvard professor Andy Jewett, who is at work on a history of Johns Hopkins (both the man and the institution) and historian Ken Lipartito, who is co-authoring a biography of the founder of the McDonogh School. The Owings Mills private school has always known John McDonogh was an enslaver—he owned at least 654 people in his life—and was deeply involved in the slave trade. Yet, the school continued its annual Founder's Day celebration until just three years ago. Hopkins commissioned Jewett following the 2020 discovery and his book is due in 2026, coinciding with the JHU's sesquicentennial celebration.
"History is not an artifact," says Hopkins professor and native Baltimorean Lawrence Jackson, who is also the founder of the Billie Holiday Center for Liberation Art, "It's a process."
Some of the most compelling student work from Hard Histories involves Hopkins Hospital's Colored Orphan Asylum and the identity of more than 200 children who lived there. Conceived by Hopkins as a home for 400 "colored" orphaned boys and girls, its mission was changed by trustees after his death. From 1875 to 1914, it cared for only a fraction of that number, and girls-only, providing them with housing, food, medical care, a basic education, and Christian religious instruction. The girls also were trained in domestic service, which would enable them to pursue what Hopkins had described in his will as "respectable employment." Student researchers, re-combing Johns Hopkins' archives with new tools, learned that "respectable employment" for the girls—sometimes referred to as orphans, sometimes as inmates—meant working for white families.
That research spurred an end-of-semester lawn installation of the girls' names in front of the Wyman Park Building, where coincidentally, the Hard Histories lab met, and where the Colored Orphan Asylum once sat.
"Discovering the stories of the girls who had been residents at Orphan Asylum is, arguably, as important as anything we might learn about Hopkins himself, when it comes to thinking about who we are and what our foundation is institutionally," says Jones, whose most recent book, Vanguard: How Black Women Broke Barriers, Won the Vote and Insisted on Equality for All, won The Los Angeles Times book prize for history. "As well as what our relationship is, and what our obligation is, to Baltimore and Black Baltimore in particular."
At the conclusion of this academic year, Jones plans to wrap up the Hard Histories initiative, at which point much of its work will continue under Hopkins Retrospective, with Seyler's guidance. In fact, similar to Hard Histories, Hopkins Retrospective launched its own initiative, "Reexamining Hopkins History," which has come with funding for several new positions within the program.
So why does all this matter? Why not put the past behind us, as some say? For Jones, it's because the past is always present, no more so than in the current moment.
"Look at Florida right now, which is banning books and passing laws that would ban certain subject matters and approaches to teaching," says Jones, who was a housing rights attorney in New York before changing careers. "We're in a full pitched battle now.
"Even if you're not fascinated by the treasure hunt, the discovery, and all the things that just make history fun and interesting and jaw-dropping," she continues, "I think everyone has to appreciate the power that comes from the storytelling—or people wouldn't be pushing back so hard and taking the tactics they do. The hardest moments around Hard Histories, for me, have come because everybody believes there are stakes in this."
*This story has been updated to clarify that the story the university long told about Johns Hopkins' paternal ancestor manumitting enslaved people relates to his father, not his grandfather.