Courtesy of ABC
Last night was the realest—and, in turn, the most modern—Oscars ever.
In the past, the Oscars were a splashy, glamorous event designed to give off a rarefied and exclusive "you can't sit with us" vibe. That feeling was exacerbated a few years back when they let a group of "little" people—i.e., not celebrities—wander into the Dolby Theatre and actually mingle with the Hollywood royalty.
The next year, they did the opposite, as host Jimmy Kimmel led a procession of beautiful people down Hollywood Boulevard and into a movie theater. Oh, the thrill to see such luminaries in person! The noblesse oblige of it all!
But last night was nothing like that. Due to COVID restrictions, it took place at Los Angeles' Union Station and it was a scaled down event, with people sitting at tables cabaret-style, instead of in plush velvet chairs in a deluxe theater.
What's more, because of the windows at Union Station, it was clear to see that it was actually daytime. Now, of course, the Oscars are always held during the day  (8 p.m. EST = 5 p.m. Pacific Time.) But there is at least the illusion that it's at night, which adds to the glamour. A bunch of people dressed to the nines rolling up to the theater before sundown like they're there to catch the Early Bird special just doesn't have that certain je ne sais quoi.
There were also no splashy musical events, no celebrity-studded sketches. And, in keeping with a tradition that the Oscars started last year (unrelated to COVID), there was no host. Presenters came out individually, not in pairs, so there was no "witty" banter. (This was, let's face it, a net positive.) The whole event felt small, relatable—like a banquet at a convention. I half expected someone to get up on stage and espouse the benefits of Multi-Level Marketing.
So why am I saying this is arguably our most "modern" ceremony? Thanks to the prevalence of social media, celebrities are more accessible and relatable than ever. They share their secrets, their struggles, their families, their lives. Sure, in a curated way, but it's still way more access than we ever had before. They've come down from their gilded towers and have made it clear that they are, indeed, just like us. In that sense, the ceremony felt very 21st Century. We could've envisioned ourselves at that event—hell, many of us have been to events like that. The curtain has truly been lifted.
With that said, as with all Oscar ceremonies, there were highs and lows. Here's my rundown:
Best Acceptance Speech
Without a doubt, that one goes to Yuh-Jung Youn. The Minari actor, who impressively delivered her speech in English, was an absolute delight, first swooning a bit over Brad Pitt, who had served as a producer on the film (again: relatable!), then giving herself a little pep talk mid speech: "I can't believe I'm here. Let me pull myself together."
She also graciously singled out fellow nominee Glenn Close as someone whose work she really admired and chalked up her own win to being "lucky." Or maybe, as she speculated, it's "Amercan hospitality for the Korean actor." She could not have been more charming or lovely.
Biggest Overshare
Sorry, Daniel Kaluuya, you're incredible and I think there is more Oscar love in your future, but was it truly necessary to thank your mom and dad for having sex? The look on the faces of your mother and sister, both in attendance, said it all.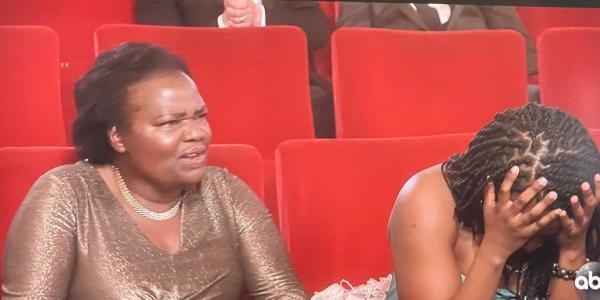 Moment That Most Resembled Somebody's Bar Mitzvah
The ceremony was, for the most part, a pretty serious affair. As I mentioned, there was no comedian host, no witty banter, no schtick. But then, like a party planner who worries that maybe the crowd is going to get restless, the producers decided to inject some participatory trivia into the night.
It felt very much like an idea cooked up in a Zoom meeting at the eleventh hour. The evening's DJ, Questlove, played a song and some "randomly" (not really) selected celebrities had to guess if the song had been nominated for an Oscar and whether or not it had won. They only did this three times, which felt thin. (Waiter waiter, the food here is terrible—and the portions are too small!) And it ended with Glenn Close "spontaneously" doing the "Da Butt" dance as a tribute to D.C. go-go music. As Twitter wag @wyntermitchell put it: "Glenn Close just did da butt on the Oscars is a brand new sentence."
Best Disruptors
It was an incredible night for Nomadland, with Chloe Zhao winning Best Director, Frances McDormand winning Best Actress (a slight upset), and the film taking home the biggest trophy of the night, Best Picture (you know there will be more on that in a bit).
The Zhao win was particularly significant as, astonishingly, she was only the second woman to ever take home the Best Director trophy. But what I loved about this gang is how they managed to keep their indie, outside-the-system vibe, while nearly sweeping the night's highest honors.
Zhao wore sneakers, pigtails, and no makeup with her peasant-style dress. McDormand didn't seem to have so much as brushed her hair, and gave a curt, cursory acceptance speech. (She also let out a glorious wolf howl when Nomadland took home Best Pic, a tribute to the film's production sound mixer Michael Wolf Snyder, who took his own life in March.) They seemed like party crashers, in the best sense of the word—an absolute sign that you can still win the game by making great art on your own terms.
Best Riz Ahmed
This year's winner is…Riz Ahmed.
As I tweeted last night, if you didn't have some form of crush—sexual, platonic, a bit of both—on the dashing Brit by the end of the night, it was time to check your pulse. On top of being impossibly poised, suave, and handsome, he absolutely doted on his fiancée, Fatima Farheen Mirza, all night, even pausing to fix her hair at one point on the red carpet. "I'm the official groomer," he explained. Swoon.
Best Dressed
My two faves were Carey Mulligan and Viola Davis. I also thought Lakeith Stanfield, rocking custom Saint Laurent by Anthony Vaccerello, just looked unbelievably cool.  Here's a gallery of some of the best dressed, including Carey and Viola.
Biggest Unforced Error
The ceremony was produced by Steven Soderbergh, who gave us tracking shots and unusual cameras angles, adding to the "This is Not Your Father's Oscars" feel. He mostly steered things admirably, despite an unfortunate paucity of movie clips (come on, man, honor the work!).
But then, at about 11 pm, something strange occurred. Rita Moreno was suddenly announcing Best Picture, the biggest and traditionally final award of the night. I was genuinely confused for a second. I had quickly run downstairs to get a snack—could I have missed Best Actress and Best Actor? But no. The sleuths on Twitter figured it out immediately: Soderbergh assumed that the late Chadwick Boseman was going to win for Best Actor and wanted to end the show on a poignant and emotional note.
But then something unexpected occurred: Instead of Boseman winning for Ma Rainey's Black Bottom, Anthony Hopkins won for The Father. Worse still, he wasn't in attendance, or even viewing remotely from Wales (he's 83, it was 5 a.m. there, he gets a pass). Although it was subsequently revealed that his The Father co-star Olivia Colman, who was in attendance, was supposed to accept for him, that's not what happened. Maybe presenter Joaquin Phoenix didn't get the memo. Whatever the case, the show just kind of…ended. Sad trombone music—goodnight and good luck.
You could argue this was not Soderbergh's fault—almost all prognosticators, including me, thought that Boseman was going to win. But I'm here to argue that it was never a good idea. Best Picture is the biggest award of the night and it should be the last one. Yes, had Boseman won, it would've been emotional, but we would've recovered. We're adults. Health Ledger won his posthumous Best Supporting Actor Oscar for The Dark Knight in 2009 and we all cried and absorbed the bittersweetness of all—and went on with the show.
Chloe Zhao and her crew were robbed their special final moment—and so were we.