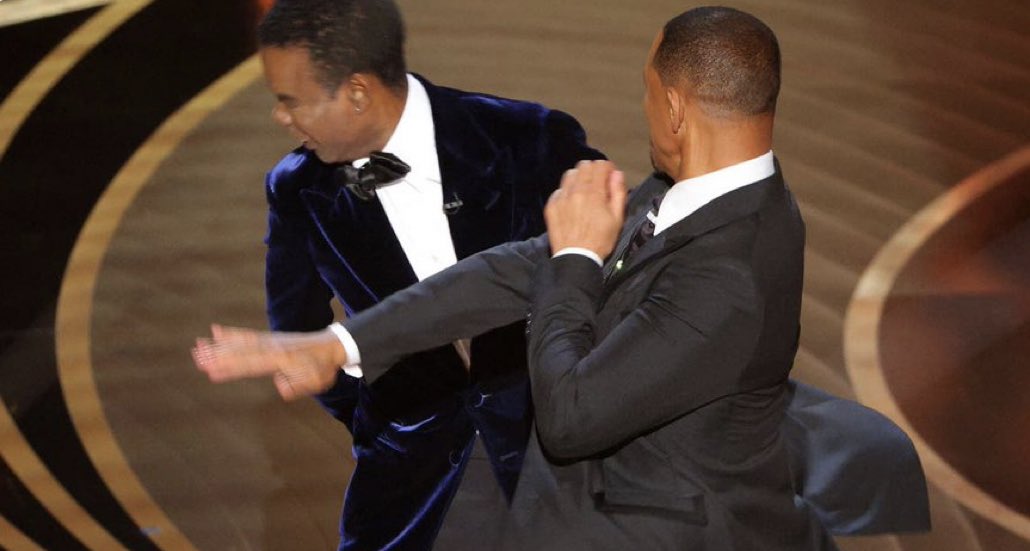 Twitter
I was going to do a garden variety Oscars recap—my usual take on the dresses, the winners, the hosts—until that happened. And you all know what that is.
When the normally affable Will Smith leapt out of his seat to assault comedian Chris Rock, it was, as it's now being called, "The Slap Heard Round the World."
Social media—as well as my text messages—blew up. For a few minutes, there was a kind of confused chaos as folks pieced together what exactly has occurred. The confusion was exacerbated by the fact that in America live television has a seven-second delay for, well, moments precisely like this: cursing, violence…snot bubbles? (More on that last one in a bit.)
The social media reaction went something like this:
WTF?
That was staged, right?
Wait, did he really hit him?
What made Will so mad?
What did Will say to Rock?
Eventually, raw footage was shared from countries that don't employ the delay and it was clear that Smith, in fact, took actual offense at a joke Chris Rock had made about Jada Pinkett Smith's shaved head. He really did leap onto the stage. He really did yell, "Keep my wife's name out of your [bleeping] mouth." Turns out, Jada has alopecia, and Smith thought Rock's GI Jane II joke was a bridge too far.
My pure speculation, that I expressed on Twitter: Smith was already in a bit of a state. Earlier in the show, Regina Hall, one of three co-hosts—along with Wanda Sykes and Amy Schumer—had made a joke about Jada and Will's open marriage (which they are, in fact, quite open about). The implication of the joke was that Jada held the strings in the relationship and had the power to "loan" Smith to Hall. Maybe he was still smarting from that.
Whatever the case, it was a spontaneous, visceral, unprecedented reaction—and it derailed the entire Oscars.
Up until then, the show had been pretty good, despite having relegated some of the technical awards to an unaired preshow. The jokes mostly landed—I liked Schumer's quip that hiring three female hosts was "cheaper than hiring one man." I also loved when she mocked Don't Look Up ("I guess the voters didn't look up the reviews") and Being the Ricardos, which she lambasted for not being funny. (Same girl, same.) Some of the outfits were eye-popping: I loved Zendaya's updated take on the famous Sharon Stone Gap blouse and Timothee Chalamet's bold shirtless tux. I was thrilled when Ariana DeBose became the first openly "queer, Afro-Latina" woman to win an Oscar. And I cheered for Best Supporting Actor Troy Kotsur, the first deaf male actor to win a performance award.
But the slap threw everything out of whack. There was a restless murmur that went through the crowd and just didn't stop. There were reaction shots posted on Twitter. Nicole Kidman looking stunned. Lupita Nyong'o, as her face gradually registering what was happening.
And what's more, there was the anticipation of what was to come: Will Smith was the overwhelming favorite to win Best Actor. What would happen when he collected his award?
When the moment came, Smith was emotional. "Love makes you do crazy things," he said, in tears. He apologized to the Academy (but not, notably, to Rock). He tried to draw an analogy between his character Richard Williams, the father of Venus and Serena Williams, and himself, claiming that both men had a fierce need to protect their families, that both men were misunderstood.
At one point, the camera turned away from Smith and a generic Oscars logo flashed on the screen. Some on Twitter speculated that Smith had a snot bubble coming out of his nose. (To be honest, after the extreme drama of the evening, I think we could've handled a little bodily fluid.)
It was . . . sad.
The Slap Heard Round the World overshadowed everything. All the wonderful wins. All the performances. Even Smith's own win. What should've been a triumphant night for The Fresh Prince was now cloaked in controversy.
In the end, as many anticipated, CODA took home the evening's top prize. (I went 12 for 12 on my picks, but I can't get too cocky: All the favorites won.) And there was a very tender exchange between Lady Gaga and Liza Minnelli, unexpectedly in a wheelchair, as they handed out the award for Best Picture. (Minnelli seemed a little flustered. "I got you," Gaga said, leaning down to reassure her.) I hope when people reflect on the awards, they will remember moments like this, too.
Afterwards, the LAPD put out a statement that they were aware of the on-stage incident and that "the individual involved" had declined to file a police report.