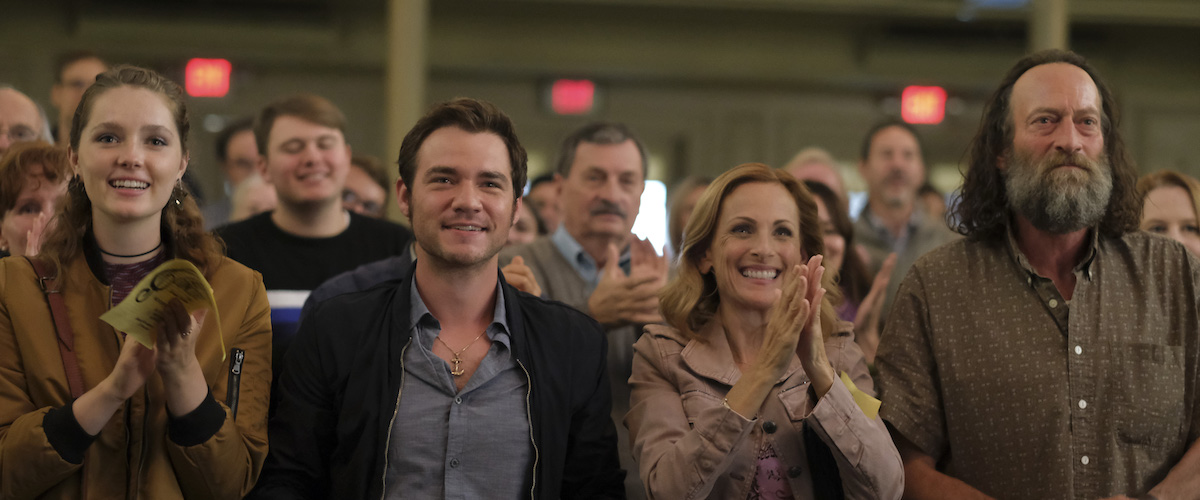 I saw CODA on Apple TV+, like the rest of you did, and thought to myself, "What a charming little film." A crowd pleaser about a Child of Deaf Adults (CODA) who is torn between her ambitions as a singer and the obligation she feels to be the "ears" for her family of fishermen, the film is tender, funny, a little dirty in the best way, and much better than it has any business being. That said, it is not the best film of the year. It's not even close to being the best film of year. It's more like a really well-made ABC After School Special. And yet somehow, improbably, it is poised to take home the trophy for Best Picture.
It was a slow crawl to the top for CODA. For months, The Power of the Dog—my favorite film of the year, not that anyone asked—was considered the frontrunner, but CODA just kept winning the kind of major industry awards that tend to presage the gold guy: The SAG Award for Best Ensemble Cast, the Producer's Guild Award for Best Picture, and so on. There's still a chance The Power of the Dog will win. Hell, there's still a chance some random upstart will take the crown. But right now it's looking like CODA's to lose.
How did this happen? I'm not totally sure, except to say that people really like CODA. As they should, it's likeable! Much more so than the meticulously crafted, intellectual, slow burning The Power of the Dog. CODA makes people feel good about themselves at a time when good feelings are in short supply. Once it started racking up some awards, I assume voters were like, "Wait? You mean I can pick CODA? The film I secretly liked best? Then I pick that!" So we shall see.
For what it's worth, here's how I personally rank this year's Best Picture nominees:
The Power of the Dog
Drive My Car
Licorice Pizza
West Side Story
Nightmare Alley
King Richard

Dune
CODA                               
Belfast
Don't Look Up
Anyway, as usual, I'll make a few predictions on the major awards:
BEST PICTURE
Who Will Win: CODA
How Confident Am I (on a Scale from 1-10): 7
Who Should Win: The Power of the Dog
Biggest Upset Threat: The Power of the Dog wouldn't quite be an upset considering it was leading the pack until recently, but it obviously still has a chance. I also feel like the Academy has a lot of love for Steven Spielberg (who doesn't?) so West Side Story could potentially sneak in. (Frankly, I think if the vibrant musical hadn't bombed at the box office, it would be the frontrunner.)
BEST ACTOR
Javier Bardem, Being the Ricardos
Benedict Cumberbatch, The Power of the Dog
Andrew Garfield, Tick, Tick…Boom!
Will Smith, King Richard
Denzel Washington, The Tragedy of Macbeth
Who Will Win: Will Smith
How Confident Am I (on a Scale from 1-10): 9.99
Who Should Win: Honestly, I'm good with Smith, who was so great as Richard Williams. (In my review, I said: "Smith embodies his underdog, combative, indefatigable spirit to perfection. You love him, you want to throttle him, and you can't help but to admire him.") I also thought Andrew Garfield did something really special in Tick, Tick . . . Boom!
Biggest Upset Threat: I feel like the more people who see Tick, Tick…Boom! the more fans Garfield's performance will amass.
BEST ACTRESS
Jessica Chastain, The Eyes of Tammy Faye
Olivia Colman, The Lost Daughter
Penelope Cruz, Parallel Mothers
Nicole Kidman, Being the Ricardos
Kristen Stewart, Spencer
Who Will Win: Jessica Chastain
How Confident Am I (on a Scale from 1-10): 8
Who Should Win: I think Penelope Cruz was next level in Parallel Mothers.
Biggest Upset Threat: Can any of these heavy hitters truly be considered upsets? When the list was first released, it seemed like the most competitive category, but, CODA-style, Chastain has slowly climbed her way to the top and her momentum may in fact be unstoppable. That said, the brilliant-as-ever Olivia Colman is not completely out of the running.
BEST SUPPORTING ACTOR
Ciaran Hinds, Belfast
Troy Kotsur, CODA
Jesse Plemons, The Power of the Dog
J.K. Simmons, Being the Ricardos
Kodi Smit-McPhee, The Power of the Dog
Who Will Win: Troy Kotsur
How Confident Am I (on a Scale from 1-10): 8
Who Should Win: I'm fine with the frisky, sly Kotsur, who is the best thing in CODA, but I'd give it to Kodi Smit-McPhee, whose delicate and spectral presence was so compelling against the rugged backdrop of The Power of the Dog.
Biggest Upset Threat: Technically, Smit-McPhee is in "second place," but I have a feeling that if anyone upsets Kostur it will be beloved character actor Hinds.
BEST SUPPORTING ACTRESS
Jessie Buckley, The Lost Daughter
Ariana DeBose, West Side Story
Judi Dench, Belfast
Kirsten Dunst, The Power of the Dog
Aunjanue Ellis, King Richard
Who Will Win: Ariana DeBose
How Confident Am I (on a Scale from 1-10): 9.99
Who Should Win: Love me some DeBose, but I'd give this to Dunst. Her heart-stopping banjo vs. piano faceoff with Cumberbatch's Phil was one of the best scenes of the year.
Biggest Upset Threat: Dunst Nation, we rally at dawn!
BEST DIRECTOR
Kenneth Branagh, Belfast
Ryusuke Hamaguchi, Drive My Car
Paul Thomas Anderson, Licorice Pizza
Jane Campion, The Power of the Dog
Steven Spielberg, West Side Story
Who Will Win: Jane Campion
How Confident Am I (on a Scale from 1-10): 8
Who Should Win: Campion just, well, directed the shit out of The Power of the Dog. It's a visionary film. So she's my top pick. That said, Spielberg really showed the kids how it's done with West Side Story, didn't he?
Biggest Upset Threat: Ugh, Kenneth Branagh. (No offense, but the guy is a competent director, at best.) (Okay, I guess he can take a little offense.)
A FEW MORE PREDICTED WINNERS:
Best Original Screenplay: Belfast
Best Adapted Screenplay: CODA
Best Cinematography: Dune
Best Animated Feature: Encanto
Best Documentary Feature: Summer of Soul
Best International Film: Drive My Car
The Oscars will be broadcast live on Sunday, March 27 at 8 pm on ABC