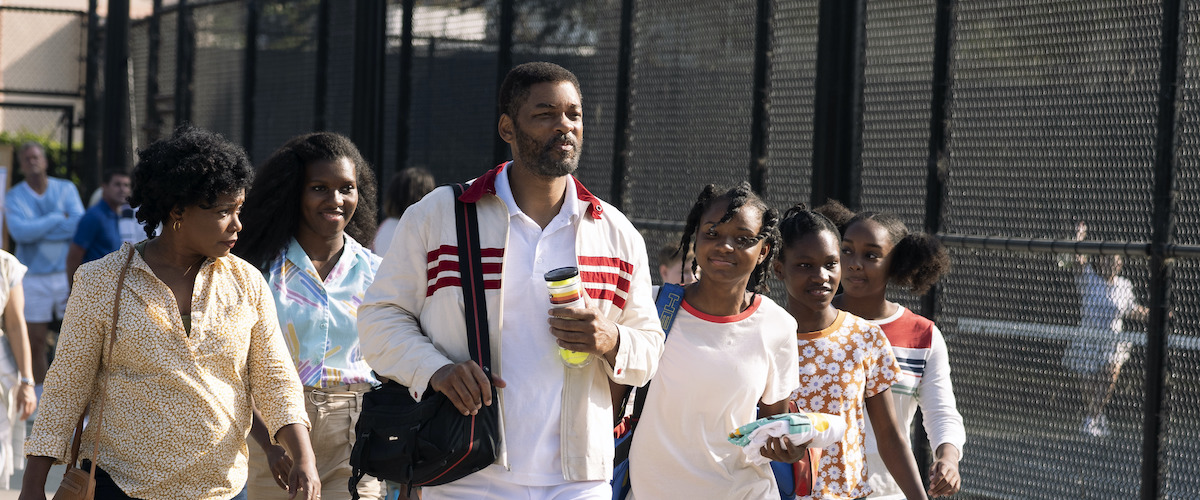 Warner Bros.
It turns out, Richard Williams (Will Smith), the fiercely devoted father of Venus and Serena Williams, is the perfect subject for a biopic. He is in turns maddening and inspiring; lovable and frustrating; funny and irascible. But in the end, he is some kind of genius, the sort of visionary dreamer who is always doubted in his time, but who backs up his wild notions with hard work, gumption, and a perfectly executed plan. ("If You Fail to Plan, You Plan to Fail," is one of his oft-repeated mottos.)
In this case, the plan was to turn his two athletically gifted youngest daughters into tennis supernovas. It seemed beyond far-fetched. Not only was the kind of success he hoped to coax out them virtually unprecedented, he was already starting in a hole: His family was working class, barely scraping by in a cramped house in Compton, and Black, in a sport largely dominated by wealthy white people. Plus, he wasn't trying to create the next Michael Jordan but "the next two." When he tries to get coaches to take on his daughters, he gets rejected, laughed at, and given "helpful" suggestions: "Have they tried basketball?"
So he trains them himself, with the help of the girls' mother, Oracene (Aunjanue Ellis), who has a much more practical temperament than her husband, but who believes in her girls as much as he does. Both parents were star athletes in high school, so this is not exactly starting from zero, but close enough. The courts the sisters trained on were rundown—with cracked surfaces and sagging nets—and the frequent site of gang activity. ("Don't worry, you're not going to get shot," Richard cracks to a white coach who nervously comes to watch the girls play.)
Eventually, he's able to convince prestigious coach Paul Cohen (Tony Goldwyn) to take on Venus (Saniyya Sidney) as a scholarship student, but not Serena (Demi Singleton). Cohen demurs that he can only afford to train one of the Williams sisters for free.
Because of its time frame, King Richard naturally focuses more on the remarkable ascension of Venus than Serena, who loves and idolizes her older sister but is also a little jealous of all the attention she gets. It creates an unusual narrative tension. Watching, we know that Venus will become the number one player in the world and a multiple Grand Slam champion—a Hall of Famer. But Serena will eclipse her to become the greatest tennis player of all time. There's a scene toward the end of the film where Richard sits down with Serena and tells her that she just has to be patient—she'll eventually be the best ever. It's so incredibly prescient, it seems apocryphal, but like most of the incredulous aspects of Richard Williams' life, it was apparently true.
Time and time again, we think Richard Williams is making the wrong call for his daughters when, in fact, he's making the right one. He turns down not one but two deals with Nike, fires Paul Cohen, and brings the whole family to a tennis camp run by Rick Macci (Jon Berthal), a salt-of-the-earth and feisty man who was Jennifer Capriati's coach. This is a feather in Macci's cap, but Williams sees it as a cautionary tale—Capriati was a troubled young woman, who was arrested for marijuana possession and shoplifting. The girls won't follow the Capriati path—an early contract with a shoe company, methodical ascension through the Junior circuit—but do it their own way, practicing hard, and being kids until they're ready to turn pro. Meanwhile, Williams goes on TV every chance he gets, crowing about his daughters. Everyone thinks he's nuts, an egomaniac who is throwing away a golden opportunity and setting himself up for failure. But proving doubters wrong is a Richard Williams specialty.
This is a dream role for Will Smith and he attacks it with gusto. Williams is a larger-than-life character who just happens to be real, and Smith embodies his underdog, combative, indefatigable spirit to perfection. You love him, you want to throttle him, and you can't help but to admire him.
Directed with wit and swagger by Reinaldo Marcus Green, King Richard is an enormously satisfying film. In fact, the film it reminded me of most was Erin Brockovich, another crowd-pleasing star vehicle with a social justice bent and a supremely cathartic ending. That film earned Julia Roberts her first Oscar. I wouldn't be surprised if King Richard does the same for Smith.
King Richard is in theaters and on HBOMax starting November 19.