'A Little Juju' host Sam Grant (left) with guest Trinice Iya Fabunmi at The Parkway on July 7. —Courtesy of Sam Grant
A mighty voice in a small frame, Baltimore's own Sam Grant—or "Juju Bae," as she's affectionately known by the fans of her iHeartRadio Award-nominated spirituality podcast A Little Juju—took the stage at the SNF Parkway Theatre in Station North on July 7. 
Standing just under five feet—adorned with her signature brass jewelry, long wavy braids, and loose silks—Grant was invited to the Parkway on this night for a live show in collaboration with Baltimore Living Archives, a joint program from The Parkway and The Enoch Pratt Free Library that amplifies media-based stories by local artists.
The Parkway's executive director Sandra L. Gibson, along with Baltimore Living Archives artist-in-residence SHAN Wallace, introduced the evening of healing, culture, and conversation with enthusiasm while traditional African Djembe drums played softly in the background.

"I started this podcast for me, for my own curiosities and questions about African spirituality," Grant explained on stage. As for the name of her show, Juju alludes to African medicine, spiritual practices, or objects that evoke the power of our ancestors and our spirit to manifest an outcome. The latter part of the name—as you might have guessed—refers to the beloved African-American Vernacular term of endearment. 
On her own journey to dedicate her life to Black spirituality, community, and being a self-proclaimed "witchy womanist," Grant has gained deeper insights into healing and culture, thus creating a movement that is much bigger than just her. Her episodes explore topics based on indigenous healing and communion in the modern world (everything from African spirituality in contemporary art to interviews with Black liberation activists) so it makes sense that the podcast has gained listeners from across the globe. 
During the live show, Grant and special guest Trinice Iya Fabunmi—a priestess within the Orisha tradition—took listeners on what Grant and many other Afro-Indigenous spiritualists call a "spiritual revival," giving them a taste of the concepts that Grant delves into each week.
The two explained that fervent drumming and the sounds of the diaspora, for example, were all part of ways we'd communicate, celebrate, mourn, and inspire each other on the continent of Africa. They later charged audience members to think about specific moments in Black History and examine how to connect each fabric back to specific deities. With a little thought, we could all recall rituals surrounding birthdays, altars, and even funeral traditions. Grant gave concrete examples of liquor being left out for spirits, which Wallace connected to photos she'd captured of Baltimore stoops covered with bottles, candles, and balloons to honor those who have passed on. 
No matter your religious background as a Black person, some or all of what was talked about could be linked to a memory. Apparently, we've all got a little hoodoo in us.
To delve deeper into the roots of A Little Juju and the impact it's had since launching in 2018, we caught up with Grant after the show: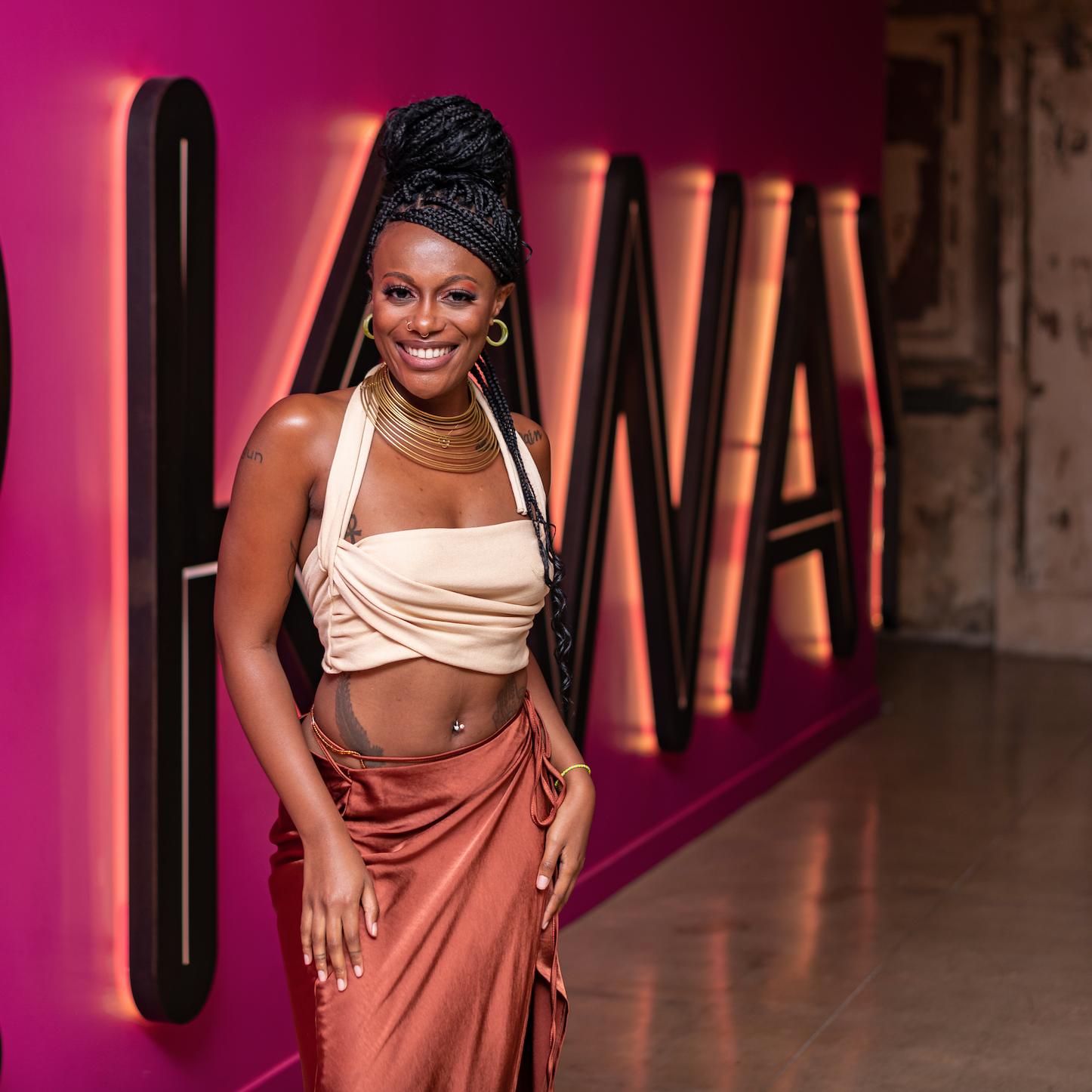 How did A Little Juju (ALJ) get its start?
The podcast was birthed, actually, when I moved out of Baltimore and I was living in Chicago. It was around that time that I started to read and see a lot of things online about spirituality, or see references to it like in Beyonce's studio album and aligning music videos for Lemonade. Simultaneously, it all made me want to read more, study more, and talk to more people about what I was feeling regarding spiritual experiences, different belief systems, and pre-colonialism. I just started by asking questions and feeling really connected to the beliefs, spirits, and histories I was learning about. It led me to my own ancestors and wanting to find them within myself.
While I was away at school in Chicago to become a therapist and then a psychologist, I had a visceral dream that basically showed me a day in the life of one of my ancestors five or six generations ago. This foremother was a part of my paternal lineage and was an enslaved woman experiencing traumatic events. The dream shook me all day at school the following day. I decided to tell one of my professors, another Black woman and a doctor who was very invested in spirituality. She said, "You're in school to affirm a whole bunch of other people and you haven't affirmed yourself, your experiences, or the experiences of your ancestors—and they're trying to talk to you." I dropped out of school shortly after that.
I decided to start this journey of figuring out what my spirits and ancestors were trying to tell me from such a realistic and painful dream. I carried a lot of that pain in my body and didn't really know it. I knew that other people may be having similar dreams, spiritual experiences, or intuitive moments. I'm not sure there was a place in my religious origin to talk about all of those things. I wasn't identifying with the Christianity anymore. I needed a place to say, "Do y'all feel this? Are y'all experiencing this?" And the answer was a resounding yes when I put the podcast out. 
Who is in the ALJ community? Who is the ideal listener?
It's amazing because there are a lot of different kinds of folks. There are people who are very new, folks who are Christian, there are listeners who are Muslim, there are even practicing priests and priestesses in the African tradition, and folks who aren't in the African tradition at all who just practice or are interested in hoodoo—which is an African-American system that I believe in, as well. 
My podcast has listeners from all over, and I love that. I didn't want it to feel like you had to have a certain aesthetic, or have to be super vegan and use crystals and all of that. All of those things could very well be part of who you are, or a part of the podcast, but I really just love when people come as they are. Be regular. Know that we all have spiritual gifts. We all have the propensity to connect with our own ancestral lineage and the capacity to heal regardless of who you are or how you show up in your body—gay, trans, queer…doesn't matter. You have the support from your ancestors to heal.
Tell us a little bit about your nickname, Juju Bae.
On the podcast I spoke early on with listeners about the definition of Juju being a sort of spiritual medicine or magic. We talk about the importance of identifying with that language, especially since it's a term that has been used sort of negatively at times. When people talk about what Juju is, it always has a negative connotation—someone's trying to be harmful or it's being associated with something demonic. I wanted to embrace the name to show that there is actually a lot of medicine within Juju. That's how the nickname Juju Bae was born. 
What geographies have you explored in your spiritual practice?
Of course, a lot of my work centers around the continent of Africa and different groups within the continent, but I think I've been able to find my own identity within the U.S. Finding out things like where my people migrated to before Baltimore led me to places like Virginia, the Carolinas, Alabama, West Virginia, and back to places like the Chesapeake here in Maryland. I've learned to acknowledge my ancestral lineage, not barring the real history and very real negative impacts of enslavement and the places my ancestors may have been or were transported to before. I just naturally have less of a connection to those places, for instance the Caribbean. The U.S. is where I've been able to ground my practice in spirituality and find out the most about myself and my peoples' past.
Where in Baltimore are you from?
Beechfield. It's definitely Baltimore City, but it's like the line between the city and the county not far from Catonsville. That's where I spent the majority of my time growing up, but I also spent a lot of time at Edmondson Village because that's where my grandmother lived. Y'all know how it is with the grandmothers. My mom worked a lot, so I spent a lot of time with her on Denison Street. She picked me up from school and all that.
How do you encourage Baltimoreans to connect to their ancestry?
If folks are really interested in doing that, just set the intention of connecting to your ancestors and watch things open up for you. You might come across family photos, or you may have somebody reach out to you randomly to tell you, "Hey, I'm your cousin." Things like that have happened to a lot of people because they set the intention of wanting to connect more with their ancestors, and, in turn, they connect more with themselves.

Any last bits of advice?
Everything ain't for everybody—and that goes for all spiritual practices. Even as you do ancestral exploration, it doesn't mean that you're going to be a witch, a priest, or anything. It's really all just a way to connect. At the end of the day, this work is about connecting. Finding a connection to your own people, a connection to places, a connection to your elders and ancestors and your family, whether chosen or blood. As you explore whatever tradition or religion you follow, just make sure you're checking in with yourself. Be sure you're feeling connected to your own destiny and the love in your life and go where you find that. Connection and connecting to your ancestors doesn't have a religion. It's not a religious practice. It's just an act. 
Grant's Recommended African Spirituality Reading List
African Cosmology of the Bantu-Kongo: Tying the Spiritual Knot, Principles of Life & Living by Kimbwandende Kia Bunseki Fu-Kiau, C. S. Moore
Black Magic: Religion and the African American Conjuring Tradition by Yvonne Chireau
Death and the Invisible Powers: The World of Kongo Belief by Simon Bockie
Finding Soul on the Path of Orisa by Tobe Melora Correal
Flash of the Spirit: African & Afro-American Art & Philosophy by Robert Farris Thompson
Jambalaya: The Natural Woman's Book of Personal Charms and Practical Rituals by Luisah Teish
Mojo Working: The Old African American Hoodoo System by Katrina Hazzard Donald
Of Mules and Men by Zorah Neale Hurston
Grant's Must-Visit Local Spirituality Shops