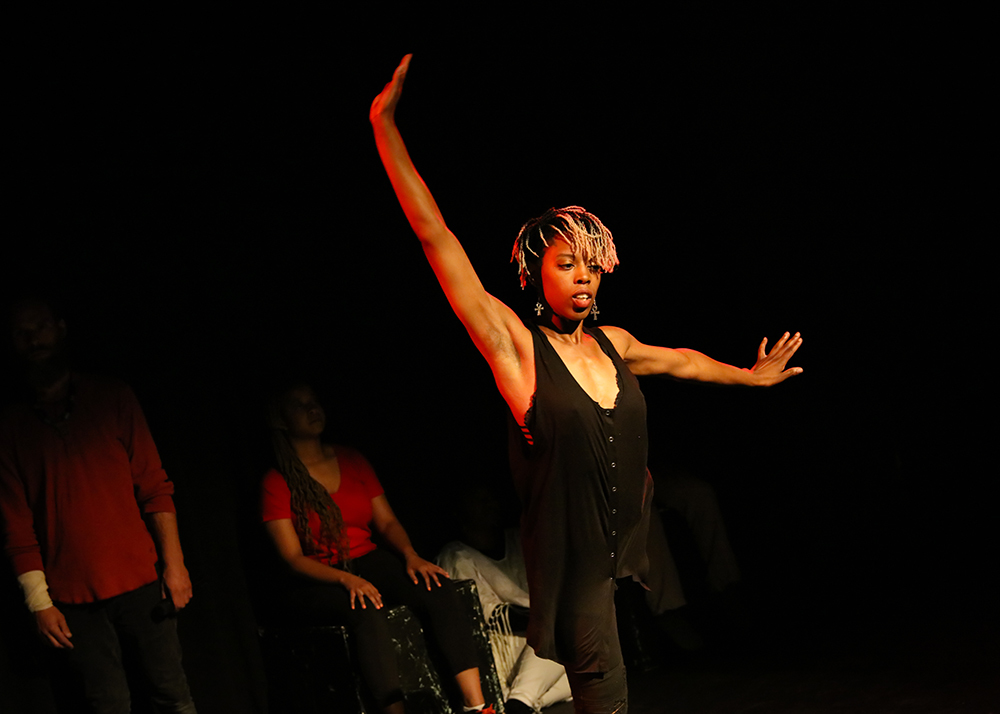 Kintz
The Afro Punk Ballet, an Afro-futurist opera written by composer Scott Patterson and Eric T. Styles and choreographer Preston Andrew Patterson, imagines a post-apocalyptic future where the lush blue green of our world is scorched dusty red by the heat of two suns. "There used to be a river here" General Levi (played by Jarrod Lee) bellows with lament over the devastation wreaked by his greatest invention, the creation of a second sun. His miraculous discovery threatens to destroy all life in the galaxy. What compels a man to generate a second sun? His daughters Corfazsia (Jocelyn Hunt) and Jakub (Alicia Wiliams) are charged to answer that question. We, the audience, watch to see if the world will collapse before they can.
Produced by Afro House, the production is described as "an exploration of the crossroads between African spirituality, mathematics, and physics" and it's set in an indistinct universe sometime in the distant future. The hypnotizing coo of mezzo-soprano Spirit/Legba (Elise Jenkins) pierces the eerie still of the intimate Peale Center. Her face and those of the other chorus members is obscured by intricate laser printed helmets designed by A.W. Nadine Grant. Scott Patterson plays melodic riffs on his red Fender Rhodes from the center of the room.
The soundscapes evoke the familiar ethereal resonance and pulsing punk accents of sci-fi classics like Blade Runner or Fantastic Planet, but also cull from black musical traditions like gospel, blues, jazz, Afrobeat, and hip hop to illuminate the environments of this new world. If Herbie Hancock and Daft Punk had an interstellar love child that was raised on the avant-garde compositions of Sun Ra, the child would create music that sounds something like this, an otherworldly groove that is operatic but also deeply soulful.
Each of Patterson's intonations are echoed and accentuated with gush worthy choral accompaniments. Spoiler alert: everybody can sang! Their soaring arias describe the woeful destruction of the second sun and humanities imminent demise. Jakub, the youngest daughter of General Levi, leaps and sprints around the scene. Each pirouette channels celestial orbits, or portals that open passageways to future nows and yesteryears. Her movements are a significant feature of her developing powers, gifts that are slowly revealed in Act 1. Her eldest sister, Corfazsia, a military prodigy readies her army for a war that is rumored to be encroaching on their families territory. With a running time of roughly 50 minutes, Act 1 lays the foundation for a dynamic Afro-futurist tale like nothing that you have ever experienced before.
We spoke with the Patterson brothers during a dress rehearsal of the first act of The Afro Punk Ballet about their inspiration, creative process, and why they chose this medium.
The Afro Punk Ballet is currently in development. How far are you from showcasing the full production?
Scott Patterson: We have had the concept for this for about 4 or 5 years and talked about the idea of a piece called Afro Punk Ballet, inspired by the Afropunk movement, not just the festival.
Preston made the point yesterday that, "We are all fighting for a piece of ourselves in the story." I think our story reflects that. This summer we had a residency at Single Carrot Theatre for a week to work on a preview of a preview. After that preview [we] decided to concentrate on Act 1. We are really trying to build a universe, not just create a new world, but a new solar system, way of being, [and] that takes time.
Preston Patterson: We wanted the freedom to create as much as we could. We have been playing around with the idea that this is not earth, our solar system or our time. What we are attempting is to take who we are and put that in another time and space. This is an experiment.
Why did you choose opera as the medium to tell this narrative?
SP: Lots of reasons. I love the way opera is big and able to be big. I felt like that is one thing I feel is missing from a lot of Black narratives in all mediums. I've been wanting to see Black people in epic bigness. The cast is currently nine people. I envision the cast becoming 45-50 people. [This] one story is going to spawn dozens of other stories. I wanted to give a genesis.
That means it has to be a really big concept and I feel that opera was one way to tackle that. I wanted to see black opera singers in roles that liberate them and place them as more than marginal characters. We wanted to write stories that we thought were dope.