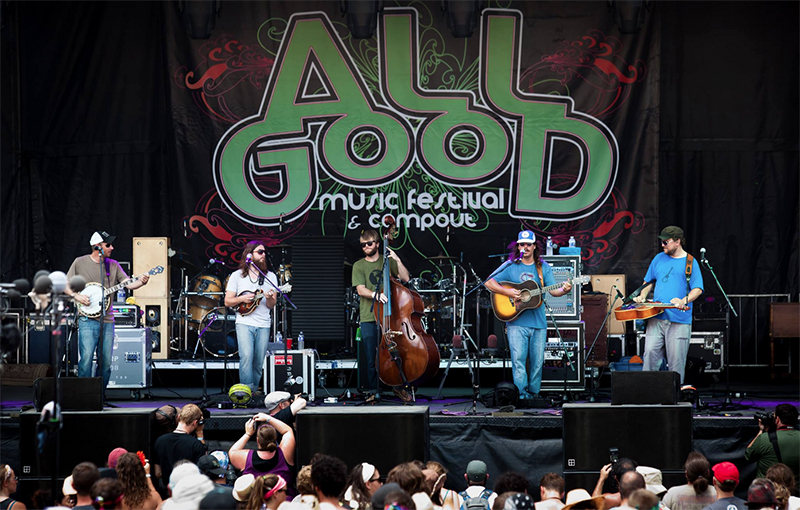 Photography by B.Hockensmith Photography
Usually a large-scale festival with high profile acts requires an epic road trip with pre-planned playlists and plenty of snacks on reserve. But the 18th annual All Good Music Festival, July 9-11 at Berry Hill Farm in Summit Point, WV, is just a 90-minute drive from Baltimore.
"We didn't want to bring the festival back unless we had an absolutely perfect spot," says festival co-founder and president Tim Walther. "Berry Hill Farm's lush, rolling foothills and naturally formed concert bowl make it a fantastic site and All Good's best venue yet."
The mostly jam band festival has expanded its genre repertoire in recent years. This year's installment is no different with headliners Cake, known for its monotone vocals and trumpet-heavy alternative rock; Primus, a funk-metal band with tons of Frank Zappa influence; and the groovy D.C.-based DJ duo of Thievery Corporation.
The rest of the lineup includes more of the usual suspects like moe., Lotus, STS9, John Butler Trio, Greensky Bluegrass, Dark Star Orchestra, Keller Williams, and Yonder Mountain String Band. All Good is also featuring a ton of Baltimore-based bands, no doubt because of its close proximity to the city, including The Bridge, ELM, Pigeons Playing Ping Pong, and Second Self.
Many of the local-market bands will be playing on the Believe in Music stage, which is named after the Living Classrooms Foundation program that provides music education to kids in first through eighth grade. Each band playing the stage is donating a sizable portion of their pay to the Baltimore-based nonprofit, an amount that will also be matched All Good organizers.
"People just assume that bands are full of rock stars," says Kenny Liner, a member of the Bridge and founder of Believe in Music. "But these are extremely hard-working musicians, so for them to give us that donation, it's a huge deal."
Additionally, Frederick-based Flying Dog Brewery will be creating a signature beer for the festival, All Good Ale, a session IPA with notes of passion fruit and crisp hops. And, if staying the entire weekend sounds overwhelming (we don't blame you), All Good is offering Saturday-only tickets, which are discounted until midnight Wednesday night.
"This is so awesome for the residents of Baltimore to have a festival of this size so close," Liner says. "For years, All Good was four to eight hours away. So to bring it back home and have all these local bands play, it seems only natural."