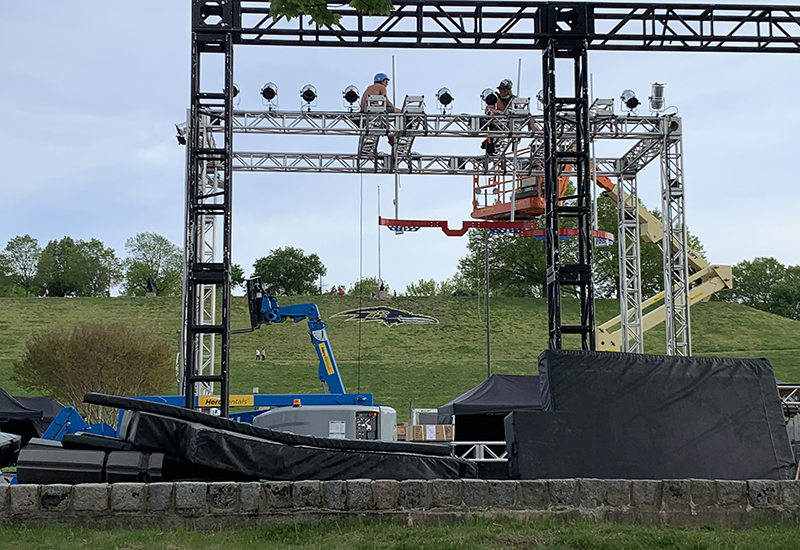 Evan Greenberg
Along the harbor this past week, curious runners, dog walkers, bystanders, and tourists all paused at Rash Field to gawk at the machines, cranes, and steel beams coalescing together to form what will be the American Ninja Warrior course, which competitors will run this Sunday and Monday.
The popular NBC show chose Baltimore as one of its city regionals this year. The top 30 advance to Monday's final, and the top 15 from there will compete in Las Vegas against qualifiers from around the country. The Baltimore episode will air on June 17 at 8 p.m. and some local competitors are excited to have the home-field advantage.
Nicholas Green, an Army veteran who lives in Bel Air, has worked for the Baltimore Fire Department for nearly 15 years. When things were quiet during his 24-hour shifts in Southwest Baltimore, he would watch a lot of American Ninja Warrior on the station's TV. He started thinking: "I can do that," and began to train.
"My first year I was like, 'This is all just strength,'" says Green. 'I'm just gonna hit the gym as much as possible and just pick up and put down any amount of weight I can.' That was a total mistake. You have to be strong to do the course, but it's a lot more technique than strength. You don't see bodybuilders on the course just crushing it."
Green got on the show, competing twice in Philadelphia, once in 2016 and again last year. He's grown leaps and bounds since those two unsuccessful runs, devoting himself to studying tape of past ninjas who have excelled. He's read books on kinetic energy, focusing on technical aspects that he didn't pay attention to before. That he is a firefighter—a job that requires snap decision making and demands fleet feet—certainly helps.
"Being able to stay calm and think through and not panic and work the problem quickly is the exact definition of what I do for a living," he says. "I use the job to help train me mentally to help me adapt and overcome in case things go wrong."
Green's fire station has a fully equipped gym, and he's been able to work a schedule out to where he feels he is "100 percent ready" to be featured on the popular NBC show.
Over the years, American Ninja Warrior has turned into sort of a phenomenon. For starters, attempting something like this, and being good at it, isn't something you can really do with one foot in. Those who excel on the show are people like Green who study meticulously and mold their entire lifestyle around the competition.
There are even gyms centered around training for the show, like the Kinetic Ninja Warrior in Bel Air, one of three that Green knows about in Maryland that has recreated obstacles from the show for devotees to practice on.
Another local competitor is Daniel Eiskant, a 22-year-old UMBC student, who participates in both ninja gyms and an acapella group on campus. This will be Eiskant's second consecutive appearance on the ninja course after an attempt in Philadelphia last year. He had dreamt of being on the show since he was 16 and has now dedicated himself to his goal.
"Being a young new face surrounded by competitors with many more years of experience is as challenging as it is fun," he says. "It can be intimidating, but I learn a lot from them."
For both Green and Eiskant, an American Ninja Warrior course in Baltimore presents a unique opportunity to share their passion with friends and family, as well as put their hometown on a national stage.
"I feel really honored to be on the show and to represent Baltimore," Green says.