Color Story
Artist Farida Hughes uses abstract art to tell humanity's tales.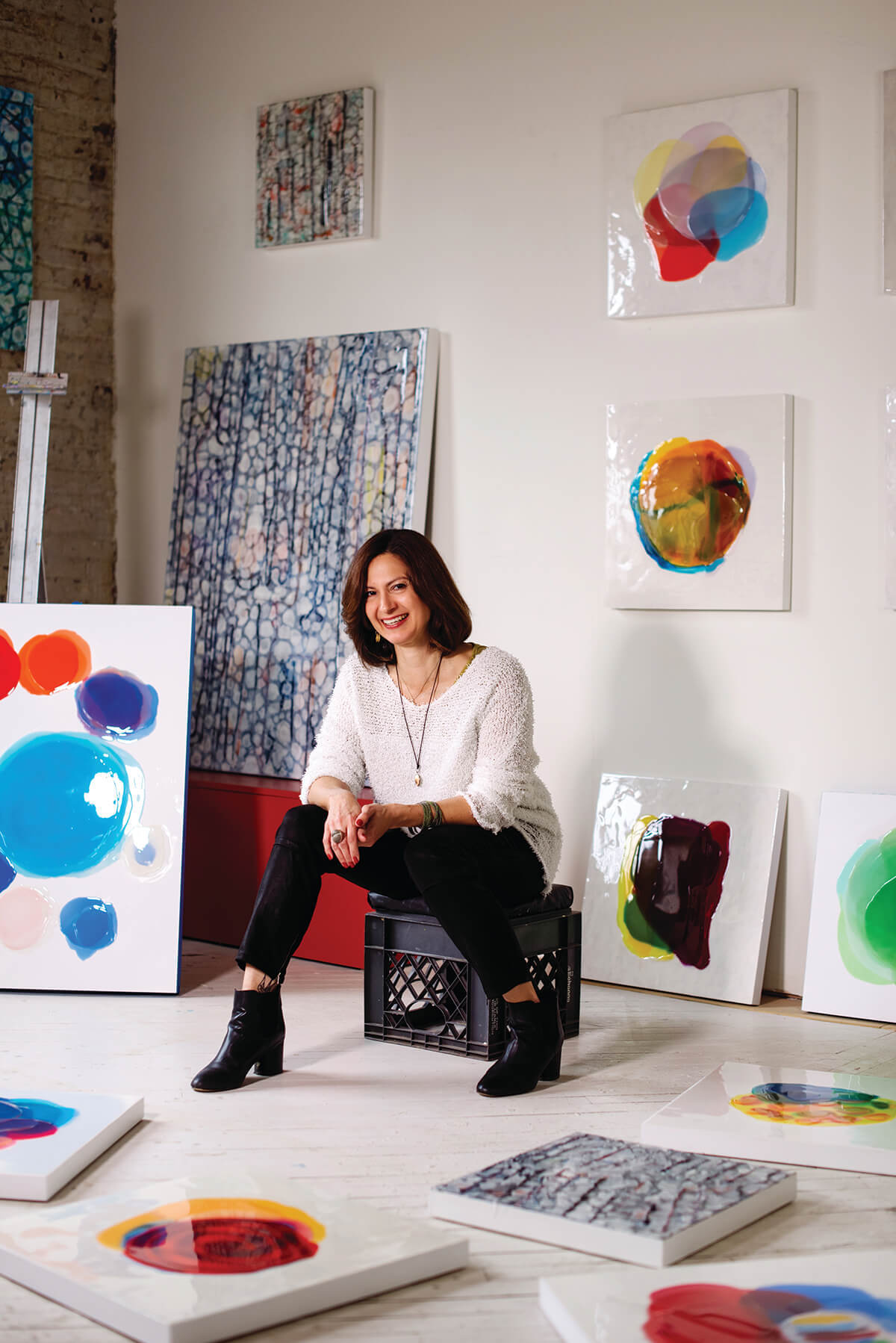 Farida Hughes has the first oil painting she made in high school, a rendering of a beach in Puerto Vallarta she painted from a photograph. Hughes had painted most of her life, but that landscape began her love affair with oils.
"I started out painting landscapes because I didn't know what else to do," she says. "I needed my art to come from a story, from an authentic place. When I was younger, I didn't know what that was."
Hughes knew that, ultimately, she wanted to be an abstract artist, but that was an impulse she couldn't rush—it had to grow organically. She studied art at Fordham University and, later, as a graduate student at the University of Chicago. As her art matured, she removed the horizon from her landscapes and, eventually, the figures. Her paintings became less about images of things and more about the experience of place.
"Over time, the work became about movement and bodies in space collectively moving," Hughes says. She envisioned aerial views of crowds—people lined up waiting for a bus, for example, or organized in protest— and those forms became circular.
"Although my paintings are abstract, they're about people, relationships, and movement."
Her work, which has been snapped up by both businesses and private homes, has included a number of commissioned pieces and is sold via galleries in five states, including two in Baltimore.
More recently, she's brought her paintings down to the micro-level using a technique of mixing oil paint with epoxy resin to create a glass-like finish. In a current series called Blends, she asked friends to share their family history. The stories are usually layered tales of cultures coming together, which Hughes renders using colorful layers of paint.
One friend shared the story of how, during World War II, his Japanese father witnessed the mushroom cloud over Nagasaki while his mother lived in Denmark, which was occupied by the Germans until late in the war. Both moved to the United States for a new life, where they met and fell in love. That "blend" overlays circles of lavender with smoky gray, a tale of a tender love intertwined with tragic world events.
Blends is a project that resonates with Hughes herself; her father is from India, and her mother's family were German immigrants.
"Blended culture is part of my knowledge of myself and my own story," she notes.
Movement is also part of Hughes' story. She's lived in Baltimore less than two years and her life in the Oliver Street Artists Studios in the Station North neighborhood is a far cry from Hughes' other role—being the spouse of Chris Hughes, the recently appointed head of Garrison Forest School.
The couple met in college, have been married for 25 years, and have two children. And because of her husband's career, much of their lives have been lived on boarding school campuses.
"Since we walked on campus for interviews, Garrison has been a welcoming, open place, but I don't wear my studio clothes at Garrison. I'm not one to walk around with paint on my clothes," she says. "I never separate who I am, but people there know me as Mrs. Hughes, and I'm there to support that community."
In fact, the 25-minute drive from home to her studio is the perfect amount of time to transition into her painting mindset. She works in her studio most weekdays, and the expansive space is allowing her to work on ever-larger pieces. While she says it's always hard to connect with a new artistic community, she's building her Baltimore network.
Her work is currently available at Y: Art Gallery, as well as Bozzuto Greene Art, where co-owners Lexie Greene and Robin Bozzuto selected pieces from Hughes' lake series and a large "community" piece for the gallery. Greene describes Hughes as a "true creative," adding that, "The layered texture, vibrant colors, and polished surface of the resin really make Farida's work unique and intriguing."
Hughes has a substantial following on social media, but she's equally excited to have her works in local galleries. She also has shows scheduled next year in Alexandria, Virginia, and St. Paul, Minnesota.
"I hope people looking for art and wanting to learn from art find it by going to see it," she says. But despite her success, seeing her creations in people's homes is the most rewarding.
"It's a humbling feeling to know that something I've done has made a connection with someone else," says Hughes. "I would do the work anyway, if no one ever saw it, but to see that a piece is meaningful enough to someone else for them to want to live with it every day, that is a marvelous and humbling experience."