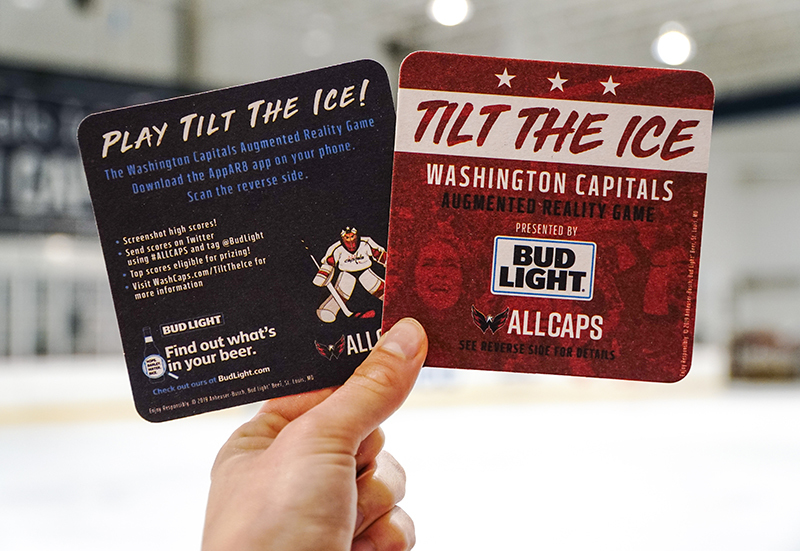 Balti Virtual
Will Gee has fond memories of going to Baltimore Skipjacks hockey games growing up in the city. But it's been more than two decades since the team hung up its skates, and Baltimore's hockey allegiances have, more or less, shifted to the Washington Capitals. As the franchise begins its playoff run, it will do so with a Baltimore connection.
At a recent meeting with the Capitals, Balti Virtual, a local augmented reality company of which Gee is the CEO, presented some recent work. It's there that Tilt The Ice, an augmented reality game based off a different demo Balti Virtual designed for developer's conference Beta City, was born.
This past week, a few thousand drink coasters were passed around Washington, D.C. bars and restaurants. Users can download Balti Virtual's free app, AppAR8, and scan these coasters to spring a three-dimensional game to life. The object is simple: you're the goalie, and your job is to stop as many pucks as possible before the game ends. The goalie's movements correspond with how players tilt the coaster.
"It's been a big hit so far," Gee says. "We've been doing a lot in marketing and entertainment, so a lot of what we do grows out of the video game industry and video game technology. [The Capitals] liked the fact that we could build something really quickly with them."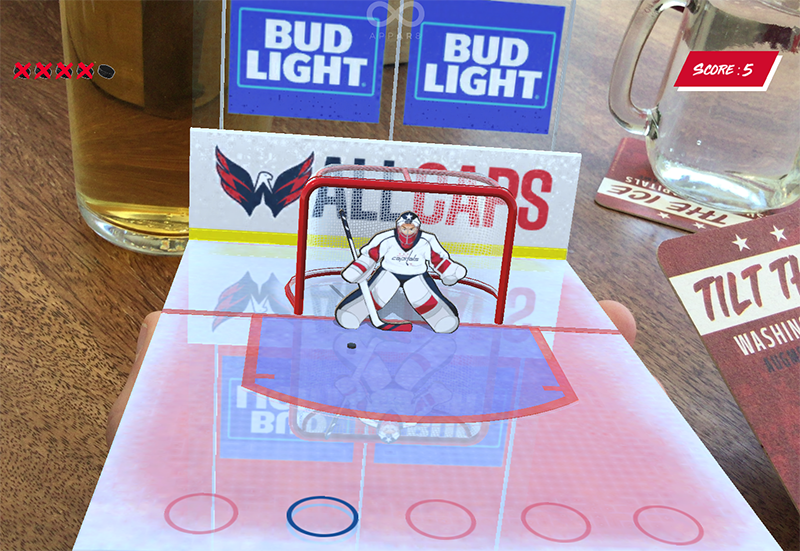 The game doesn't involve a lot of fuss—there's no email required to play and you can enter whatever you want for your name. It's also one of the first times that Balti Virtual has created a global leaderboard where top scores can be marked for posterity. Players are encouraged to screenshot and share their scores on social media. The top player scores are eligible for prizes.
This type of technology and games like it represent a flashpoint for interactivity and, as Gee notes, different ways to pull in people's attention. As a technology, augmented reality is recognizable but still has a bit of grandfathering to do before it reaches mainstream ubiquity. Gee says that major tech companies are exploring how it can be used in the same way as mobile apps when it comes to aiding business. "Augmented reality is essentially a hidden layer that can be personalized in the physical world, and there's a lot you can do with that," he explains.
Balti Virtual hopes to grow Tilt The Ice during the Capitals' postseason. There will be a bigger push across social channels as the coasters are distributed again. The Capitals begin playoff play at home on Thursday at Capital One Arena.
As for their chances— the team enters this year's Stanley Cup as a No. 1 seed out of the Metropolitan Division—Gee is holding his tongue.
"I don't want to jinx it, but I feel pretty good," Gee says. "It's exciting for us to be working with a team we've been cheering for."