Baltimore Improv Group Has a New Director—and a New Direction
In its 19th year, the group is moving forward with its first woman of color leader and a beautiful new facade at its location next to The Charles Theatre.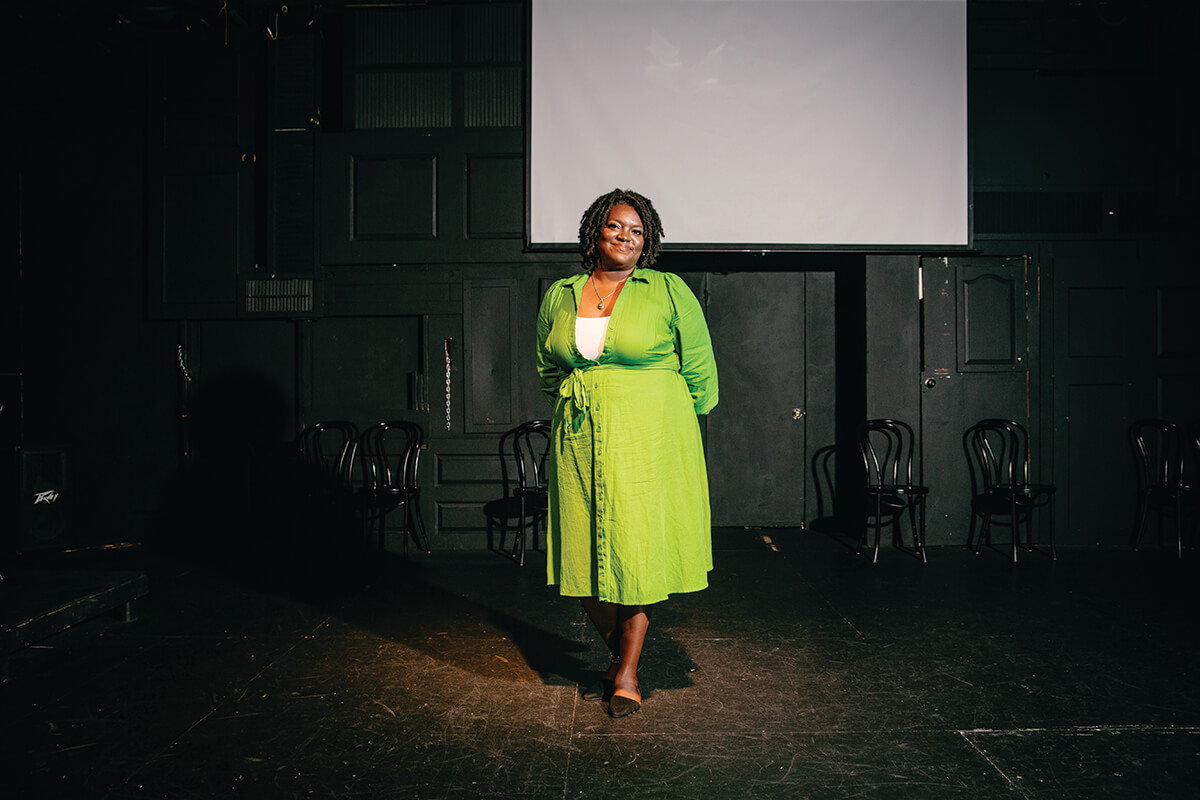 Michelle Faulkner-Forson moved here because of John Waters.
While a photography student at Southern Illinois University, the new managing director for the Baltimore Improv Group (BIG) was shown the 1998 movie Pecker.
"I was obsessed with it," she says with a laugh. "I watched that movie so much—I willed myself here."
That dream manifested in the form of an MFA in the Maryland Institute College of Art's Community Arts Program in 2011. But the performing arts still called out to her.
Seven years later, after a particularly emotional period in her life—losing both parents and a grandmother, while also becoming a wife and mother—Faulkner-Forson found herself at the improvisational comedy theater to help get her mind off things.
"I was looking to feel like me, but in a different way," she says, so she signed up for a one-on-one class with the help of a diversity scholarship and quickly fell in love with the idea of the unplanned being on purpose.
But when Faulkner-Forson took on her new role with BIG in February 2022, it was no laughing matter. The nonprofit had gone through a bit of a racial reckoning and subsequent turmoil when in June 2020, as the pandemic raged on, Terry Withers, then-managing director of BIG, was dismissed after board members determined that comments he made on social media were "harmful to Black community members." (According to The Sun, he later apologized for his behavior.)
Now the group, in its 19th year, is in a much more stable place, with its first woman of color leader, a beautiful new facade at its location next to The Charles Theatre, and a pending liquor license—the latter being a perk for some audience members and performers.
"We're recuperating as an organization, but I feel really good about where we are and what we're positioned to be," admits Faulkner-Forson, who also points to BIG's newfound efforts to expand and diversify the group through local outreach. "I think it's important that our community introduces improv to other people that look like me and Baltimore, because that's what we should be here to do."
She's also a big believer in the power of positivity. It might be even more important than a laugh, she says.
"Before we go on stage, we pat everybody on the back and say, 'I got your back.' So, whatever happens out on stage, we all agree that we're going to support it. People are usually trying to tear you down or throw you under the bus. And that's not how we operate."