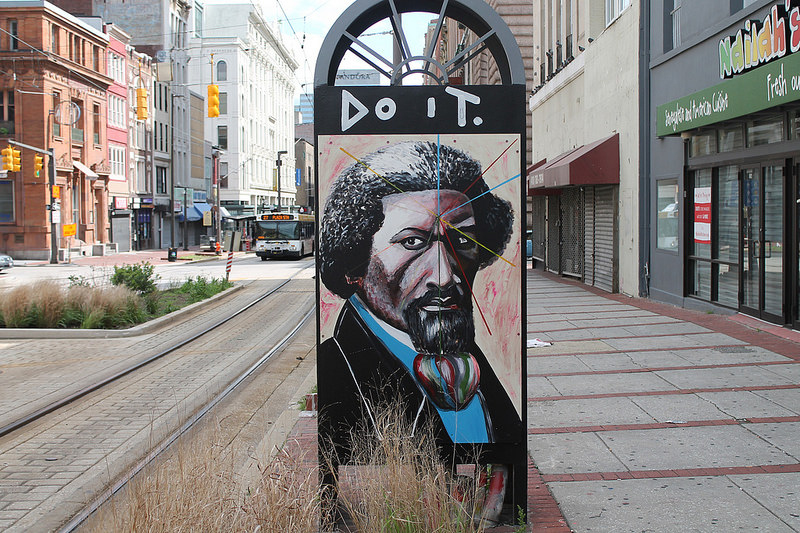 Flickr / Creative Commons
This week, The New York Times released an interactive feature describing 52 cities its readers should visit in 2018. And, wouldn't you know, our very own Baltimore made the cut at no. 15. Each writeup is short and sweet with a map, some links, and a small sentence describing why the city landed on the list. In our case, it's because Baltimore "honors an abolitionist and lights up with art."
"Charm City's packed cultural calendar is showcasing commemorative events for the 200th birthday of the Maryland-born abolitionist leader Frederick Douglass," writes Nora Walsh. "Meanwhile, an expanded Light City festival in April will feature light-based art installations and performances in 14 neighborhoods."
We were particularly heartened that the Times chose to highlight our celebration of Douglass, a figure that we chronicled in our cover story "How Baltimore Invented The Modern World." (We'll also be detailing the events surrounding the 200th anniversary in our upcoming February issue.)
The writeup also mentions the eventual opening of Hotel Revival, which we've reported is going to cut the ribbon in Mt. Vernon this spring. The swanky new spot will have 107 guest rooms, a street-level restaurant, three karaoke rooms, and a rooftop bar headed by by Chelsea Gregoire.
Baltimore joins an elite list of regions, cities, and entire countries around the world in what the publication calls "a starter kit for escaping." Rounding out the top three are New Orleans, the country of Colombia, and a southern region of Italy.
To get locals involved, the feature linked to a Facebook thread asking followers to post about their favorite things to do in each region. For Baltimore, the suggestions vary—from tours at  Ft. McHenry to visits at local breweries—and it's a nice nod to the expertise of local residents.
This isn't the first time the newspaper has lauded Baltimore and, most recently, in its famed "36 Hours" series, we think writer Nell McShane Wulfhart struck the right chord when she wrote, "The traditional things, like the old-school sheet cake at Lexington Market, remain unchanged, while neighborhoods like Charles Village seem to be opening new bars and restaurants daily."
She continued: "Charm City has raised the charm quotient considerably in the past few years, managing to retain its quirky appeal as it develops stylish, more upmarket restaurants and hotels."