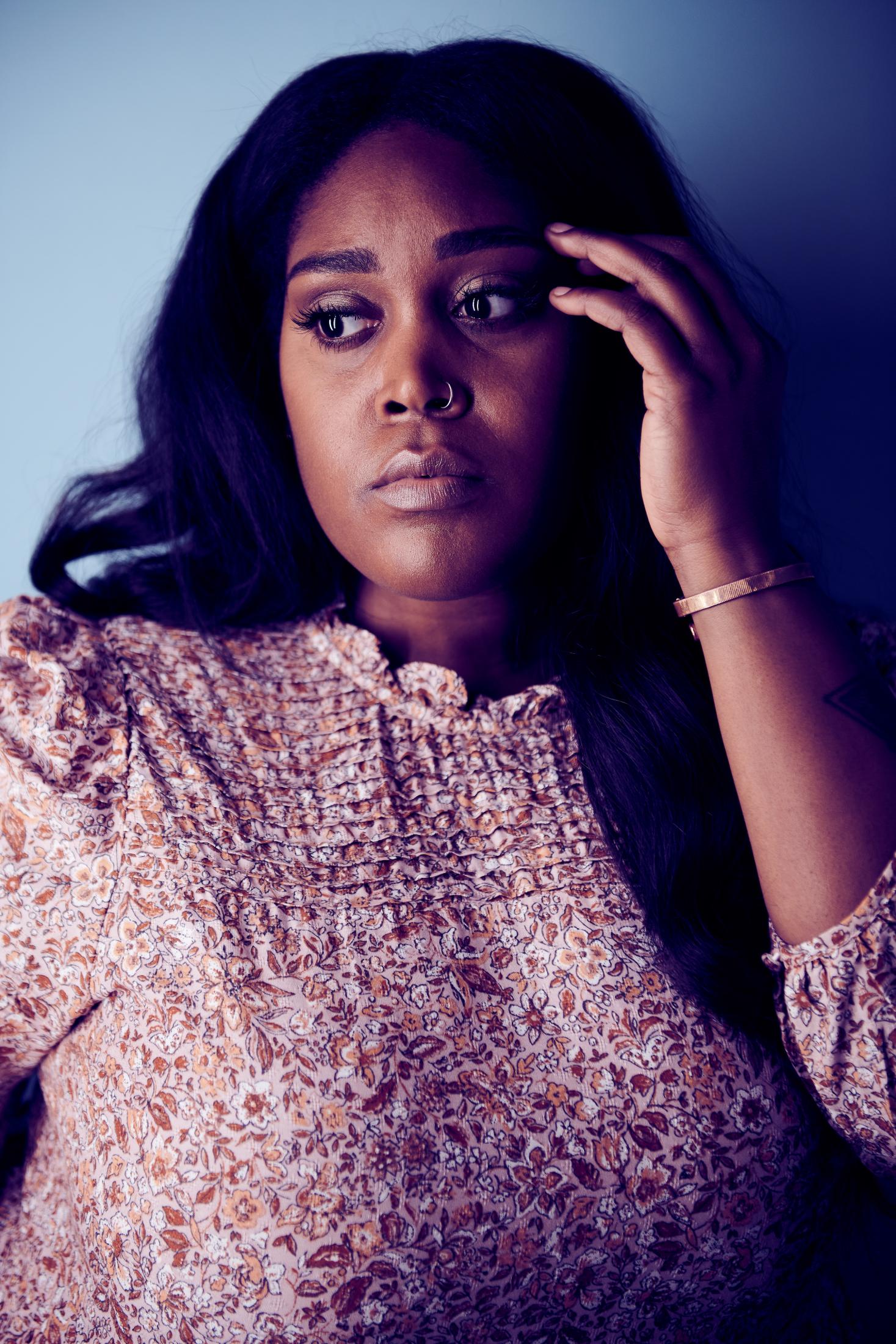 In recent months, singer-songwriter Brittney Spencer has caught the attention of more than a few artists and national music outlets for her penchant for writing honest, raw country songs, sung with soul.
In January, Spotify named Spencer among its "Hot Country Artists to Watch" list for 2021. And just a week prior, Spencer was selected by CMT as one of about a dozen performers in its "Next Women of Country" class of 2021. A few months back, members of The Highwomen caught Spencer covering their song "Crowded Table" on Twitter and invited her to play with them.
The artist was born and raised in Baltimore, and she credits this city for giving her a solid foundation from which to grow musically. In 2013, she moved to Nashville to get serious about her country music career and has spent the past eight years there, honing her craft.
We caught up with Spencer to talk about her Baltimore roots, the gospel thread throughout her music, and what she's been up to during the pandemic.
Tell us a little about growing up in the church and how it, and the music, were a part of your life.
Church, for me, was very cultural. It's spiritual, but also very cultural. Families like mine, we couldn't really afford singing lessons or anything like that, so I just sang in the church all the time. I spent a lot of time there as a kid, because there was always an opportunity to sing. We went to quite a few churches, but the main church where people knew me was Empowerment Temple, off of Reisterstown Road. I served there for about a year, when I was about 20, as the minister of music. That was the last thing I did with the church before I stopped and started focusing on my move to Nashville.
Did you come from a musical family?
Everyone in my family sings, but no one made a career out of it. My dad had a quartet band, my aunt sings, my late uncle sang. Yeah, we're just a singing family.
When did you learn guitar and piano?
I learned all of that while I was in Baltimore. I went to magnet schools—Loch Raven Academy for middle school and George Washington Carver Center for Arts and Technology for high school. They teach you piano, but I wasn't proficient. Actually, I'm still not proficient. It's just a songwriting tool for me.
Were you performing anywhere besides your church while you were still living in Baltimore, like open mics? Were there any people who encouraged your music career?
At the time, I was just singing at church and meeting other singers in the community, like Monét Guthrie Shelton, a vocal coach who taught me how to sing in the studio. She co-founded STEMS Music, an agency for background singers and studio singers in the DMV area, and really took me under her wing. She taught me how to sing in the studio and for other artists, mainly gospel and R&B artists, like Jason Nelson. I sang behind Carl Thomas, and I sang background for Lil' Mo, who at the time lived in Baltimore.
For me, Baltimore is such a foundation piece in my story. It's where I learned how to sing in the studio, it's where I learned how to sing in general, how to be musically eclectic, and how to make music that invites other people to follow along the journey, whatever that journey is. It set me up for Nashville. Nashville has polished me up and helped me find my voice, but I attribute everything I am to Baltimore.
"Baltimore is such a foundation piece in my story. It's where I learned how to be musically eclectic, and how to make music that invites other people to follow along the journey, whatever that journey is."
Tell us about Nashville. Had you been there before you moved there? And what was it like to decide to go all in with your music as a career?
I'd always wanted to do country music, I just never had the nerve. I didn't know if I could do it. I'd watch interviews with Taylor Swift and Reba—I'm really big on documentaries—and they'd say their parents knew they could sing, and they always moved to Nashville. So that stayed in my mind. I kept getting laid off from jobs—I'd gotten laid off three times in a row—because it was just a rough time, economically, in the city. I was like, "You know what? This is miserable, I don't have money, and if I'm gonna be miserable, I at least want to be doing something I love."
So I found a way to get out of my lease in an apartment in Mt. Vernon, and moved in with my dad for a year, just to save up. I'd only taken a weekend trip to Nashville in October to look at apartments and go to a few job interviews while I was there, and then I moved that February in 2013. I got an apartment, got a job. I drove in the middle of the night, got to Nashville. I didn't know anybody. I just made it work. I knew I needed to be here and really saturate myself in the music here. I knew I needed to learn to write songs better and be around musicians who actually played country music, which was a little bit of a challenge in Baltimore.
Baltimore is really big on jazz and rock and gospel, but there's not a whole lot of country. It's a great base for concerts if you're on tour, but in terms of the creative side of it, it was hard to find people who were serious about writing the music. So I was just on a mission. I needed to know I could make it work. I've done a lot of odd jobs that allowed me a lot of space and time to do music, and I've since gotten my degree in public relations and music business from Middle Tennessee State University.
What has the pandemic been like for you? Have you been able to be creatively productive?
Yes, I've still been able to be productive. I'm still making music, working on content, about to release some video content. During the pandemic, when there's no live music, it's given me more time, but also a need to do some part-time work outside of music. Honestly, it's been a great time for me. I just released my first EP this past summer—and to release my first solo project in the middle of a pandemic and for it to be doing relatively well is incredible and kind of blows my mind.
It seems like people need art and music more than ever during these times of isolation. Do you find that to be true for you?
I think that music is so important because it's not just been a pandemic, vacant of anything but COVID. We've had a lot of unrest in the country, and it's been a jam-packed time of solitude. I think music has played a vital role, almost like a sanctuary for people. It can also provide an escape. I think people have leaned more into entertainment in general. They've clung to that a whole lot tighter.
"[In these times of isolation] music has played a vital role, almost like a sanctuary for people. It can also provide an escape. I think people have leaned more into entertainment in general. They've clung to that a whole lot tighter."
What was your introduction to country music? I read that you were blown away the first time you heard the Dixie Chicks—was that your first taste of the genre?
There are two versions of this story. The first time I consciously knew I was listening to country music was when a friend of mine in Baltimore put on the Chicks and said, "You need to listen to them." I didn't know who they were, I didn't understand the genre, but she played an album in her car, and I just fell in love. It sounded like church to me. It sounded like a quartet. But they were telling a different story. It got my wheels spinning and sent me on a path where I started watching CMT and listening to 93.1 WPOC, particularly the "Laurie DeYoung Morning Show."
Before then, I'd heard country music, but it was crossover country. In the school buses as a kid, they'd play the alternative rock stations, probably because it was neutral and wasn't harmful for the kids to listen to and also enjoyable for the bus driver. They'd play an eclectic mix—Mariah Carey, Prince, Journey, and also Tim McGraw, Kelly Clarkson, Shania Twain. I didn't really understand genres, and listening to that as a kid contributed to my not really understanding genre to this day. They just played whatever was good. So, without knowing it, I was already hearing country.
Right. It's like genres are almost becoming obsolete. You can trace them back to their roots and their essence, which is really distinct, but now there are so many layers of crossover. That seems to be where we're going.
Yeah, because kids like me grew up listening to alternative rock stations, where there was no genre. We just didn't use it. And now we're kind of emulating that in our music.
Were you writing songs in Baltimore as a teenager?
The first song I ever wrote was as a teenager. It was called "Stay with Me." It was a country song. Prior to that, my introduction to songwriting was writing voicemails—where you call someone and they don't answer and someone's singing a song on their voicemail, instructing you to leave a message. It was a very retro thing when I did it. People just weren't doing it anymore, but I thought it was cool. I found ways to manipulate the technology, where I'd be singing three-part harmonies. I was so serious. I spent hours. I'd take theme songs, from "The Brady Bunch" or "Wheel of Fortune" and change the lyrics so that it would basically be about me not answering my phone and asking people to leave a message.
It kind of spread, and I started doing it for other people in church. It was interesting. When you call someone and want to leave a message, and you hear this person singing, it's a conversation starter when you get a call back, like, "Who was that person singing in your voicemail?" So then I started doing voicemails for all kinds of people—not just in Baltimore but across the country [laughs]. I brought it back like a '90s trend.
"I like to be around people who are honest about how broken they are, because all of us are. I try to make music that caters to those people."
In light of all the unrest throughout the past year, do you feel any responsibility as an artist to address current issues in your music or use your songs as activism?
I don't feel a responsibility to be an activist. I have so much respect for people who are really boots-on-the-ground when it comes to activism. I think I do have the responsibility to tell the truth, and sometimes that looks like activism. Sometimes that means telling my experience or writing about something that I know weighs on the hearts of a lot of people.
A lot of your songs have Christian themes running through them and have a gospel feel. And, of course, there's the stigma of being a Black woman in country music, but there's also the stigma of Christian music being, well, not great music, to be blunt.
No, you're absolutely right.
I'm curious if you ever considered branding yourself as a Christian artist or debated which lane to go down, which genre to focus on, or how you would be perceived.
Being a gospel or Christian artist was never really part of my plan. I don't have an interest in branding my faith, but what I believe does come out in my songs, maybe in untraditional ways. In "Whiskey Lows," I'm just singing about drinking alcohol, but it's a drunken prayer.
I don't really write traditional Christian songs, and I've been kind of intentional about it because I want to tell the truth from a different perspective. I wanna tell about the person who grew up in church, but their life doesn't look the way the church told them their life should look, but that doesn't mean they don't have faith anymore or they're lost. I kind of gravitate to those people anyway—the misfits, the broken, the people who don't fit the mold. I like to be around people who are honest about how broken they are, because all of us are. I try to make music that caters to those people.
What was it about country music that really drew you in?
Country music is "three chords and the truth." I mean, I definitely have more than three chords, but I'm trying to tell the truth, which means looking at the big picture, the whole story.