Baltimore Photo Space Makes Room for Art Photography in Remington
Photographer Kyle Myles' subterranean space features an inventory of 250 books and magazines representing a cross section of both historical and contemporary artists.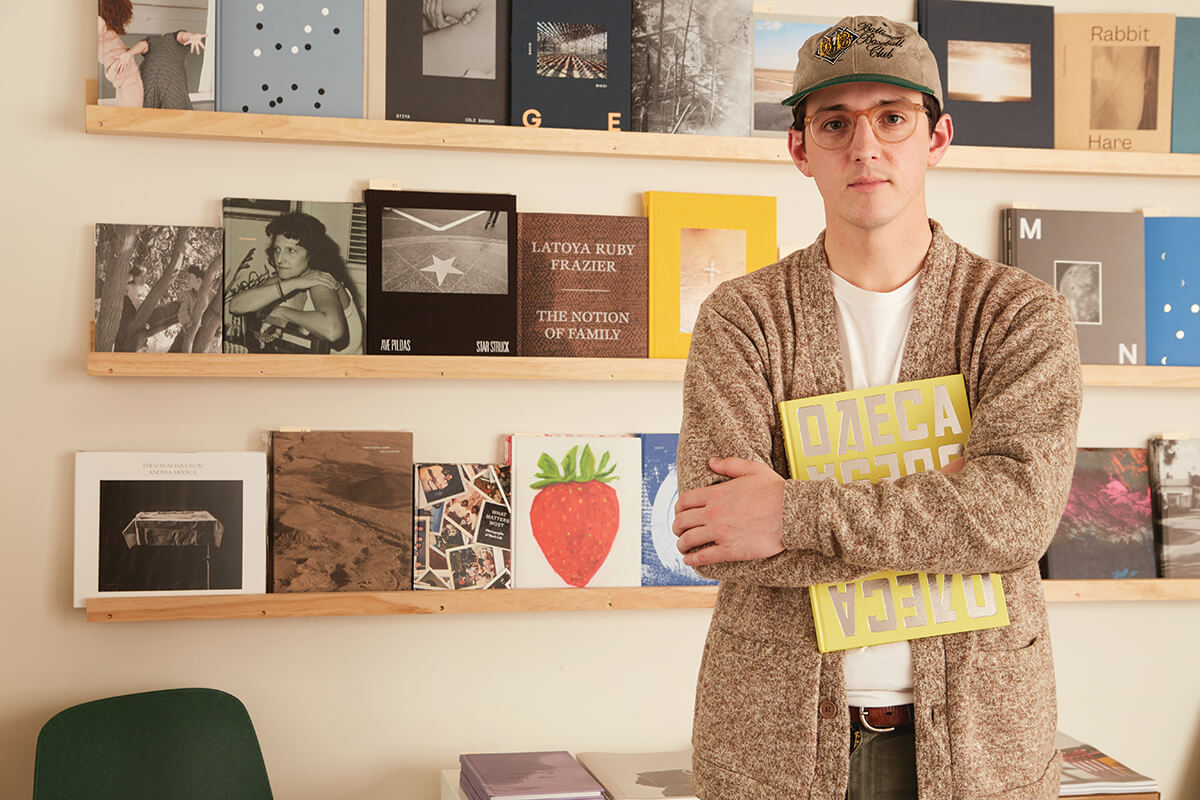 Descending the stairs to the subterrain-level Baltimore Photo Space in Remington, you'll be struck by the surprisingly high ceilings and hip layout of this Baltimore basement, more akin to larger cities like Los Angeles or New York. But the wares sold in this one-room shop—books of and about photography, featuring images of everything from changing seasons to small towns to people's portraits—can transport customers to other worlds.
"It's the little details that I really love," says owner Kyle Myles, holding up a rare-edition, pocket-sized red-linen copy of 22 Days In Between by photographer Salih Basheer, which honors the artist's memories of his late parents. "These books can be powerful and dark, but also personal and beautiful."
In 2018, Myles, a self-trained photographer, left his job at the Leica camera store in Washington, D.C., becoming a photographer's assistant and eventually jumping at the opportunity to rent a workspace in Baltimore. His friend, Sara Autrey, who owns the Get Shredded boutique upstairs, alerted him to the location, and over the past two-and-a-half years, the now-Remington resident has been "learning as I go, in real time," crediting his shop's survival to the support of the city's arts community.
Opened online-only in the fall of 2020, Baltimore Photo Space was originally envisioned as a studio for Myles and a space to sell prints and zines made by his creative friends. But the pandemic spurred "renewed interest in, emphasis on, and excitement about photo books," he says. And even in a city with no shortage of great bookstores, it was hard to find a dedicated and curated selection.
The retail shop now features an inventory of some 250 books and magazines representing a cross section of both historical and contemporary artists working in both film and digital photography. Rising Baltimore stars like Devin Allen and Curran Hatleberg are stacked alongside industry veterans like Nan Goldin and Lee Friedlander. The entry wall at the top of the staircase serves as a de facto photo gallery.
Holding physical space is important to Myles. His shop is open Saturdays and by appointment, with the tactile shopping experience welcoming people to take their time and browse his stock, even if they can't afford to buy anything (though his prices begin at $10).
To him, each item is a work of art, based on a particular moment in time and serving as a vessel for an artist's larger ideas.
Says Myles, "I get just as excited about the physical object of a book as much as what's in it."