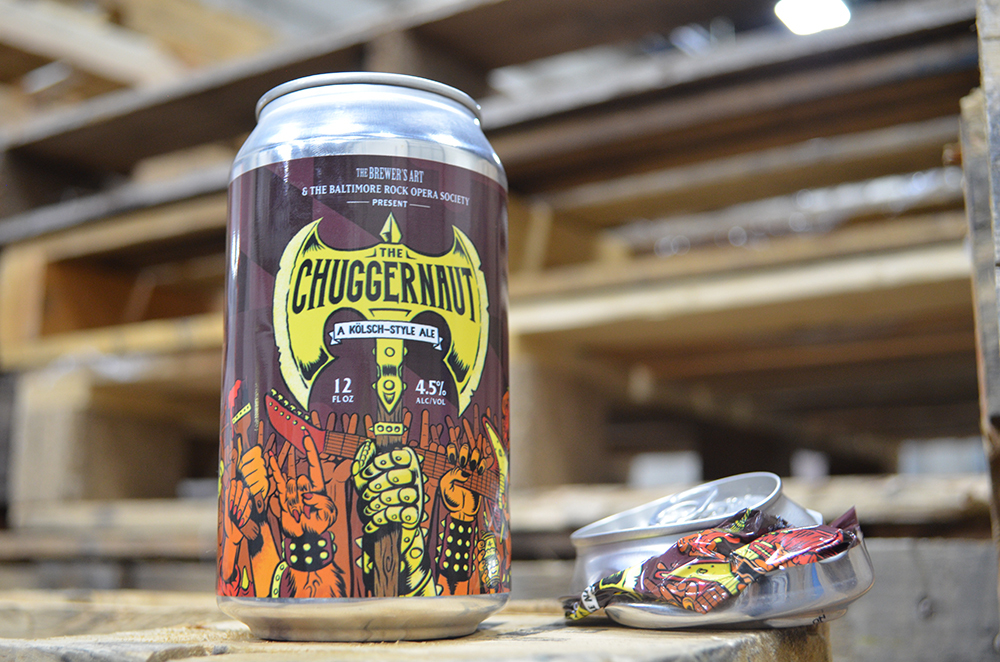 Katelynn Zimmerman
As with all things related to the Baltimore Rock Opera Society, they have some unconventional rules to live by.
"We have our official charter that incorporates us as a nonprofit," says BROS executive director Aran Keating. "And then we have this unofficial charter that we made up and article one is 'There will be beer.'"
So it almost seems like destiny that the local theater group would one day have its very own beer, brewed and packaged especially for them. The Chuggernaut, which is a collaboration with The Brewer's Art and canned locally at Oliver Brewing, is a 4.5-percent ABV Kolsch-style ale that will be available after April 7.
"This aligned with our vision for how we want BROS to be perceived," Keating says. "It's not just a theater company—it's a community, a feeling, a whole brand. Plus, beer is a big part of what it means to enjoy the hell out of a live rock show."
The Brewer's Art was a fitting collaborator since the bar was the setting for BROS' very first fundraiser and has brewed one-off releases for the company's past shows. But this is the first time they were able to can something exclusive and sell it retail.
"With changes in the packaging landscape, now you can do short runs and make 200 cases of beer," says Brewer's Art co-owner Tom Creegan. "The BROS' desire matched up with the technology and it's been great working with Oliver to make this happen."
Chuggernaut, a name Creegan was surprised got approved by the Tax and Trade Bureau, is dry-hopped with traditional noble hops and features labels by local artists John DeCampos and Shannon Hadley.
"I wanted to do something that was imminently crushable," Creegan says. "It just tastes like beer. It's not fruity, not overly hoppy. We kind of went old-school with it."
The beer will first be available at BROS' upcoming fundraiser gala Swanktacular, on April 7 at Mt. Zion Church, and then patrons can get it at The Brewer's Art, Remington Wine Company, and The Wine Source.
The theater company's latest show, "Incredibly Dead," premieres at the church on May 12, as the BROS get ready to announce its permanent home. Keating says he and his team are currently working on a space in Station North.
"The BROS and Aran have been steady patrons for a long time," says Creegan. "We just fell in love with the energy and creativity they bring to the city. They are so Baltimore."