Outside the Box
A local artist gives a makeover to a Baltimore icon.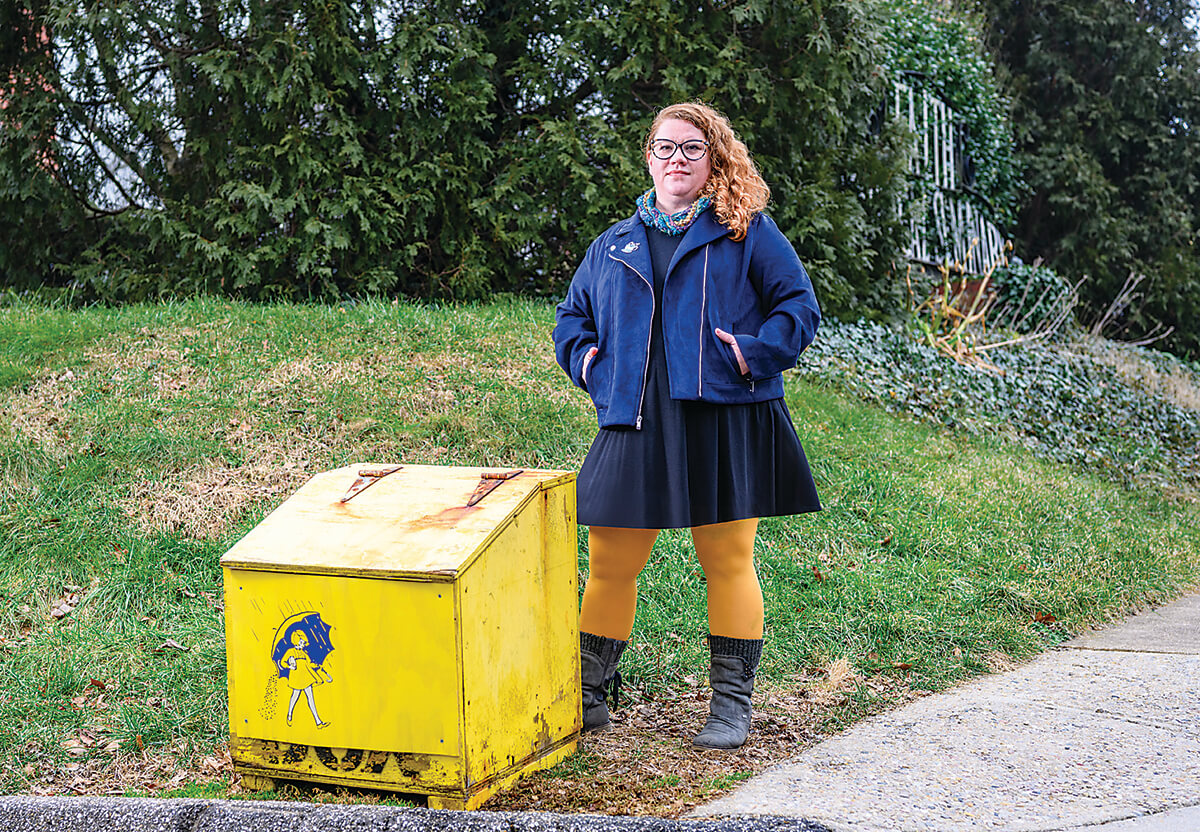 In the middle of this past December, on the eve of Baltimore's first snowstorm, Juliet Ames left her house with plans for some minor vandalism.
The local artist and Govans resident had noticed that some of the city's iconic salt boxes, typically picked up in spring for annual maintenance, had been left out all summer due to COVID-19, and their yellow and black paint had begun to fade, with one particularly sad-looking subject catching her eye on 36th Street and Roland Avenue.
"It looked naked, I had to do something, I had to fix it," says Ames, who quietly arrived one morning and installed a plywood panel that had been painted in the same OSHA-approved color but embellished with a deluxe version of its usual lettering. Instead of black spray paint, "salt box" was now spelled out in large pieces of blue and white china—a nod to the artist's day job as the founder of beloved local jewelry business The Broken Plate.
Three days before the first snowflakes fell, Ames posted a picture of the finished product on Instagram, quickly igniting what would become a months-long art project that would engage many more residents—and the city government.
"I was nervous—I'm generally a rule follower, I didn't want to piss anybody off," she says. "But when the Department of Transportation responded to me [on Twitter], they said they loved it and encouraged more artists to make boxes. It was the greatest outcome I could ever think of."
With the DOT's blessing, every box became a possible canvas. More than 20 have now been made over by Ames, as well as her friends, neighbors, and other artists who have hopped on the bandwagon. In Mt. Washington, a box has been converted into an Old Bay tin. In Hampden, another now looks like a bag of Utz potato chips—salt and vinegar flavor, of course. Others have been adorned with images of the likes of Ray Lewis, pink flamingos, and Divine.
Now, with the help of @baltimore.saltbox, an Instagram user who has been tracking their handle's namesake since 2018, a Google Map has been created for several of the salt box sites across the city—some 787 in total—with special icons included for those now adorned in local art.
"It's been super fun," says Ames. "I've always loved the salt boxes. I don't know why. They're cute and charming. They have personality. They're just nostalgic, and a nice service—it's cool that we still have them around. I actually like winter, and I always know, when the salt box shows up, snow days are coming."