How Beyond Video Brought Back Movie Rentals
An inside look at the approach to the nonprofit video store, which offers a collection of more than 31,000 titles.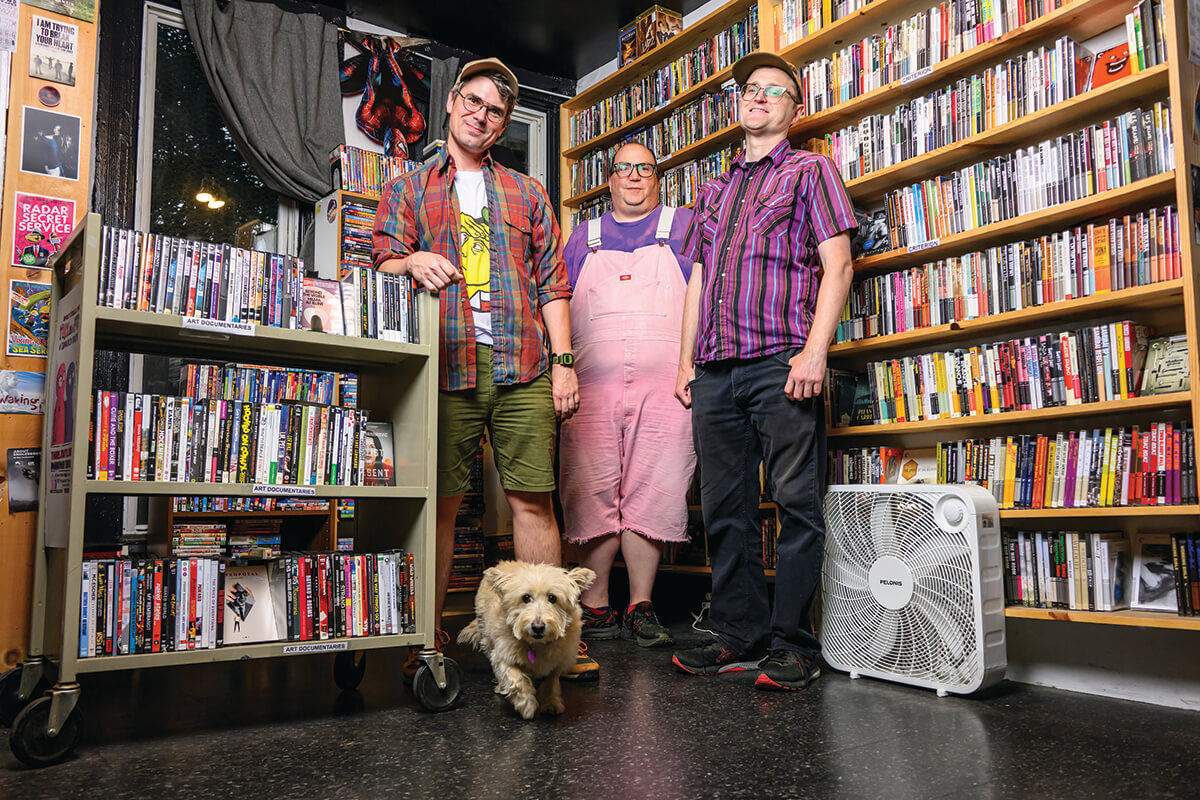 The black-and-white exterior of Beyond Video on N. Howard Street looks like an optical illusion straight out of M.C. Escher. And that sense of disorientation continues with just one push of the business' front door. Suddenly it's the early aughts all over again, when renting DVDs and VHS tapes was still one of the hottest modes of entertainment.
From Erol's to Blockbuster, back then, browsing the selection of the local video store was an event and an outing in its own right. And if you were lucky enough to belong to a neighborhood video store—such as Video Americain or Cranbrook Video—you would get to speak with actual cinephiles, real movie buffs who lived and breathed movies and could make recommendations tailored to your particular taste.
But streaming changed all that.
"Everyone was talking about how video stores were dead," says Lake Walker resident Kevin Coelho, 44, one of the three founders and co-owners of Beyond Video. "I was never convinced video stores are dead. I think the business model of video stores is dead."
Coelho, along with Remington resident Eric Hatch, 49, and Greg Golinski, 49, of Reservoir Hill, know a little something about that business model; they all met when they worked at Video Americain, which was at one time the destination for Baltimore's cineastes. Coelho, who began working there in 2003, says things got trickier when he was promoted to manager in 2007.
"I loved working at Video Americain. It was one of the best jobs ever. But," he admits, "the business side was very stressful."
Between making sure employees had enough hours to make working there worth it, collecting late fees, and hoping customers would keep renting, he mentally took the job home each night. It was tough.
"I saw the arc of the business stopping—from having busy Saturday nights with three employees working to only one," Coelho says. The traffic of people coming to rent went from a flood to a trickle. That's when the three men began discussing if there was actually a different way to run a video store. When Video Americain announced its closing, its supporters held a community meeting. About 30 people showed up.
"The initial idea was just to try to get resources of money, time, and people to try to save one or both of their locations, because we just felt that Baltimore can't be without this," explains Hatch. "For various reasons, we weren't able to pull that together. We sort of licked our wounds and started reconceiving from scratch."
Video Americain's collection ended up getting sold off in lots or at sidewalk sales. It was tough to watch, but Coehlo, Hatch, and Golinski understood the owners needed to make money back. "It was a good motivator for us to try to rebuild it, because it was really sad to see it go," says Hatch.
But if these movie-lovers were going to make a go of starting a video store with staying power in the 21st century, they knew the old business model needed to go the way of all those VHS tapes—out the door. They decided to open Beyond Video as a nonprofit.
"If we removed the profit motive, it actually could kind of flourish," says Hatch, who had gained industry experience as a film programmer, most recently for the New/Next film festival, after his years at Video Americain. In addition, they knew that having volunteers instead of employees would also help keep the endeavor alive.
"I didn't want anyone to be stressed out by money," says Coelho. "I didn't want to hire anyone to have to do the books or handle payroll and stuff like that. I think it was important for all of us to go into this, at the bare minimum, keeping the lights on and keeping the door open."
Based on what customers most wanted, they also ditched the late fees. "Everyone misses video stores. No one misses late fees," quips Hatch.
Even though they wanted to change the video store business model, they still needed funding—at least for rent. But first they needed to gauge how popular their idea was. Sure, Hatch, Coelho, and Golinski wanted to believe that there were still people who preferred a physical video store to the endless browsing of streaming services. But then again, they're all hard-core movie-lovers. Would regular moviegoers care?
They tested the idea's viability by launching a three-month Kickstarter campaign in 2017, with the goal of raising $30,000. The crowdsourcing platform made sense because it's binary—if they didn't hit their financial goal, all of the money would go back to the donors.
"We sort of left it up to the public about whether or not we were even going to be able to do this," says Golinski.
And they began crowdsourcing in another way—accepting physical donations of DVDs, Blu-rays, and VHS tapes. For a while, money trickled in. It looked like they weren't going to make their goal. Then, out of nowhere and shortly before the Kickstarter was going to end, an anonymous donation of $10,000 came in. That rejuvenated the campaign and others began giving.
"It was kind of nerve-wracking," Hatch says. "It was a photo finish."
When the Kickstarter ended on June 20, 2017, the final amount they raised was $32,250. And now the co-founders had to actually do what they had envisioned for years.
"I was kind of like, 'Oh shit!'" admits Coelho. "But I mean, I was excited."
"EVERYONE MISSES VIDEO STORES. NO ONE MISSES LATE FEES."
Once they reached their monetary goal, the biggest hurdle for them was finding the perfect space. Finally, they located their current space on N. Howard Street. Hatch says that the landlord was kind enough to give them a bit of an incubation period before rent kicked in. They built the space out with a counter and bookcases to hold the physical rental stock. Some they built themselves.
"The ones that are warped are the ones we built, and the ones that are sturdy were professional," admits Hatch, with a laugh. He notes that there was at least a year between the Kickstarter campaign's closing and the soft opening of Beyond Video. Over time, the 30 people who had rallied around Video Amercain narrowed to a core of six to nine people, called the Baltimore Video Collective.
"The process had gone on for so long that some people had moved, gotten jobs other places, gotten married and had children, and started careers that became dominant in their lives and other things," says Golinski.
After a soft opening during which they tested out the rental system for friends as well as the Kickstarter supporters who helped fund the project, they opened to the public in December 2018. And except for three months during the COVID-19 pandemic when they, like other businesses, were require to close, they have been open ever since.
Here's how it works: Beyond Video has about 275 people who have paid memberships—in the form of donations to the nonprofit—and depending on how much they pay each month, they can rent more or fewer DVDs, Blu-rays, or VHS tapes. (While the name Beyond Video is an homage to the VHS rental outlets of yore, most of the shop's stock is on DVD or Blu-ray.) They generally have anywhere from 300-400 members at one time.
"We get students who go away for the summer and let their memberships lapse, and then they come back in September and renew," says Golinski. "Over five years, I would say it's been close to 1,000 people who have signed up," says Hatch.
The two price points are $12 per month, which allows members to have three movies out at one time, and $20, which allows them to have six. There is no limit, though, on how many rentals a member can take out each month—just the number that can be out at one time. Newer releases can be rented for one week and older for two. As there are no late fees, the due dates are just a courtesy to other members.
"If you need more time, we're pretty lenient with the renting. If people reach out to us on email, Instagram, or even call, and ask if they can renew, as long as no one is looking for it, we don't mind renewing it for another two weeks," says Coelho.
In 2018 when they opened, Hatch says they had a collection of about 9,000 movies. Today, that has ballooned to over 31,000. There are new releases (though this is not their bread and butter, as popular movies can be easily found online), staff picks, and a Criterion Collection Section, but the second floor is where most of the collection resides. This is where the Director's Room is located, in which all the movies are grouped by director, starting with Chantal Akerman and ending with Terry Zwigoff. Besides featuring big directors such as Robert Altman, Wes Anderson, John Carpenter, and more, it also contains smaller, lesser-known names like Jim Cohen and Leos Carax, who have their own sections in the room, too.
Of course, they have a John Waters section. "He's been in the store a few times, and he's donated some stuff to us as well," says Coelho. "John's stuff always rents great." They also have sections on Made in Maryland, Classic Cinema, Thriller, LBGTQ, Cult and Horror, Martial Arts, Foreign Films, Basic Comedy, Stand-Up Comedy, Romance, Drama, Action, TV Series, and more.
"SOME YOUNGER PEOPLE, THOUGH, COME IN, AND I HAVE TO EXPLAIN TO THEM WHAT A VIDEO STORE IS…"
Walking around the store on a Thursday night, it's amazing to see how much they can fit into the narrow, attic-like space. The store feels more like a home than a business, with the TV always on and a window half-open to let in the breeze and the sounds of the neighborhood.
After browsing the "Store Favorites" shelf, featuring horror films with ominous titles like We're All Going to the World's Fair and DVDs with handwritten recommendation notes from the owners, two young women come down the stairs with a small stack of more horror movies. Their haul is illustrative of the perennially popular horror section at Beyond Video, which enthusiasts appreciate because it contains more of the obscure, home-video style films that can't be found anywhere else.
"Cult is an oddball, sort of unclassifiable," says Coelho. "We have stuff like Penitentiary, a prison boxing movie from the '70s, and then we have Left Behind, the Kirk Cameron religious wackadoo movies."
They say they're always looking for DVD and Blu-ray donations, but will only take VHS if you can convince them why they simply must have it. Volunteers are also always welcome. While Hatch, Coelho, and Golinski all regularly volunteer at the store, they have full-time jobs, too. (As a result, the store has limited hours: Thursday through Sunday, from 3-9 p.m.) There are challenges, but their new video store concept is proving surprisingly sturdy.
And ironically, the very thing that drove these guys to open Beyond Video is also what's helping keep them in business: streaming services.
"I think corporate streaming services are the best advertisement for us because they're letting everyone down. They keep splintering and rebranding, and making constant moves," says Hatch. "There are people who instantly get what we are and gravitate towards it. But then there are so many people who come in for one specific thing, and once they're in the space, we've got them because there's so much other stuff."
And what age group tends to rent the most? Ages 25-35. Hatch thinks it's because, "They still have a sentimental or practical attachment to physical media." While Coelho says, "They're also in that age group that was alive during video stores and like to be able to pick something up and read the back and browse. Some younger people, though, come in, and I have to explain to them what a video store is, which makes me feel fucking ancient."