BMA Curators Celebrate the Art of Collaboration
Colleagues work together to assemble exhibitions that center on the voices and experiences of historically marginalized groups.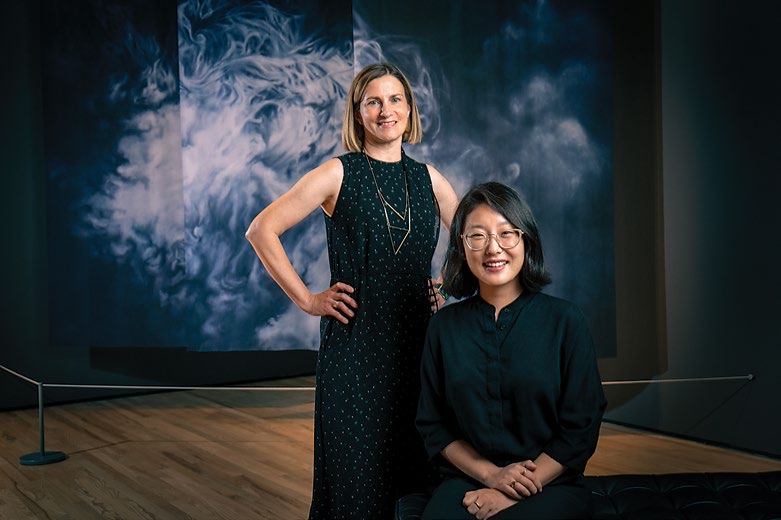 As curator of American art at the Baltimore Museum of Art, Virginia Anderson is particularly focused on the last few words of its mission statement—to create "a museum welcoming to all," with a goal of assembling exhibitions that center on the voices and experiences of historically marginalized groups.
One of the keys to that success? Her BMA colleagues.
"There are so many things you have to balance as a curator working with different departments to make the art and the narrative shine," says Anderson, 51, formerly assistant curator at the Harvard Art Museums. "I've experienced collegiality at every museum I've worked in, but I think intellectual resourcing is having a moment."
Comparing notes and research with colleagues across multiple departments allows Anderson to present exhibitions of American art that showcase a more inclusive art history, both in the selection of objects and in the display itself. Since arriving at the BMA, she has curated four exhibitions—two solo shows, with works by female contemporary artists, and two group shows, showcasing art movements, such as women modernists. And each has been created with the help of her first hire—curatorial assistant Sarah Cho, an art history major hired straight out of Princeton University.
The duo's most recent collaboration is the first time that Cho has fully stepped into the role of co-curator. Three years in the making and up through October 2, Beatrice Glow: Once the Smoke Clears occupies three galleries in the museum's Contemporary Wing, showcasing cross-disciplinary works by the bicoastal artist-researcher, including the first-ever virtual reality-sculpted and 3D-printed objects exhibited at the BMA. Glow examines histories of Indigenous, Chinese, and Black communities as they relate to the Chesapeake Bay tobacco trade, recasting the white depiction of the region's history.
Anderson and Cho hope that people will attend the exhibit, read the accompanying wall text, and be inspired to continue learning more about the substance of Glow's work.
"What Virginia and I wanted to do is spotlight aspects of Beatrice's research," says Cho, 26. "One of the major goals of Beatrice's work is highlighting solidarities between Asia and the Americas."
Both women are the exhibit's co-curators—or "thought partners," as Cho describes them—but they're quick to point out that Glow's exhibition would not have been possible without the entire museum staff.
"The museum can function as a kind of lab," says Anderson. "Just as within the sciences, you have collaboration and research from a team of people that supports a particular project or angle of inquiry…This collaborative approach to research can only benefit our audiences."