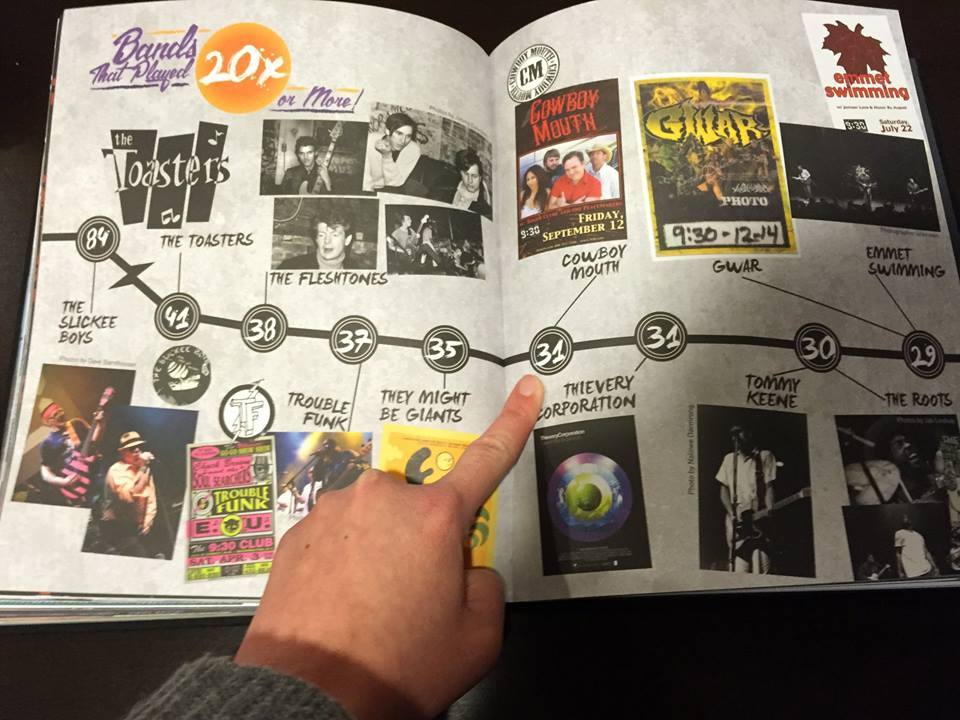 Courtesy of the 9:30 Club
Open its black covers and you'll find a treasure trove. Ticket stubs, mosh pits, rock and roll legends—even a mummified rat—jump from its pages.
For 35 years, the 9:30 Club has established itself as one of the best places on the East Coast to watch live music—the list of music icons who have graced its stage include Nirvana, Johnny Cash, and James Brown—and it's been lauded as best nightclub of the year by the likes of Rolling Stone and Billboard. (Let's be honest, we've all been a little envious that it isn't in Charm City.)
Now all those years of music and memorabilia have been compiled into a oral and pictorial history book, 9:30 A Time and a Place, that features never-before-seen photos and accounts of experiences at the 9:30 Club from such authorities as Henry Rollins and Chuck D.
"People who knew the scene back in the day are reliving the past, and the people who weren't there are getting an education," says Audrey Fix Schaefer, communications director for I.M.P. and the 9:30 Club, who was herself a fan of the club years before she started working there.
The 9:30 Club opened in downtown Washington, D.C. in 1980, with its name derived from its address at 930 F St. NW. In 1996, its owners moved the club to the eastern end of the U Street Corridor, where it still sits.
The book took about two years of research, Schaefer said, and one of the most fun parts was to see the memorabilia fans brought forward to be considered in the book. "It was wonderful to pick what told the story," she says.