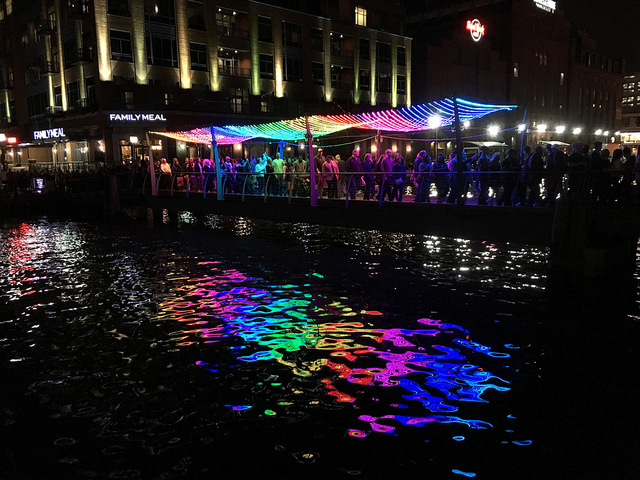 Elliott Plack, courtesy of Flickr/Creative Commons
After the glow dimmed on the first Light City Baltimore, work began on a very different piece of the festival that contrasted from the positive image of innovation and community togetherness.
A disagreement arose between the Baltimore Office of Promotion & The Arts (BOPA) and the founders of Light City, Justin Allen and Brooke Hall Allen, about ownership of the intellectual property associated with the light and innovation festival. That disagreement has made its way to U.S. District Court in the form of a lawsuit.
A court date has not been set, but BOPA's executive director Bill Gilmore says that the suit will not in any way affect Light City's second year, which features an expanded nine-day schedule that stretches over two weekends.
"Our position is that we do own the marks and the logos and we're using them, and we'll continue to use them," Gilmore said. "We spent six months in conversations and negotiations and we weren't getting anywhere . . . It's not what we would want to do, and we've never been in this situation. It's uncharted territory for us."
The Allens—who own the creative agency What Works Studio and run the online magazine What Weekly—maintain that they came up with Light City as a trade name and began organizing the festival before BOPA—the non-profit that serves as the city's arts agency—got involved. But they say they had never handed over the intellectual property to BOPA or been compensated for it.
"We've been trying to negotiate," said Justin Allen. "We wanted to settle it amicably, face to face." He emphasized that he was surprised by the suit, but confident that "we're standing up for the right thing."
In 2017, Light City is scheduled to run from March 31 through April 8, and Gilmore expects that by mid-November, BOPA will announce more information about the festival and its accompanying innovation conference. He's hoping to raise between $4.2 and $4.5 million, which is $500,000 more than for the 2016 festival. Light City lost about $400,000 in its first year.
The 2017 iteration "will be brighter, bigger, bolder, badder," Gilmore said. "We learned so much from the first year. It was a first-time success, but I think that everyone is going to be really pleased with how we've taken what we've learned in year one and ramped everything up for year two."