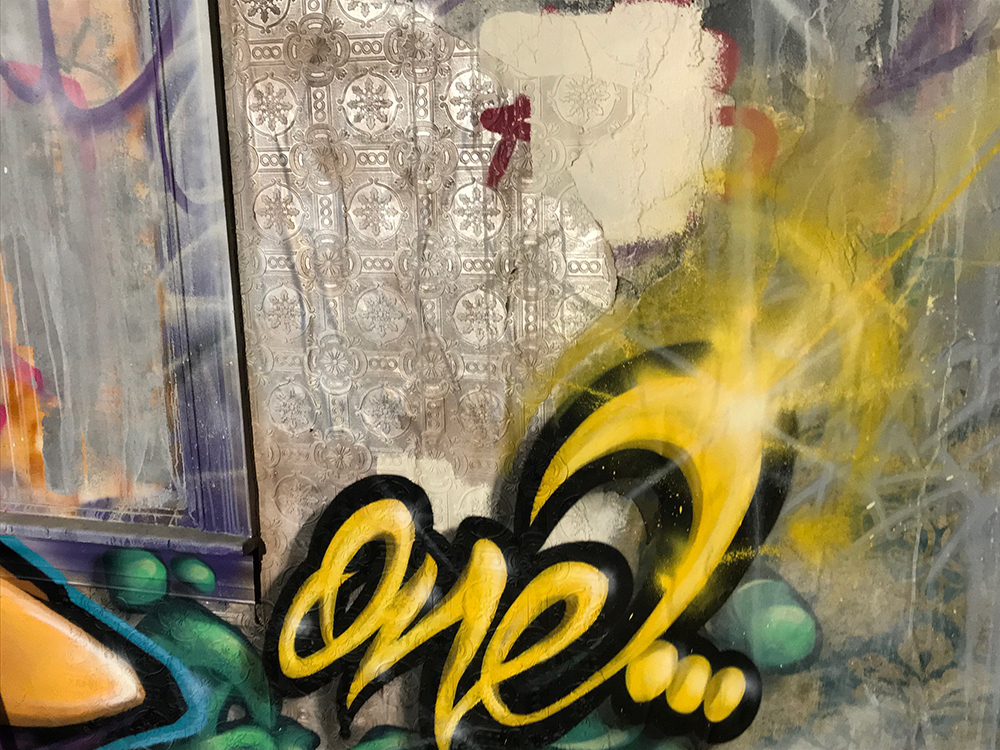 Kit Waskom Pollard
From Graffiti Alley in Station North to Billie Holliday in Fells Point, Baltimore has a long and impressive history of embracing street art. Later this fall, the north Baltimore neighborhood Govans will get a new piece of work, though unlike most street art, this mural will be indoors, inside Full Tilt Brewing's new taproom in the Accelerator Space.
The mural's creators, Brad Turner and Derrick Noel, are a pair of talented Wilmington, Delaware-based artists. Full Tilt co-owner Nick Fertig met Turner at a beer festival in Perryville, immediately fell in love with his work, and knew his style would be a good fit for the taproom.
Though Turner often works alone, he realized quickly that this project would be a good opportunity to collaborate with his friend. Turner's style meshes elements of street art with his fine arts background; Noel's works are typically freehand, graffiti-style creations.
"Nick wanted something memorable with a huge wow factor," Turner says. "The idea was that Hops the Cat—their main mascot—would reclaim the wall over and over again. Hops is a cartoon-style mascot: a cat that shoots green beams of hops out of its eyes."
The wall, lacquered with both spray paint and regular house paint, is full of bright colors and chaotic imagery. The artists' vision involved creating something that could be found "out in the wild," Turner says. It would be a layered creation of paint, lettering, and texture that looks organic and authentic, not like a contrived work of art.
To achieve this, the pair started with elements of the Full Tilt brand, including a huge rendition of Hops the Cat that stretches the height of the wall. The Full Tilt imagery is augmented with layers of paint and paper: graffiti-style lettering, the Ravens' and Orioles' logos and bits of wallpaper that are a nod to the layers of posters often found on the sides of urban buildings.
"The cool part about this wall is that it incorporates all the disciplines of urban art," says Turner. Urban art typically encompasses four specific techniques: stenciling, a character, wheatpaste postering, and piecing, or the creation of a graffiti "masterpiece" of letters.
Turner's contribution focuses on the posters and stenciling, which he describes as "process-oriented" and connected to his fine art roots. Noel picked up the graffiti and character creation, lending his technical expertise and loose style to the project.
"Brad works more on the design and layout," says Noel. "My work is more illustrative and freehand. So, we're using two entirely different approaches coming together and it's so cool."
The artists' process is one that evolves. Before putting anything on the walls, they developed sketches of what the final product might become and worked with the Full Tilt team to refine those concepts. Even after work on the wall began, the concept continued to change. "The sketches aren't exactly what the wall's going to look like," says Noel.
Like the sketches, though, the final product will be colorful and engaging, signaling that the brewery is a welcoming place to hang out. The Full Tilt owners confirm that it will be open by the end of 2018.
"We want to be part of the neighborhood and do cool local stuff and get to know our neighbors," says Full Tilt co-owner Nick Fertig. The mural is just one part of the design geared towards fun: the space also includes games like shuffleboard, Skee-Ball and Golden Tee, and garage-style doors across the front of the brewery that, in good weather, will open to the sidewalk.
Turner and Noel have both worked on brewery murals in Delaware and here in Baltimore, Full Tilt isn't the only brewery embracing the power of an artsy wall. Black Flag Brewing's sudsy Star Wars mural gives fans extra reason to visit the Columbia taproom and the bright colors of Union Collective's geometric outdoor mural have already starred in many an Instagram story.
"I wanted a big mural even before we found the building," says Union co-owner Jon Zerivitz. "I wanted our brewery and beer garden to feature a large scale piece of local art for all to enjoy."
At Full Tilt, the goals of the artists—and owners—are similar. "We went about it with a public art sensibility," says Turner. "It's obtainable for everybody."