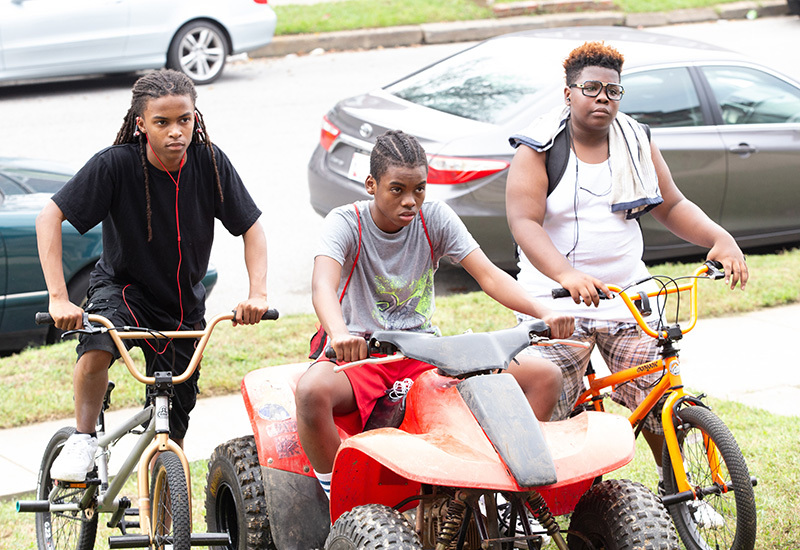 For producer Caleeb Pinkett, filmmaking is a bit of a family business. His half-sister is Jada Pinkett-Smith, and her husband, Will, happens to be one of the biggest movie stars in the world.
But when the time came to make Charm City Kings, a feature-length film depicting Baltimore's dirt bike culture based on Lotfy Nathan's acclaimed documentary 12 O'Clock Boys, the pair made it clear to Pinkett that it was his production to steer. A year and a half since production wrapped, that vision is paying off, as the film had its world premiere at the Sundance Film Festival on January 27.
"[Jada and Will] were very supportive of what we were trying to do," Pinkett says of the film, backed both by Sony Pictures Classics and Smith's production company, Overbrook Entertainment. "They were also conscious in choosing not to come and be on the set because they really wanted me to take the reins."
The team, led by director Angel Manuel Soto, filmed primarily in West Baltimore in the fall of 2018 for a month-long shoot. Calling upon Stand by Me and A Bronx Tale for inspiration, the story follows teenager Mouse (Jahi Di'Allo Winston), a 12 O'Clock Boy who dreams of joining the fictional Midnight Clique. Meek Mill—who shot the movie almost immediately after being released from prison—appears as Blax, the leader of the clique. Barry Jenkins, writer and director of the Oscar-winning film Moonlight, has a story credit.
"This movie had to be shot in Baltimore," says Pinkett, who spent childhood summers in the city. "I hope the city loves it and we represented it in a light that people can be proud of."
We caught up with Pinkett, stationed in Park City, Utah ahead of the film's premiere, to talk about the movie, its production, and why Baltimore gave it the edge it needed.
What's your Baltimore background?
My father was born and raised in Baltimore. His entire side of the family is from Baltimore, and my grandfather is from Salisbury.
How did you first get attached to Charm City Kings?
One of my employees that works for us over at Overbrook, Clarence Hammond, went to the screening of 12 O'Clock Boys at South by Southwest's film festival [in Austin] years ago and thought it was great. I watched it and loved it. We had to get the rights to it. After that it took more than a few years to find a story that actually worked. The documentary was about a little boy who wanted to ride with the 12 O'Clock Boys. But it wasn't a real story. We had to create a story completely separate from the documentary and make it its own creation.
What are the challenges of adapting a documentary versus writing a script from an original idea?
A documentary a lot of times is not a complete beginning, middle, and end story. It's usually showcasing someone and their life and a particular challenge. Documentaries just need to tell you about the person. Because of that, we didn't have a story, so we actually had to create one.
What's it like to be selected for Sundance?
I was very surprised and pleased. Our movie is rated R. How real 13-year-old kids in Baltimore get down—that's what this movie is showing. The head of Sundance called us directly and said it had to be at the festival. They put it in competition. I didn't even want to put it in competition—I was just happy with it coming [to Sundance]. I'm really pleased with it, because it's like having an explicit rap album nominated for album of the year against Taylor Swift and Bruno Mars.
Has Barry Jenkins been a part of the project from the beginning?
Barry came on the project around five years ago when he did his first draft. He had written our script and we really liked it. He planned to finish another draft, but first went to make his passion project, Moonlight. The rest is history. When we came back, he had a lot of things on his plate. By that time we were already moving full steam ahead with a draft that we believed worked, so that's when we found [co-writer] Sherman Payne. He was able to accomplish some of the other things we wanted to do with the story.
12 O'Clock Boys is very raw and deliberate in its pacing—were there efforts to emulate that with Charm City Kings? Or did you want it to exist by itself?
We wanted it to stand on its own. We're getting a theatrical release, so we wanted to give it a little bit of that slight polish. But we still wanted the rawness, which is why I demanded we shoot in Baltimore. There's a certain look and feel to Baltimore that you can't do in Atlanta or Toronto, or Louisiana. It would be inauthentic for this story and reek of untruth. It had to be shot in Baltimore. That was a reason why everybody in the movie that rides are real riders in Baltimore.
That's interesting—so there were no stunt doubles?
Ninety-eight percent of riders in the film are real Baltimore riders. Jada sent me the Instagram of [renowned local rider Wheelie Queen] and told me to put her in the movie. Wheelie Wayne was also instrumental in the making of this movie as far as getting riders. He's the godfather. If he says show up, riders are showing up.
With a film like this that explores a niche culture native to one city, there is going to be a strong sense of place. How did this affect how you depicted Baltimore?
Baltimore is 100 percent a character in this movie. The same way that Gotham City is a character in Batman and there's just a gothic looking feel to everything that makes it distinctly Gotham, Baltimore has that. There's no other city that looks quite like it.
There's a TV series called Lost Kings that addresses a similar subject matter to that of the film—were there any worries about creating confusion?
No, we actually didn't [worry]. We were juggling what the name of the movie should be. And Will came up with Charm City Kings. I didn't even think about Lost Kings.
What was it like filming in West Baltimore?
It was an adventure within itself. Baltimore is raw. We're shooting and somebody comes out of their house and starts yelling in the middle of the shot—asking for money, walking through the shot and not caring. We just kept a lot of people in the movie. I allowed them to be in the background. The more inclusive we were, the better it was.
Did you have any favorite spots to eat or visit while you were on location?
We had catering, so I didn't go to a lot of restaurants. My assistant on the movie, Shay Franklin, is from Baltimore. There was a guy that was doing our craft services. He was connected with a man who lived around the corner from our set who made the best Old Bay honey wings and crab cakes. Lord Have Mercy! I would just feed everybody. Old Bay makes everything taste better.
Charm City Kings had its world premiere January 27 at the Sundance Film Festival, where it won a U.S. Dramatic Special Jury Award for Ensemble Cast. It is set for limited release April 10 with a wide theatrical release April 17. There are plans for an advanced Baltimore screening in partnership with The Ed Reed Foundation. More details will be released in the weeks to come.