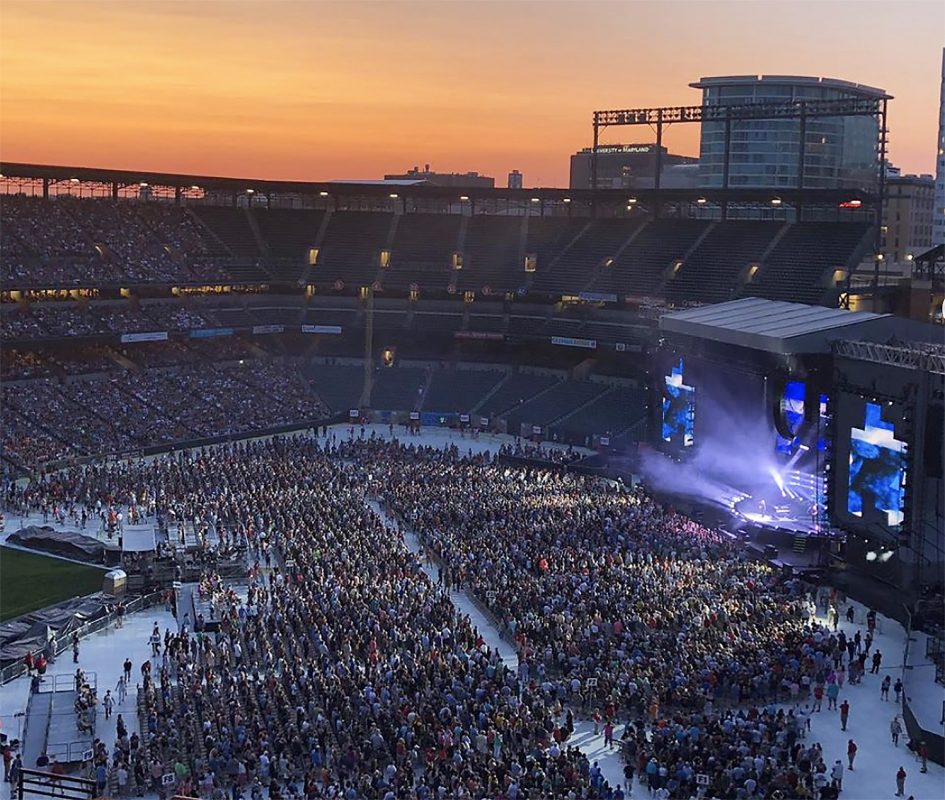 @slideshell via Instagram
Like all of us, Billy Joel is only human. At 70 years old, the bushy black hair he once had on his iconic 1970s and 1980s album covers is long gone, and he's now married for the fourth time. His body is a little bit rounder, his voice just a little more gravely, and his high notes a little lower—though he's said that he's never considered himself a great singer anyway.
Of course, critics have always tried to take shots at the man who is one of the best-selling artists of all-time, who has made 12 studio albums, and has been nominated for 23 Grammys, as well as inducted into the Rock and Roll Hall of Fame. He's too pop, they say, and some of his lyrics are cheesy. Just a few months back, one Twitter user even went viral for asking: "Is Billy Joel good or bad?"
To that we say, sing us a song, please, he's the Piano Man.
After seeing Joel at Camden Yards over the weekend, the first-ever standalone concert in the ballpark's 27-year history, I can safely say that, even to this millennial, he's still got it. He's not jumping around the stage like a wild man anytime soon and hasn't recorded a hit song in two decades, but, man, can he tell a meaningful story, and sing a catchy tune, from his seat at the piano.
What's more, Joel's two-and-a-half hour, two dozen-song performance on Friday night did us all a favor that lasts beyond one show. It proved that the home of the Orioles is a capable big-time live music venue for more concerts in the future.
Now, I can't go on without telling you: I'm from Long Island, originally, so in addition to having bagels and pizza in my blood, I feel as if I'm related to Billy Joel, who grew up 25 minutes from where I did. He's like the embodiment of my homeland, famously telling the world everyman stories of our Italian restaurants, teenage years, and New York states of mind as only a proud son can. I'd have been happy to hear him play piano and sing in the seediest bar or darkest alley you can imagine.
And I typically attend Orioles games either for work or as a fan, so when it was announced that Joel would be performing at the stadium this summer, I immediately knew that I wasn't going to miss the chance to join the approximately 40,000 others in attendance who listened to him deliver hit after hit with his ebony and ivory instrument—rather than hearing the crack of the wooden baseball bats that usually do the work in Oriole Park.
The stage in centerfield. The speaker towers on the infield. The bright lights turned off for the evening. Guys selling concert T-shirts outside. It was groundbreaking stuff for the venue—an "I was there," event that grew in enjoyment as the hands of the Orioles' scoreboard clock turned in the night.
Perhaps the most indelible moment came during the most signature of Joel's ballads, when against the backdrop of the darkened stadium dotted with light from just enough smartphones, the a capella voices from the crowd sang the lyrics of "Piano Man" back to him: "We're all in the mood for a melody. . . " The communal experience felt needed, and this was before the president's Saturday morning tweets about this city.
Maybe, in the grand scheme of things, the event was a reason to get people to the stadium during the summer of a less-than-compelling baseball season. And maybe Joel was a safe pick for the occasion—a seasoned headliner who is basically a performer-in-residence at Madison Square Garden—who would no doubt attract fans to the city on a Friday evening. There are definitely flashier performers who skew younger and can do more than twirl a microphone stand when they're not seated at the piano.
But, so what?
"Welcome to the first concert at Camden Yards!" Joel bellowed after playing his second song, "Pressure." After that, he transitioned into a brief cover of "Bohemian Rhapsody," acknowledging the renewed popularity of the Queen opus thanks to the recent movie of the same name, and then told a story about opening for Hall & Oates in the 1970s in Baltimore, which led to an impromptu cover of "Rich Girl."
From there, it was mostly him, running through his own deep catalogue of tunes like "The Entertainer," "Vienna," and "Movin' Out." And as he typically does between songs, Joel delivered funny, tried-but-true asides, like a spot-on impersonation of Elton John, and one-liner quips like "This song's from 19-who-the-hell knows" and "It might be a good time to go to the bathroom" when he played the relatively lesser-known "Big Man on Mulberry Street." The joy in the stadium was palpable.
Now, not everything about the night was perfect. Anyone who struggled to move on the overcrowded concourse or along the packed aisles before the concert's scheduled 8 p.m. start time would tell you that. (Unsolicited recommendation for next time: create more paths to funnel floor-seat ticketholders to the field faster, as that bottleneck seemed to fuel the backup.) Those who were told to check their bag as a result of a surprise strict policy weren't happy either, especially anyone who had to wait until near midnight to retrieve their belongings afterwards.
But, logistical nightmares aside, it was a fun night, the type that could happen again at Camden Yards, possibly by next year, according to Orioles spokesperson Greg Bader. The team's vice president of communications and marketing was among those enjoying himself that night, standing on the temporary white flooring about 40 rows back from the stage, right about where Adam Jones used to line up in centerfield.
"You'll certainly see other events like this at the ballpark," says Bader. "It was great to see so many people downtown, wandering around the area, eating at restaurants and staying over in hotels. And then selling out the concert. It was a great, great night."
Joel's talented band also gave a few nods to Baltimore. Backup singer Crystal Taliefero belted a passionate cover of "Dancing in the Street," including the cheer-inducing line "Baltimore and D.C. now." Drummer Chuck Burgi wore a No. 19 Orioles' home jersey with his last name on it during the show. Trumpet player Carl Fischer donned a black Os jersey during the five-song encore that started with 1989's Grammy-nominated, "We Didn't Start the Fire."
By then, the crowd was juiced, but alas, it was soon time to go. Fantastically, though, as we headed back to the parking lot, I heard one more song that set a romantic scene. In the distance, sounding like it was coming from the Hamburg Street light rail station, a lone saxophone played the notes to none other than "Piano Man," once again.
And, in my mind, I hummed to myself—critics and any ridiculous cheesiness be damned:
"And you've got us feeling all right."