Carmelo Anthony and D. Watkins' New Book Chronicles Basketball Star's Baltimore Upbringing
We talk to the authors about 'Where Tomorrows Aren't Promised,' a compelling coming-of-age story set largely around Baltimore's rec centers and schools.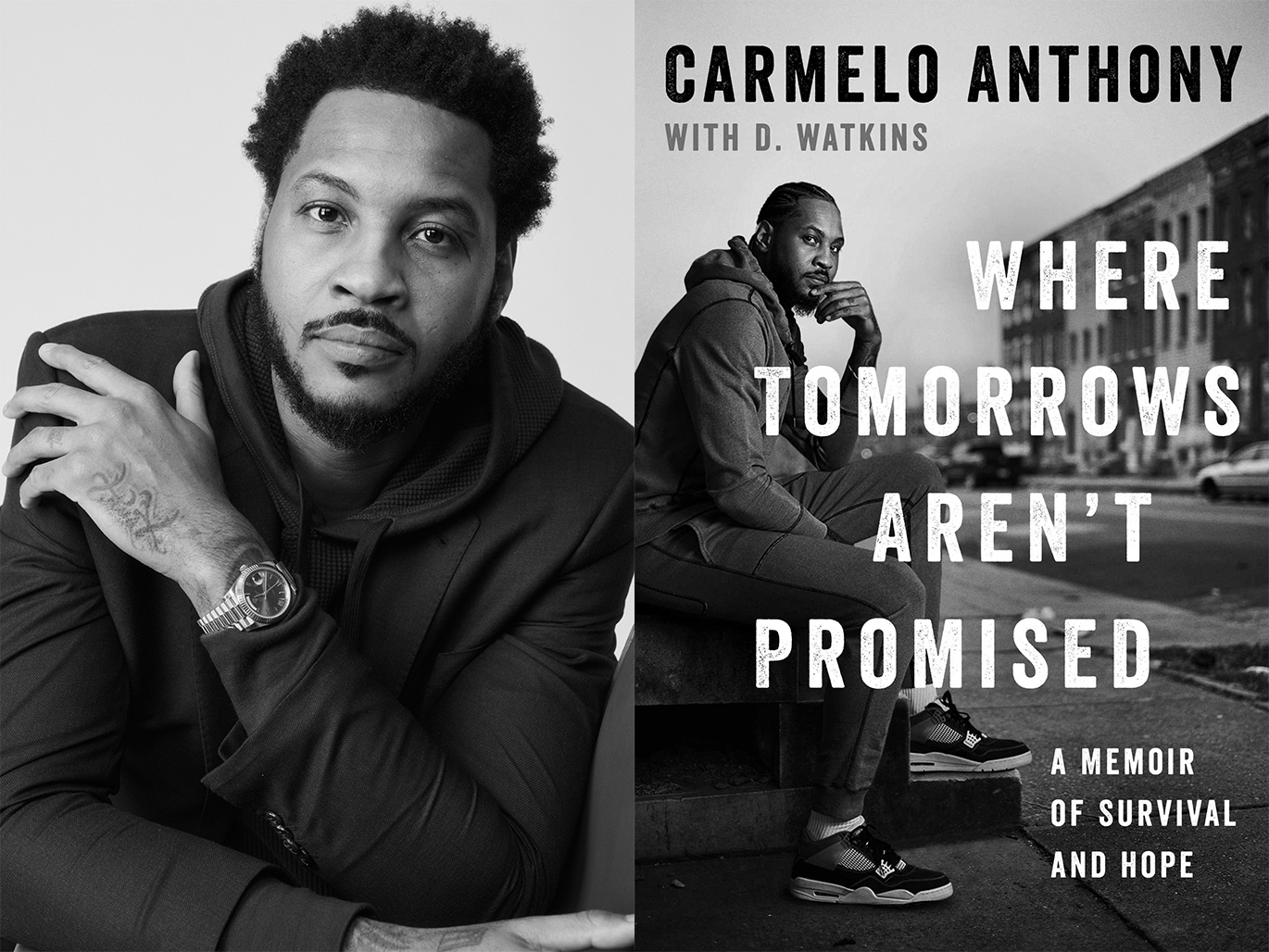 Basketball fans might expect an autobiography by a 10-time NBA All-Star and three-time Olympic gold medalist to celebrate a career highlight or two. At least note them, right? That's not the book Carmelo Anthony has written with D. Watkins, both of whom grew up in Baltimore on the city's basketball courts and streets.
Instead, the 37-year-old Los Angeles Lakers star, with the help of the New York Times best-selling author, chronicles his first 19 years in a raw, compelling coming-of-age story set largely around Baltimore's rec centers, schools, and the former Murphy Homes public housing project. Hoops fans, but more so Baltimoreans, shouldn't miss Where Tomorrows Aren't Promised as Anthony recounts weaving his way through poverty, family addiction, guns, and his own unresolved pain.
We interviewed Anthony and Watkins by email about the well-received book, which was released last week.
In many ways, this is a real Baltimore book. Readers from the city are going to appreciate it like no one else. What made you decide to focus on your years coming up—and not, say, your NBA career?
Carmelo Anthony: Everyone knows my NBA career, but what most people don't know is how I came to be the person I am today, and that all starts at my roots. But I know my story is one I think will resonate with many people, especially those who were also raised in Baltimore and similar communities. I wouldn't be the man you know today without the experiences I had in Baltimore and the people I grew up with there. I hope that my story not only inspires others to look at their own lives and realize they aren't defined by their circumstances, but also encourages people with different upbringings to understand how circumstances can shape our view of the world. That's why this story is important to tell, now more than ever.
D. Watkins: Melo really wanted to focus on everything he had to overcome just to be able to step onto the basketball court, and I think a lot of people don't get that. Most of the standout talent, and future NBA players are allowed to only focus on basketball from as young as the age of five, but Melo had to survive Baltimore first…There's currency in what he overcame. He's proud of what he has accomplished, and he wants young people, from places like Baltimore, who are having a tough time to be able to dream.
Carmelo, you lost your father and then your stepfather. You talk about not having the mental health resources you needed to deal with the depression and trauma you faced as a teenager in Baltimore.
CA: For generations, people in my community were taught to never show vulnerability, that emotion was a weakness. It's just how life was, and I've never held any resentment towards the community that raised me. I know I [developed] a certain toughness in me because of it, and I have my fair share of scars, but I'm glad my son doesn't have to grow up like that and feels comfortable talking things out when he needs to. We're always learning, always growing, and the more we talk about mental health in society, the better the generations that come after us will be because of it.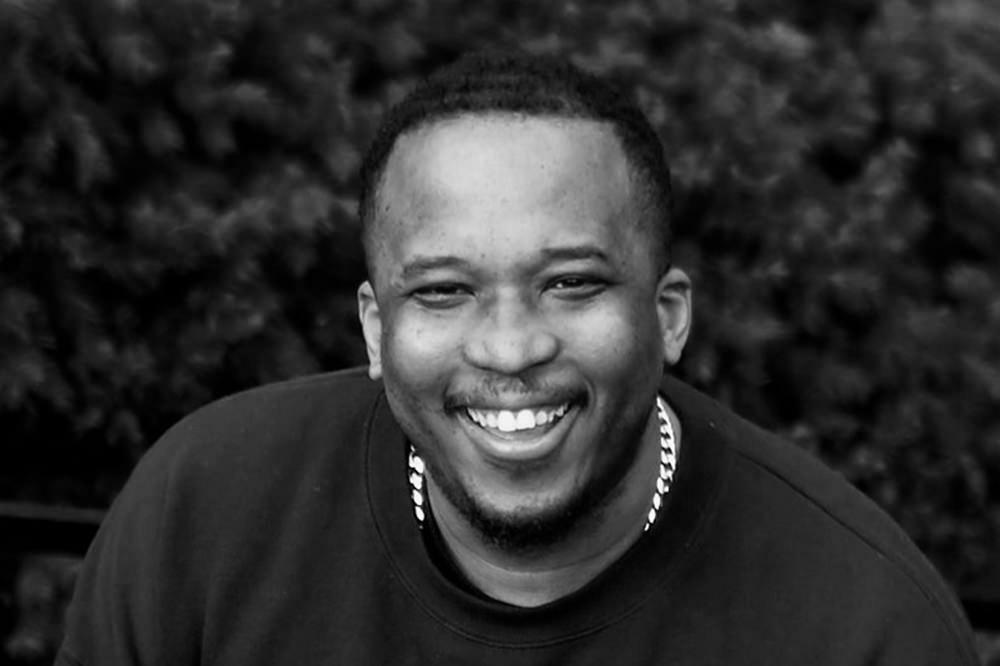 How did you guys get together to do this book?
DW: Melo's agent at CAA was going sign me a long time ago but we never really did a deal––then when this opportunity came. I believe it went to Wesley Lowery from 60 Minutes first. Lowery thought the project was a great idea, but felt the best person to write the book was me. And Melo's agent was like, "Oh! I know that guy!" I was truly honored, because I have been a fan of Melo and Lowery for a really long time.
Carmelo, what does being selected as the inaugural Kareem Abdul-Jabbar Social Justice Champion honoree this year mean to you
CA: It was incredibly humbling, and one of the proudest achievements of my career. Kareem is such a legend both on and off the court, and his drive to fight for equality and positive change is beyond inspiring. It's our hope that this award inspires action, as it is up to each and every one of us to do our part to create a future for the next generation where everyone is accepted for who they are, regardless of skin tone, gender, sexuality, religion, or income level.
What did you take away from guest editing Slam magazine's Social Justice issue in 2020?
CA: For me, guest-editing the Social Justice issue was a very moving experience. I really wanted to take the gloves off with this issue, and it was important for me to use this platform to shed light on the injustices taking place and how we can find solutions to move forward. From front to back, we wanted the entire issue to make a powerful statement. It highlighted the men, women, and children who are leading the fight against discrimination, and paid homage to those who are currently doing the work to shift our culture towards equality in every corner.
It was also important to celebrate the men, women, and children who are trailblazing across the landscape of sports. It was an especially meaningful opportunity because my son joined me on the cover to represent the future.
Why does Baltimore produce so many great ballplayers? What's special about this city, in terms of basketball?
DW: Baltimore is just the toughest city in America. And that crosses over into everything, our chefs are tough, our dancers are tough––some of our teachers, the good ones are like gladiators. So you better believe then if a person is good at basketball, then being from Baltimore is going to turn them into a great.