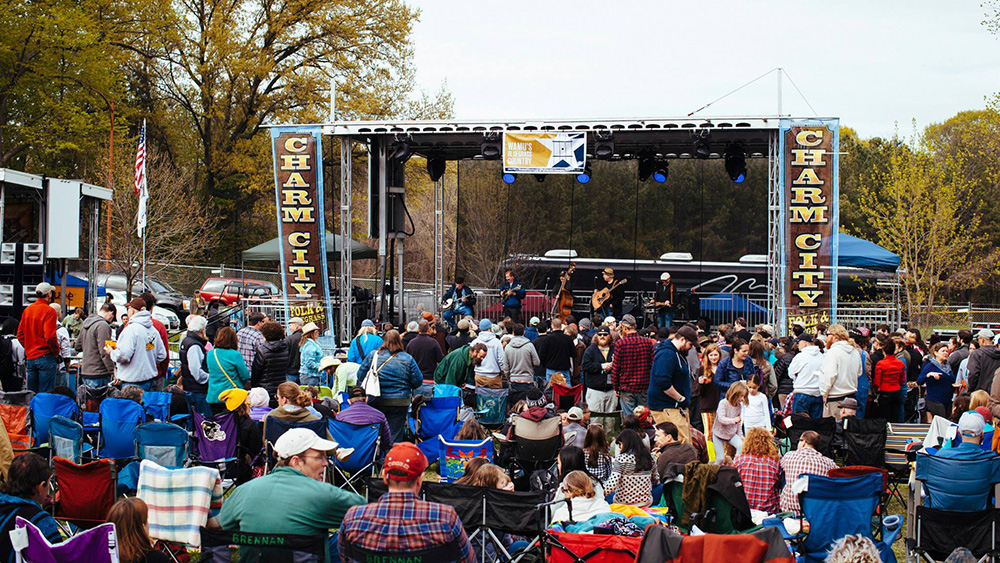 Photography by Kevin Grall
Over the past four years, we've watched the Charm City Folk and Bluegrass Festival evolve from bands in a parking lot to an all-day festival in Druid Hill Park. And on April 30, 2016, that evolution continues with a stellar lineup and brand-new festival programs.
Festival organizers have announced that the 2016 lineup will feature bluegrass legend Ricky Skaggs and Kentucky Thunder; one-man jam band Keller Williams; first family of bluegrass The Travelin' McCoury's; Grammy-winning North Carolina band Steep Canyon Rangers; and mandolin player Sierra Hull.
Last year's festival took place on April 25, 2015, which happened to coincide with the evening of unrest near Camden Yards and the catalyst for uprising around the city. Organizers say they hope the festival can shed a positive light on the city.
"Going into this year, we knew we needed to deliver an amazing lineup to our fans and the incredible Baltimore music community," says festival co-founder Phil Chorney. "Music has such a power to heal and unite, and we feel that our continued support of the park and community is paramount to showing how amazing Baltimore is."
Of course, another way the festival will highlight the local community is by featuring regional acts like Baltimore-based guitarist and singer-songwriter Cris Jacobs, and Pennsylvania bluegrass bands Cabinet, Colebrook Road, and Man About a Horse. Additionally, the winner of a battle-of-the-bands contest will open the festival.
A new addition to the festival is a program they're calling Bluegrass Academy, where performers will give short lessons and discuss their music with fans all for free in a dedicated tent.
"It will be a chance for fans to learn some basics and maybe jam with their favorite artists on the instruments they play," Chorney explains. "So you could learn mandolin techniques from Sierra Hull or banjo from Rob McCoury. Our goal is to get more casual fans playing music while providing them with an amazing experience."
General admission and VIP tickets are currently available and, for each ticket sold, the festival will donate $2 to the Howard Peters Rawlings Conservatory & Botanic Gardens to support horticulture education programs. In addition, there will be beer provided by Union Craft Brewing and a raffle will take place that benefits Believe in Music, a nonprofit aiming to give inner city students a music education.
"Both Travelin' McCourys and Sierra Hull have former Kentucky Thunder members, so I have a good feeling we will see some amazing jams and collaborations on stage," Chorney says. "And that's really what bluegrass music is all about."