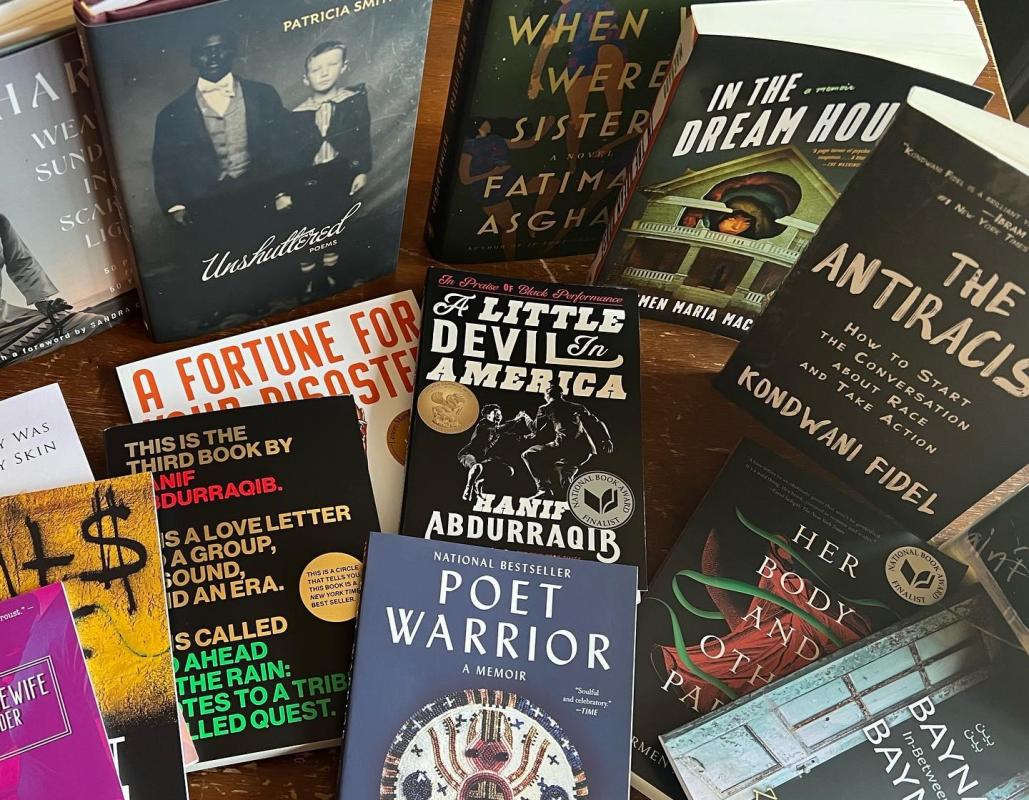 Works by some of the festival's featured speakers. —Courtesy of CityLit Project via Facebook
Every spring, The CityLit Project's annual CityLit Festival aims to energize literary lovers and mentor young writers with a full day of free readings, critique sessions, and panel discussions. The event also features a robust marketplace spotlighting small presses, literary journals, and self-published authors. 
All of that will return when the fest takes over the Joseph Meyerhoff Symphony Hall to celebrate its 20th year this Saturday, March 25. This time around, organizers have also tacked on an evening conversation with former U.S. Poet Laureate Joy Harjo at Chesapeake Theater Company on Tuesday, March 28, as well as a program on poetry at the center of history at Busboys & Poets in Charles Village on Friday, March 31. 
This year's theme is "Lifting as we Climb," an homage to the motto of Black educator, suffragette, and activist Mary Church Terrell, who taught at one the nation's first African American public high schools in Washington, D.C. 
"We chose 'Lifting as we Climb' because we want people to understand that our organization has struggled as a small literary nonprofit, but we never lose sight of where we are, what we stand for, or who we support," says City Lit Project's executive director Carla Du Pree, "and that is readers and writers in every stage of their journey. It's been a lift, but we're still here."
Du Pree notes that it's rare for an independent literary festival to be going strong for two decades, let alone for it to remain free to the community. She hopes attendees take advantage of the resources available throughout the week, and walk away feeling empowered.
"A lot of work has been put into what I consider to be a love letter to the literary community," she says. "I hope people show up and understand the power of their presence. When you get writers and readers together in a room, magic can happen."
You can browse the full lineup of programming across the three days, here. Below, check out a few standout readings and discussions on deck for this weekend. 
3/25: Queer Possibilities: Writing Catastrophe and Imagining What Comes Next
Joseph Meyerhoff Symphony Hall Lobby Stage. 11:30 a.m.
Led by local multimedia artist Rahne Alexander, poet Tonee Moll, author Megan Milks, arts and culture writer Imani Spence, and poet and educator Unique Robinson, this discussion will address queer and trans communities persisting in an era of unwarranted hostility. The panel will also delve into the future of queer literature, and how LGBTQ+ writers continue to strengthen literary communities. 
3/25: The State of Baltimore: Shedding Light on Critical Issues
Joseph Meyerhoff Symphony Hall Lobby Stage. 1-2:15 p.m.
A group of social justice writers and advocates will gather to address the connection of equality and art, as well as their approach to critical issues facing Baltimore City. Insight will be provided by moderator Nneka N'namdi of Flight Blight Baltimore, as well as author and UB professor Joshua Davis, The Black Butterfly author Lawrence Brown, and writer and cultural worker Alanah Nichole Davis.
3/25: Little Devils with Unchained Arms: Hanif Abdurraqib In Conversation with Jason Reynolds
Joseph Meyerhoff Symphony Hall Auditorium. 2-3:15 p.m.
Two esteemed writers will share the stage to chat about "life as an artist, publishing, community, and all things literary." MacArthur Fellow Hanif Abdurraqib—whose book Little Devil in America won the Andrew Carnegie Medal—will discuss his work alongside New York Times best-selling author Jason Reynolds, the Maryland native behind the acclaimed Long Way Down and Stamped, which he wrote with Ibram X. Kendi. "He's really thought-provoking," Du Pree says of Abdurraqib. "We're excited about the real talk that he and Jason Reynolds, a Baltimore favorite and my literary friend, will provide."
3/25: I've Been in Sorrow's Kitchen: The Many Ways We Wear Our Grief
Joseph Meyerhoff Symphony Hall Auditorium. 3:30-4:45 p.m.
Inspired by a profound excerpt from Zora Neale Hurston's autobiography Dust Tracks on a Road, this session aims to explore grief in all of its forms—and ultimately promote healing.  "We're excited by the idea of talking about grief," Du Pree says. "Twenty twenty brought in all of this evidence that we grieve, but we don't talk about it." Expect insight from eight panelists who have all explored grief throughout their various mediums. Among them are essayist Kathy Flann, artist Chin-Yer Wright, author Mejdulene Shomali, poet Kondwani Fidel, and Greenmount West Community Center founder Kisha Webster.