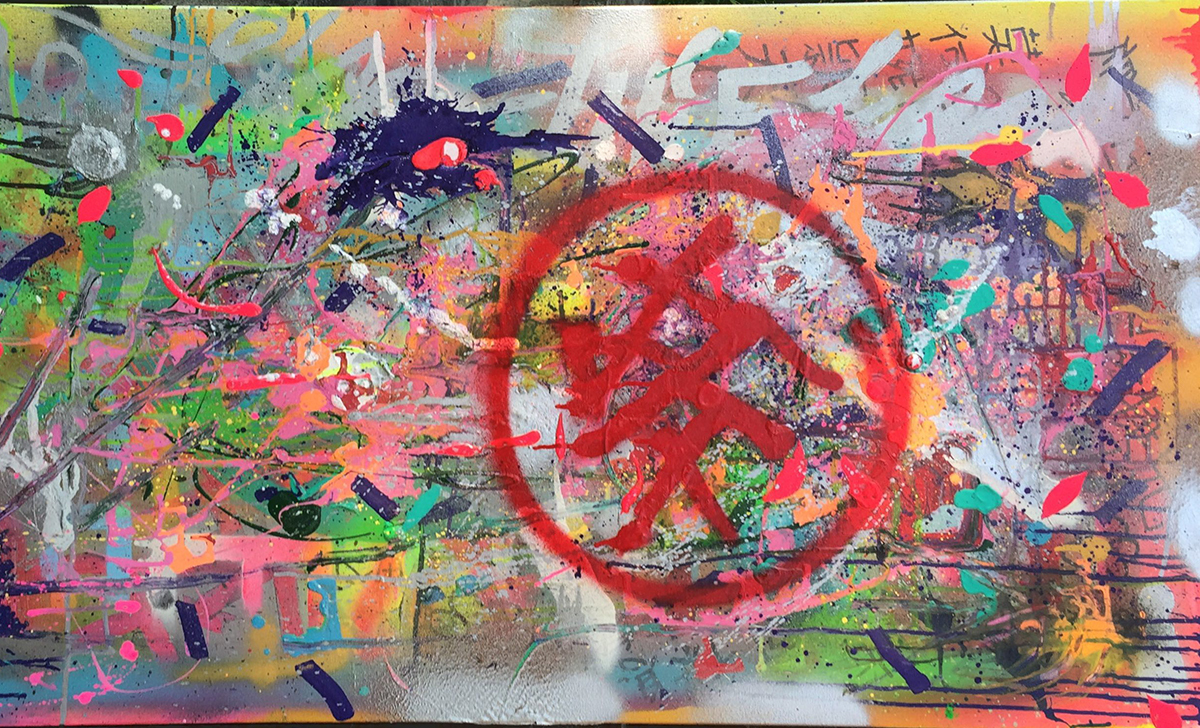 Gerry Mak
Visual Art
Perspectives: Annual Highlandtown Arts District Exhibition
Head to the Amalie Rothschild Gallery at Creative Alliance to view this showcase featuring artists who live and work in the Highlandtown Arts District. Entrants into the annual competition were asked to submit works that display their personal perspective on the world around us, and the winner will earn their own solo exhibition at the gallery in 2020. Kick off the annual celebration of Highlandtown's artistic community with a reception on Oct. 19 from 6-8 p.m. Reception from 6-8 p.m. Oct. 19; show on view during gallery hours through Nov. 10. Amalie Rothschild Gallery at Creative Alliance, 3134 Eastern Ave.
Atomic Banana: Emotion and Heirospliffics Exhibition
Where language fails, symbols fill in the blanks and bring people together. Artist Gerry Mak knows that better than most, and his new exhibition at the Waller Gallery seeks to explore the significance of symbols in the information overload of modern life. Need some help with interpretation? Not to worry, Mak will be on hand on several occasions throughout the exhibition's six-week run for artist talks and tours. Opening and artist tour from 6-9 p.m. Oct. 20; Make Studio Panel from 3-5 p.m. Oct. 27; Closing cocktails and artist talk from 7-10 p.m. Dec. 1. Waller Gallery, 2420 N. Calvert St.
The Necessity of Tomorrow(s): Hank Willis Thomas
The latest installment of this free BMA series exploring the relationships between art, race, and social justice hosts Hank Willis Thomas, cofounder of For Freedoms, a platform for creative civic engagement, discourse, and action. This year For Freedoms launched the 50 States Initiative, a nationwide public art project to place provocative artist-designed billboards in every state (plus Puerto Rico and Washington, D.C.) during the 2018 midterm elections and the largest creative collaboration in U.S. history. The billboards are now up throughout the country, and the group hopes to foster civil discourse and engagement through their installations and artist and institution partnerships, including those with MICA and the BMA. Reception at 5 p.m.; Doors at 5:30; Artist talk begins at 6 p.m. Oct. 17, Falvey Hall at MICA, 1301 W. Mt. Royal Ave.
Music
WTMD Towson Rock Block
Grab the whole family and spend your Saturday celebrating one of Baltimore's favorite radio stations. As part of their 15th Birthday Celebration WTMD is closing down the block for a full day of music, food, drinks, and art. Hear from Brooklyn psychedelic rockers Sunflower Bean, John Brodeur's Bird Streets, and German indie-pop duo HAERTS as you wander the Art Village and grab good eats from local spots such as Cunningham's, The Point, and Burger Bros. 4-9 p.m. Oct. 20, 1 Olympic Pl.
Theater
A Chaste Maid in Cheapside
Follow Moll Yellowhammer as she sets out to marry her true love in this 1613 comedy presented by The Baltimore Shakespeare Factory. Don't miss your chance to see Thomas Middleton's scandalous romp through London (performed by an all-female cast in this production). This masterpiece of Jacobean city comedy is rarely staged. Oct. 26 through Nov. 18, The Great Hall Theater at St. Mary's Community Center, 3900 Roland Ave.
Sweat
If last year's performance of Lynn Nottage's Intimate Apparel is anything to go by, this staging of the playwright's Sweat is sure to be a hit. Everyman Theatre's Dawn Ursula and Deborah Hazlett star in this tale of two working-class friends, their tight-knit community, and the unpleasant realities that could force them apart, which won Nottage the 2017 Pulitzer Prize for Drama. Oct. 23 through Nov. 25, Everyman Theatre, 315 W. Fayette St.
Evil Dead: The Musical
Want to mix up your Halloween season with a theater experience beyond Rocky Horror? Look no further than Motor House, where Deer in the Spotlight Productions is bringing Evil Dead to the stage with music, comedy, and a bloody splash zone. If it's been a while since you've seen the cult classics, you may want to binge beforehand. This show covers Evil Dead, Evil Dead 2, and Army of Darkness. And we shouldn't have to say it, but maybe leave the kiddos at home for this one. The show is recommended for ages 16-plus due to violence, language, sexual situations, and gore. 8 p.m. Oct. 19-20 and Oct. 26-27, Motor House, 120 W. North Ave.
Film
The Art of Style
Join professional skaters Joey Jett, Mike Vallely, and Ron Allen for this demonstration, art show, and screening of Jett's film The Dream to benefit Jake's Skate Park and Sharp Dressed Man. The 20-year-old Jett, a Baltimore native, directed, edited, and stars in the film showcasing original skate tricks performed all over the world. At this final premiere of The Dream before it's released Oct. 22 viewers can also snack on local bites, sip on beers from Key Brewing, and catch a live set by local rockers To The Moon. 7-9:30 p.m. Oct. 20, Coppermine Field House at Du Burns Arena, 3100 Boston St.
Literary Arts
The Art of Making Books
Ever wonder how those beautiful tomes on antiquarian shelves came to be? Join Ink Press Productions founder Amanda McCormick to learn about bookbinding and printmaking, as well as how the way a book is made helps tell its story. Attendees will be learn about the process using tools, supplies, and reference materials supplied by the workshop, which is part of a five-event series presented by Greedy Reads and D.C.-based arts/literature programming group MoonLit. 6:30 p.m. Oct. 25, Greedy Reads, 1744 Aliceanna St.