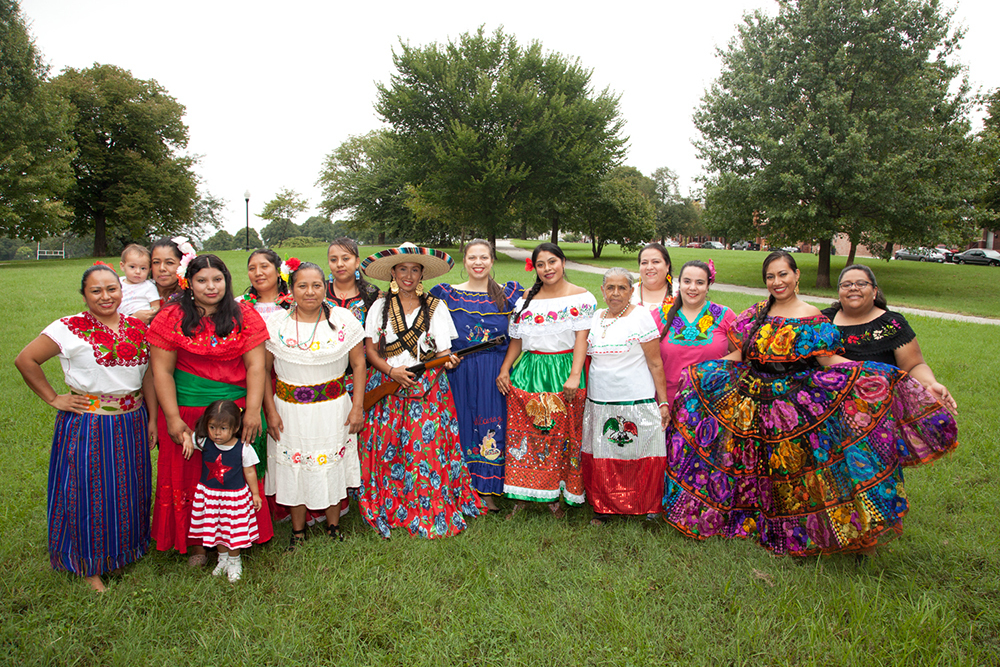 Creative Alliance
Visual Art
Artesanas Mexicanas y Artesanitos
Don't miss your chance to view and purchase handmade piñatas, corn husk flowers, and traditional embroidery from the talented women of Creative Alliance's Artesanas Mexicanas program and their child apprentices, who are part of a year-long program to learn these intricate arts. Stop by opening night for a reception that will include a traditional Mexican dinner and performances. Reception from 6-8 p.m. Nov. 16; On view from Nov. 16 to Dec. 1. Amalie Rothschild Gallery at Creative Alliance, 3134 Eastern Ave.
Baltimore Beneath the Surface
This exhibit pairing Baltimore-based street photographers Lashelle Bynum and Angelia Carter has been extended through the end of November, meaning there's no reason to miss this series of portraits of the city and its people. Covering both individuals' stories and the communities that surround them, these images offer a look at the many pieces that create the whole of Baltimore. On view through Nov. 30. Eubie Blake Cultural Center, 847 N. Howard St.
Lizzie Fitch/Ryan Trecartin
Longtime collaborators Lizzie Fitch and Ryan Trecartin have shown their videos, sculptures, and installations around the world, and their latest stop at the BMA brings all those elements into the museum's hallowed halls. Venture into either of the sculptural theaters (one made to look like a bar and the other a sort of gymnastics center) to view films exploring the ideas of technology, identity, and communication in the 21st century. On view through Jan. 6, 2019. The Baltimore Museum of Art, 10 Art Museum Dr.
Music

The Art of Prelude and Fugue
This brand-new concert series from the Peabody Institute pairs Russian composer Dmitry Shostakovich's book of Preludes and Fugues with the Baroque Bach compositions that inspired it. Join pianist Lura Johnson at the intimate Leith Symington Griswold Hall for the first of four explorations of these two composers and how their pieces, created 200 years apart, can work together. Pre-concert lecture at 6:30, Concert at 7:30, Nov. 19. Leith Symington Griswold Hall, 1 E. Mount Vernon Pl.
Joy Postell Album Release Show at the Ottobar
Local indie R&B artist Joy Postell has had a big year, and she's closing it out with a bang. New music, new videos, and a mention in The New York Times' piece "The Changing Sound of Baltimore" have all created buzz around the local singer, and now her debut album, Diaspora, is finally here. Get in line early to catch this free performance to celebrate the release. Doors at 8 p.m., Show at 9 p.m., Nov. 23. Ottobar, 2549 N. Howard St.
Theater
A Wonder in My Soul
In a story that feels rooted firmly in the world around us, two Baltimore beauty shop owners must weigh their love of their neighborhood against moving away from the pressures of crime and the rising cost of gentrification. Friendship and community anchor this work from celebrated playwright Marcus Gardley. Nov. 29 through Dec. 23. Baltimore Center Stage, 700 N. Calvert St.
Drunk Classics: Shakespeare
Watch as the cast at Single Carrot and their guests deliver their tipsy interpretations of some of the Bard's greatest scenes. Enjoy a live Drunk History-style biography of Shakespeare to start, and then who knows what the night will bring? A blitzed Benedick and Beatrice? A plastered Puck? An intoxicated Iago? Only the Carrots know what's coming. 8-11 p.m., Nov. 17. Single Carrot Theatre, 2600 N. Howard St.
Film
Baltimore's Strange Fruit Film Screening & Celebration
Celebrate the Black Yield Institute's third anniversary this screening of the group's documentary, Baltimore's Strange Fruit: A Story of Food Apartheid and the Struggle for Sovereignty at the BMA. The event, which will also include entertainment and and a discussion with the filmmakers, will benefit the BYI's food sovereignty work throughout the city. 3-6 p.m., Nov. 17. The Baltimore Museum of Art, 10 Art Museum Dr.
Literary Arts

Writers LIVE: Antero Pietila
Antero Pietila's new book, The Ghosts of Johns Hopkins, may not include any spirits. But the ghosts examined in these pages are still haunting the city nearly 150 after the death of the Baltimore titan. Join Pietila to discuss the complicated legacy of Johns Hopkins and how his institutions helped shape the problems of the city we live in today. 7 p.m., Nov. 28. Church of the Redeemer, 5603 N. Charles St.
Festival of Jewish Literature
Catch the final weekend of this two-week celebration of Jewish literature throughout the Baltimore area. Head to Beth El in Pikesville Thursday night for a community reading with Eternal Life author Dara Horn, take in a Jewish Variety Hour Saturday night at The Ivy Bookshop, or bring the kids to a series of children's programs at Chizuk Amuno Congregation on Sunday evening. Through Nov. 18, Times and locations vary.