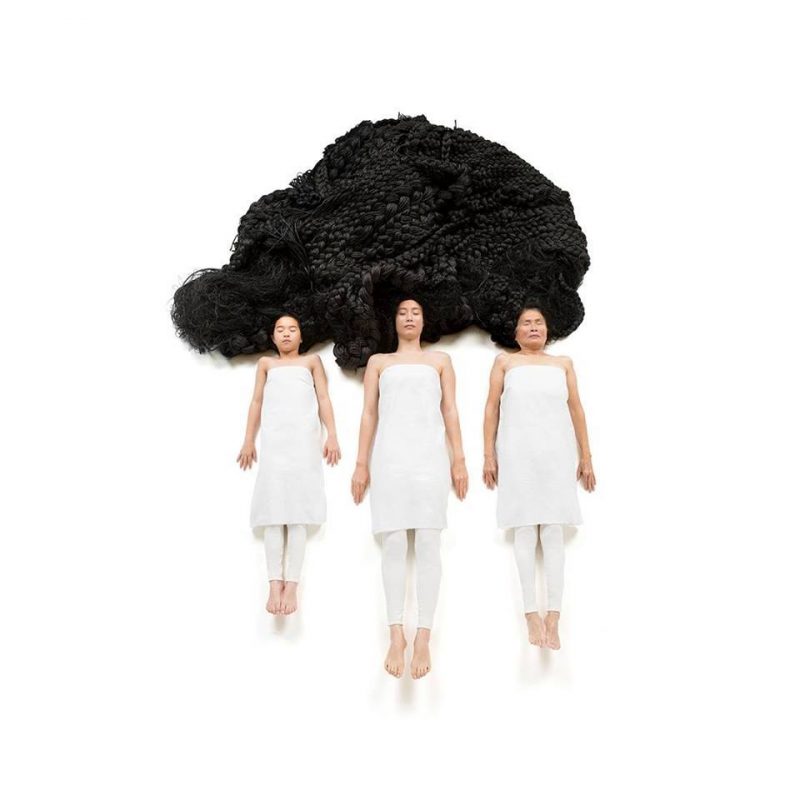 Yuni Kim Lang
Performing Arts
Sept. 14-Oct. 1, The Fallout Shelter at United Evangelical Church, 923 S. East Ave. Cohesion Theatre Company presents the world premiere of its co-founder, Alice Stanley's new play. Set in August of 1882, in the midst of the first gruesomely violent event of the legendary Hatfield and McCoy feud, and with her three eldest sons captured by the Hatfield clan, Sally McCoy defies her womanly place in the home and crosses miles of Appalachian wilderness in the dark of night in order to save her children from certain death at the vengeful hands of the Hatfields. After traveling miles alone in the dark of night to the home of the Hatfield patriarch, "Devil" Anse Hatfield, Sally refuses to let anything stand in her way until she's seen the "Devil" face to face.
The Terrible Secret of Lunastus
Sept. 15-Oct. 8, Zion Lutheran Church, 400 E. Lexington St. The Baltimore Rock Opera Society (BROS) opens its first (and only) full-scale production for 2017, "The Terrible Secret of Lunastus". It's a sci-fi comedy set in the near future about the impending destruction of Earth, and the efforts of four astronauts and their stupid robot to find a new home for the human race, all performed to an original soundtrack inspired by classic 1970s rock.
Outcalls Album Release Show with Super City, J Pope and the HearNow
Sept. 15, WTMD Studios, 1 Olympic Place, Towson  Like many of its Baltimore music peers, Outcalls is fearless. It loves to experiment and collaborate, and lift each other up through innovative songwriting and captivating live shows. Led by Melissa Wimbish and Britt Olsen-Ecker—both classically trained singers—Outcalls draws inspiration from political and social events and fills their music with melodic and harmonic surprises. Their songs unfold in chapters, and have a cinematic quality. Joining them are glam pop rockers Super City and the soul, fun, hip hop fusers J Pope and the HearNow.
Amy Reid album release
Sept. 15, The Crown, 1910 N. Charles St. The song and synthress that is one half of the group Chiffon is releasing her first solo album, and is celebrating with this show at The Crown. Best of Baltimore winners :3lon and DJ Trillnatured will be on hand as well.
Abdu Ali: I'm Still Here
Sept. 22, EMP Collective, 307 W. Baltimore St.  Baltimore Club Artist Abdu Ali is launching his national tour with this new style performance with drummer Josh Stokes. TT the Artist will get the party started.
Visual Art
Out/Side & In/Between/The Holy Ghost Goes to Bed at Midnight/ A Parable at School 33
Through Oct. 28, School 33 Art Center, 1427 Light St. Three new exhibits open this month at School 33. Out/Side & In/Between is the first of two annual juried group exhibitions, curated by Jarvis DuBois. "The Holy Ghost Goes to Bed at Midnight is a solo exhibition of new works by James Bouche', and A Parable is an installation and ongoing performance by NI Xin. on Friday, September 8, 6-9 p.m. All three shows will be on view from September 1-October 28. 
A Woven Thread at Terrault
Sept. 9-Oct. 28, 218 W. Saratoga St. This exhibition features the works of Alex Dukes and Liora Ostroff. Dukes' paintings are an autobiographical exploration of memory, identity, race, and how they all are intertwined. Liora Ostroff's current body of work uses paired art-historical themes with imagery drawn from contemporary life.
Altered Realities at Maryland Art Place
Sept. 14-Nov. 4, Maryland Art Place, 218 W. Saratoga St. The exhibition aims to subvert the viewer's perspectives by focusing on uncanny interpretations of the everyday experience, highlight exceptional works ranging from painting, sculpture, video, fiber arts, virtual reality, and photography. Featured artists include Scott Cawood, Se Jong Cho, Phaan Howng, and Balti Virtual. 
Cardinal Grand Opening
Sept. 16, 1758 Park Ave. During the grand opening of this new Bolton Hill art space you can get a tour of the building, which includes exhibition space as well as artist studios. Also, on display will be its first exhibition, Natural Order, which invites each contributor to create a typewritten list on a legal-sized piece of paper, which will go on view immediately following its creation.
Events
Bollymore
Sept. 8, Metro Gallery, 1700 N. Charles St. This bi-monthly night of art and dance is inspired by the sounds + stories of the subcontinent. Bollymore is Baltimore's space of fellowship and exchange amongst the South Asian diaspora. It aims to celebrate the arts and collaborating across cultures, featuring the music of Jacob Marley, Nikilad, and DJ Beti.
The Joy and Pain of Collecting Art
Sept. 16, Reginald F. Lewis Museum, 830 E. Pratt St. Need help picking the perfect artwork? Want to know how to start collecting art? Hear from experts in the field to get the inside scoop about how to build your very own collection. Presenters include Myrtis Bedolla from Galerie Myrtis, and renowned Collector Walter O. Evans who has amassed one of the greatest fine art collections in the country.
Philip Glass Film & Opera Series
Sept. 22, Centre Street Performance Space, 5 E. Centre Street Baltimore native and Peabody Preparatory alumnus Philip Glass turned 80 on Jan. 31. To celebrate this great composer's birthday, Peabody Conservatory is hosting screenings of Glass's "portrait" operas—Einstein on the Beach, Satyagraha, and Akhnaten. His meditation on the great physicist Einstein opens up the series. 
Fall For Art
Sept. 24, Hooper Mill Studios, 3500 Parkdale Ave. Celebrate fall in Woodberry and discover new works by local artists. Tour the studios of six local artists, featuring sculpture, painting, drawing and photography. Proceeds benefit The Walters Art Museum and its educational programs and exhibitions. 
News
The Baltimore Symphony Orchestra has announced the 2017-2018 BSO Pulse lineup. This season, at the concert series that pairs classical music with prominent indie and alternative artists, see Grammy-winner Esperanza Spalding (October 19), Tiny Desk concert winners Tank and the Bangas (January 4), and the acclaimed singer-songwriter Valerie June (March 22).
For the second year, all concerts at Peabody Institute are free. It also happens to be the debut season of Peabody's recently appointed artistic director of ensembles Joseph Young, whose first performance of the season will be with the Peabody Chamber Orchestra in a performance of Dvořák's Othello Overture and works by Handel and Schubert on Sept. 19. 
Other season highlights include the Peabody Chamber Orchestra, performing Baroque and early-Classical-era works and smaller orchestral works of the present day, and the Peabody Studio Orchestra, making its debut on Halloween with popular music from movies. And the Peabody Symphony Orchestra concerts will be led by Maestra Marin Alsop (September 28), and feature the legendary Leon Fleisher (October 11).