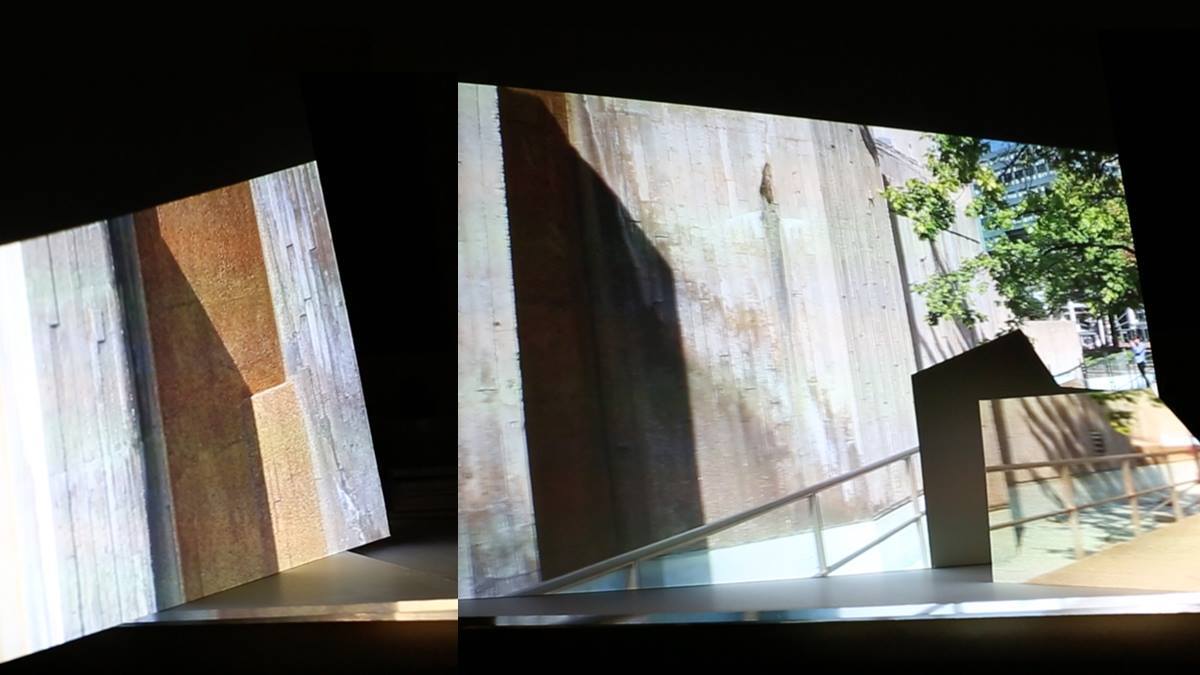 Shannon Collis & Liz Donadio, Courtesy of Current Space
Visual Arts
Summer '17 at C. Grimaldis Gallery
Through Aug. 26, 523 N. Charles St. Catch some of Baltimore's biggest artistic names at this group show, including the works of Sondheim Artscape prize finalists Zoe Charlton, Wesley Clark, and Hasan Alahi. 
Concrete/Complex: a portrait of McKeldin Fountain
Aug. 12-Sept. 3, Current Space, 421 Howard St.  Using photography, video, and sound, Baltimore-based artists Shannon Collis and Liz Donadio documented McKeldin Fountain's last days. Their portrait of the once-functional space culminates in an immersive installation that conjures a meditation on the essence of this urban landmark. The installation's sculptural forms reference the fountain's Brutalist design, and celebrate its minimalism and strong angles; video shot on site traverses each of these surfaces. Collis and Donadio's abstract, visual, and auditory impressions offer a sensory memorial experience of McKeldin Fountain, opening a layered engagement with viewers. 
What We Learn While Waiting
Aug. 14-20, Eubie Blake National Jazz Institute and Cultural Center, 847 N. Howard St.  Inspired by Baltimore City's public benches, "What we learn while waiting" – a conversation with Baltimore, the greatest city in America; is a gallery exhibition that explores the many experiences, dynamics, and realities that exist within our city's parameters. The works curated by Malaika Aminata Clements, with Shan Wallace and LieAnne Navarro, are inspired by public space, human interaction, mass transit, and Baltimore city's benches. This event is sponsored by    
Our Right To Smile
Opens Aug. 26, Dovecote Café, 2501 Madison Ave.  This exhibit from painter Jerrell Gibbs provides a glimpse into his world through recreations of childhood photographs and memories. Gibbs bestows viewers a lens into the everyday life of the community he's familiar with. He gives the audience a sense of the traditional Baltimorean family functions. His use of elongated figures, inspired by Ernie Barnes, and expressive gestures allows him to convey a feeling of liveliness in the form of two-dimensional paintings.
Performing Arts
Super City/ Chiffon/ Twen
Aug. 14, Ottobar, 2549 Howard St.  Catch Baltimore rockers Super City and Twen as they head out on tour. Ultra-smooth R&B group Chiffon joins them for this show. 
Ultrafaux
Aug. 20, An Die Musik, 409 N. Charles St. Fresh off their new album release, Ultrafaux—an acoustic trio that presents original music rooted in the authentic technique of 30's French guitarist Django Reinhardt—will present a set of Reinhardt's songs exploring the evolution of the gypsy jazz style.  
Summer in the Square with Symphony Number One
Aug. 23, Mt. Vernon Place's West Square  This performance from the Best of Baltimore winning chamber orchestra that specializes in substantial works by emerging composers includes 15 pieces, 14 of which are new compositions that have never before been played in public. The works feature spoken word poetry by Eubie Blake, a toy piano, dub-step influences, selections from George Gershwin's Porgy and Bess, Saint-Saens, a taste of patriotic flair, and a piece inspired by the Mount Vernon Place Conservancy's discovery of the Washington Monument cornerstone.
J. Roddy Walston and The Business
Aug. 24-26, Ottobar, 2549 Howard St. J. Roddy Walston and The Business are returning to Baltimore (they are now based in Richmond) for this three-day residency at the Ottobar. Specializing in a classic-sounding Southern rock/Americana style that emphasizes songwriting and danceable kinetics, they are about to release their fourth studio album this fall and have a new single, "The Wanting", their first four years.
Events
Throwback III: A 90's hip hop party
Friday, Aug. 11, Creative Alliance, 3134 Eastern Ave.  Curators of Hip Hop and Creative Alliance are partnering for a 90's R&B, soul, and hip hop party, with two dance crews one dance floor. Bmore Than Dance and local Bboy and Bgirl crews will be there along with artists Eze Jackson, Jahiti of Brown FISH, Joy Postell, Al Rogers Jr. and Bobbi Rush, who will be performing your favorite 90's hits.Throwback gear highly recommended but not mandatory.
Literary Mt. Vernon walking tour
Aug. 19, meet at the Enoch Pratt Free Library, 400 Cathedral St. Follow in the footsteps of Baltimore's literary luminaries on this Maryland Humanities tour. Discover the elegant brownstone mansions and majestic cultural institutions built by Baltimore's successful 19th century merchants and industrialists on . Learn how a neighborhood of scholars, struggling artists and authors, newspaperman, philanthropists and social reformers offered rich opportunities to discuss and debate ideas and open new literary avenues. 
News
On August 12, 1992, the American Visionary Art Museum became a United States Congressionally designated national museum. Though it wouldn't open its doors for another three years, founder and director Rebecca Alban Hoffberger recalls, "That early and unanimous official recognition gave AVAM the imprimatur of credibility to flourish that which has since wildly exceeded even the sweetest of all our dreams. We say on the eve of our 25th Anniversary as a beloved national museum, God-speed the rapid return to united and Bi-Partisan Congressional care and action to impact the greater good. We sure need their urgent visionary action to repair infrastructure, healthcare, climate, and create the jobs of the future, now."