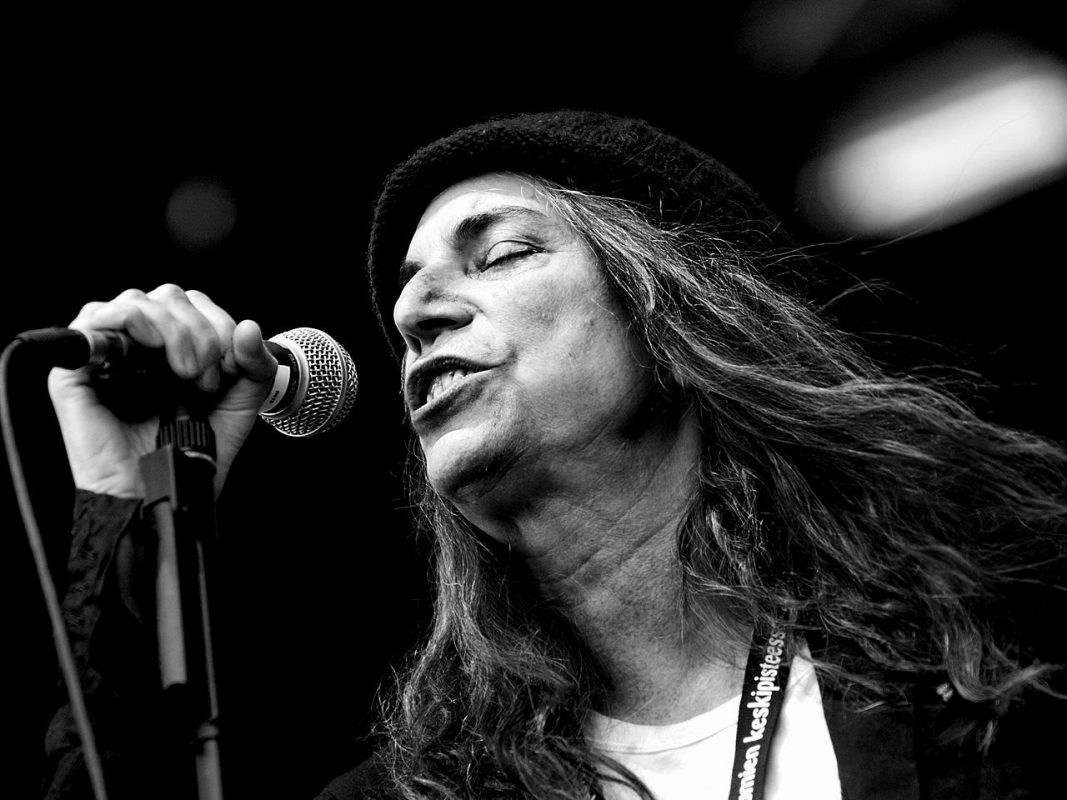 Wikimedia Commons
Visual Art
J.M. Giordano's images chronicling the fall of the steel industry in Baltimore are currently on view at the Baltimore Museum of Industry, but take a trip around the harbor to Fells Point to the newly refocused Luann Carra Gallery and you'll find this companion show highlighting the resilience of the communities steel built across Ohio and West Virginia. These stark black-and-white images both haunt and hearten. Through Oct. 10. Luann Carra Gallery, 1918 Fleet St.
Literature
Celebrate the return of the Central Library with a full day of music, art, lectures, games, food, and dancing along Cathedral Street and in the newly renovated library's updated digs. Highlights include a conversation with Chris Wilson, Kondwani Fidel, and D. Watkins in Wheeler Auditorium and performances by the Black Cherry Puppet Theater in the Weinberg Children's Library. Sept. 14. Enoch Pratt Free Library, 400 Cathedral St.
Punk icon Patti Smith's memoir Just Kids earned accolades for its delve into the decades-long relationship between Smith and photographer Robert Mapplethorpe. Now, Smith returns to her own past to recall the dreams and realities of a transformative year spent wandering the country. Join Smith at Goucher College for what's sure to be an unforgettable evening of stories, song, and sage wisdom. 7-8:30 p.m. Sept. 25. Goucher College, Kraushaar Auditorium, 1021 Dulaney Valley Rd.
Music
One of these two local legends on the bill would be enough, but the two together are a can't-miss event. Join boogie-woogie pianist Daryl Davis and self-taught jazz-funk artist Lafayette Gilchrist for a night of dueling keys and styles from both past and present. 8 p.m. Sept. 27. Creative Alliance, 3134 Eastern Ave.
Adbu Ali is a creative force to be reckoned with, and their latest album, Fiyahh!!, is chock-full of both poignance and power. Experience one of their singular live performances this month at the Ottobar as Ali celebrates this genre-blending release on home turf with guest Grace Ives. 8 p.m. to 12 a.m. Sept. 27. Ottobar, 2549 N. Howard St.
Theatre
Bring your nostalgia for the days of Sesame Street and The Muppet Show, but leave the kids at home for this improvised puppet show for adults put on by the folks at Baltimore Improv Group. Expect musical numbers, felted faces, and lots of laughs at this BIG Lab experiment. 7:30-8:30 p.m. Sept. 25. The BIG Theater, 1727 N. Charles St.
Film
Art, film, and conversation will come together to highlight East Baltimore voices at this two-day festival. View works by dozens of local artists at the opening night East Baltimore: Her Artists and Her People exhibition, or stop by Saturday for a full day of selected short films, documentaries, and performances. Sept. 20-21. MICA PLACE, 814 N. Collington Ave.