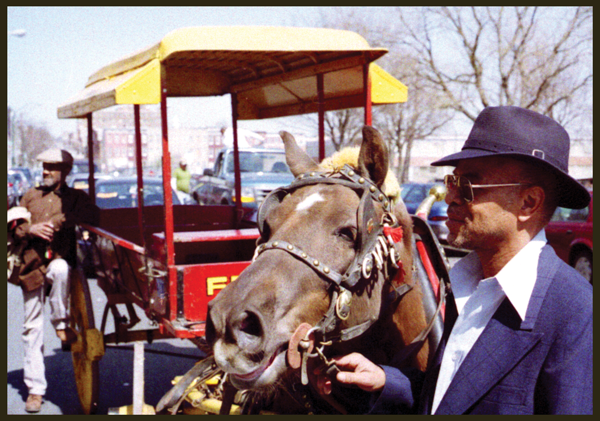 Visual Art
Don't miss your opportunity to catch the work of Amalie R. Rothschild, the "unofficial photographer of Woodstock," at Goya Contemporary Gallery. The documentary-style work captures some of rock's greatest personalities during the turbulent late '60s and early '70s, chronicling one of the most iconic periods of American music and history. Through March 2. Goya Contemporary Gallery, 3000 Chestnut Ave.
Literature
Park School alum R. Eric Thomas offers the internet his best jokes and hottest takes in his daily humor column, "Eric Reads the News." Now get a more personal set of tales with his new book of essays, Here for It. The man himself will make a stop at Central Library's Wheeler Auditorium this month to discuss his childhood between two vastly different neighborhoods, finding love, and the wild world of internet fame. Feb. 20. Enoch Pratt Free Library, 400 Cathedral St.
Hear the story of one of Baltimore's most impactful quirks as Bruce Goldfarb presents his 18 Tiny Deaths, The Untold Story of Frances Glessner Lee and the Invention of Modern Forensics. The 18 tiny deaths refer to the Nutshell Studies of Unexplained Death, a series of painstakingly recreated crime scenes that, at first a hobby for Lee, turned into a teaching tool for generations of criminal investigators. The scenes, now housed Maryland Medical Examiner's Office, are still used for forensic seminars today. 7-9 p.m. Feb. 15. Atomic Books, 3620 Falls Rd.
Music
Before David Byrne takes the SNL stage this month, get your fix with this tribute to the New Wave icon's first project: The Talking Heads. The boys of Psycho Killers will be on hand at Union on Valentine's Day to play hits like "This Must Be The Place" and "Once in a Lifetime," as well as love songs from other bands' discographies, throughout the evening. 7 p.m. to 12 a.m. Feb. 14. UNION Craft Brewing, 1700 W. 41st St.
February is the month for opera, with multiple opportunities from the likes of The Acme Corporation and Opera Alchemy around the city. But for those looking for a survey of the operatic talent Baltimore has to offer, Creative Alliance has gathered a crew of rising stars. In this intimate performance, soprano Victoria Zelefsky, mezzo Taylor Hillary Boykins, tenor Henry William Hubbard, bass Aaron Thacker, and pianist Maria Adele Scott will join together for a night of solo and ensemble work and discussion. 8 p.m. Feb. 28. Creative Alliance, 3134 Eastern Ave.
Theatre
Great music, creative costumes, lots of glitter, and the chance to support MICA's LGBTQ scholarships—this drag show truly has it all. Members of the art school's Faculty and Staff Queer Alliance will join pro kings and queens Miss Sue Nami, Dee Dee Dereon, Venus Festrada, Gadfrie Arbulu, and Chris Jay for this night of fun that helps fund the FASQA Awards, given each year to a a student in the community who demonstrated financial need and another to a student who has shown involvement in and commitment to LGBTQ+ issues. 8-10 p.m. Feb. 28. The Gateway BBOX Theater, 1601 W. Mount Royal Ave.
Film
Though they're not as prevalent as they once were, Baltimore's arabbers remain an essential part of the city's cultural identity. On Feb. 22, join True Laurels founder Lawrence Burney for a screening of the documentary We Are Arabbers and a discussion with former members of the trade to discuss the occupation's past and what can be done to preserve it for the future. 2-4 p.m. Feb. 22. The Baltimore Museum Art, 10 Art Museum Dr.
News
The new Pennsylvania Avenue Black Arts and Entertainment District plans to launch its first branding initiative in style with a party at Shake & Bake Family Fun Center on Feb. 16. Creative Director Tia Newton and her team will be on hand to talk about what's coming up for the newly minted arts district in addition to plenty of fun events such as dancing, $1 skating and bowling, and themed giveaways.
The Boshell Foundation, the group responsible for The Walters' long-running ancient art and architecture lectures, recently announced a $500,000 endowment for the museum to go toward the continuation of the popular series. "We are deeply thankful for their generous endowment gift and look forward to the lectures it will provide in years to come," Walters Director Julia Marciari-Alexander said in a statement released by the museum. The Boshell Lecture Series was originally launched in 2017, and the newest installment, "How Many Noses Can One Face Have?," about the evolution of taste when it comes to restoration and repair work, will take place Sunday, April 19.