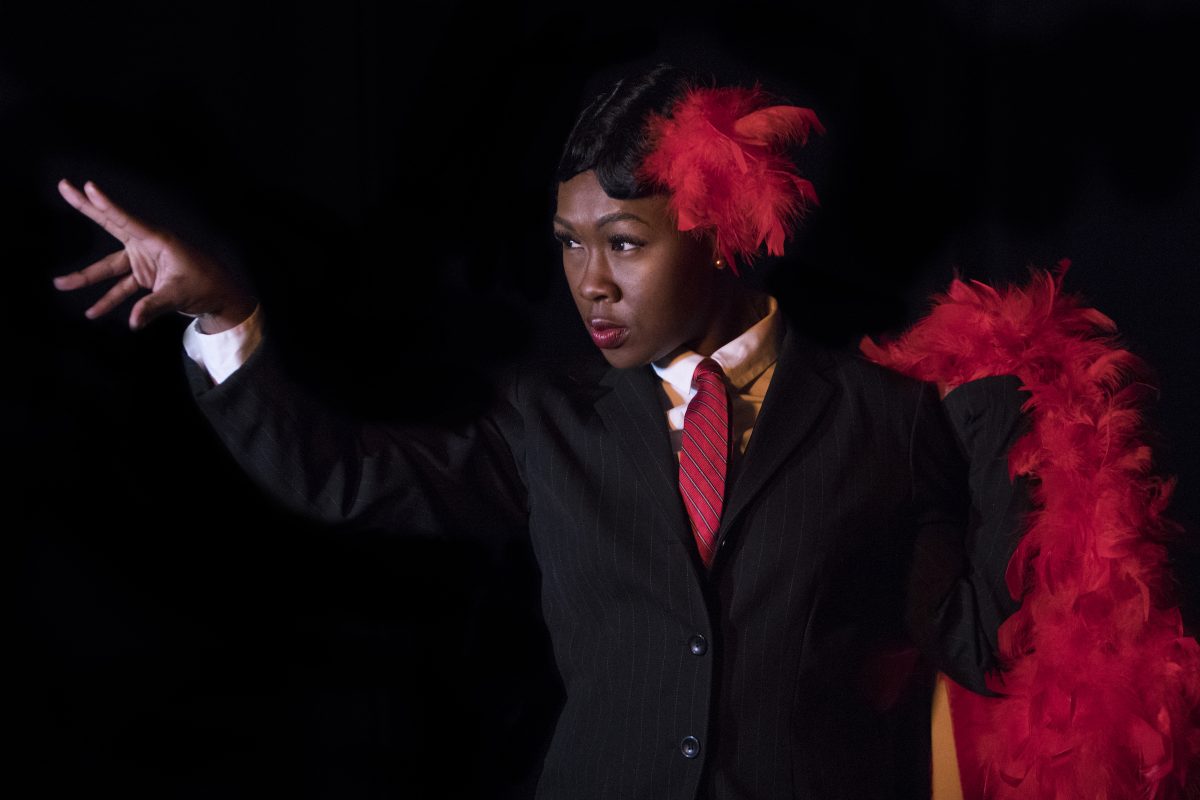 Baltimore Rock Opera Society
Visual Art
Reflections: Intimate Portraits of Iconic African Americans
Photographer Terrence A. Reese's career has led him to take portraits of such stars as Lauryn Hill and George Clinton. The artist, who goes by TAR, will exhibit a selection of his work at the Reginald F. Lewis Museum this month in the show Reflections: Intimate Portraits of Iconic African Americans. Black-and-white images will depict such luminaries as the Nicholas Brothers and Gordon Parks in their natural environments and living spaces so as to better reflect who they are, through their personal objects, style, and the context of their lives. Wednesdays through Sundays, Feb. 1 through Aug. 12, at Reginald F. Lewis Museum, 830 E. Pratt St.
Artist talk with Shirin Neshat
Iranian artist Shirin Neshat explores gender, identity, and politics in her work, as well as the differences in culture between the West and Muslim countries. Because she tackles such complex themes, there is no shortage of questions and discussion surrounding her work. It also makes her a perfect candidate for MICA's Mixed Media lecture series, which brings to Baltimore artists from across the globe. For this installment, Neshat will be in conversation with Baltimore Museum of Art Director Christopher Bedford. 7 p.m. Feb. 15 at Falvey Hall, Brown Center, 1301 W. Mount  Mount Royal Ave.
Music
Charm City Django Jazz Fest
Nothing like some live gypsy jazz to add a little heat to a cold winter's day. Creative Alliance has got us covered with not one but three days of its annual Charm City Django Jazz Fest, which will bring in acts from across the region and world, including headliner Samson Schmiit, a legendary Manouche gypsy guitarist from France. Swing on by to see Sara L'abriola, Ultrafaux, 'Nuff Said, and others, to experience a range of styles within the genre. Feb. 23 to 25 at the Creative Alliance, 3134 Eastern Ave.
Out of Darkness: Two Remain
A new opera looks at what you might consider atypical Holocaust survivors: one, a political prisoner, and the other a homosexual Protestant, both of whom used words to overcome the traumas of captivity during the war. World-renowned composer Jake Heggie developed the two-act opera based on the true stories of these characters who "survive through their poetry," says Garnett Bruce, stage director of the Peabody Chamber Opera's production of the piece. Feb. 8 through 11 at Theatre Project, 45 W. Preston St. The composer and librettist will attend opening night, with a talk following the show.
Theater
Constellations & Crossroads
Constellations & Crossroads is a theatrical double-header steeped in American history and exploding with life. Baltimore Rock Opera Society partnered with Arena Players, Baltimore's historic African-American community theater, to present two short musicals in their entirety, backed by a live band. The Determination of Azimuth tells the story of Katherine Johnson, a black mathematician who worked for NASA and was responsible for comp[uting paths for rocket ships sent into space. Battle of Blue Apple Crossing leans more on fiction to tell the tale of blues legend Robert Johnson, said to have sold his soul to the devil in exchange for musical ability. The score follows America's musical heritage from field spirituals to rock 'n' roll to garage rock. 8 p.m. Feb. 9 through 18 at Arena Players' venue at 801 McCulloh St.
All She Must Possess
The Rep Stage premiere of All She Must Possess tells the story of Baltimore's famed Cone sisters, Claribel and Etta, extravagant world travelers and collectors of art and curios. During the early 20th century, they stored thousands of paintings—including work by Matisse and Picasso, among other greats—in their homes, amassing what would become one of the world's largest collections of modern art (a large portion would eventually be housed at the Baltimore Museum of Art, where it is today). In the theatrical version of their lives, written by University of Maryland Baltimore County professor Susan McCully and directed by Rep Stage artistic director Joseph W. Ritsch, paintings come to life and Gertrude Stein—Etta's lover—makes an appearance. Coinciding with the play is an exhibition of historical women's clothing from the Cone sisters' time, on display at Howard Community College's Rouse Company Foundation Gallery through March 11. The play runs Feb. 8 to 25 at Rep Stage at Howard Community College.

Dance
The Community Project
Each year, The Collective pulls together dancers from the community and pairs them with a professional choreographer to develop the Community Project performance. This year, 22 dancers—ranging in age from teens to baby boomers and across all skill levels—met on several cold January weekends to rehearse under dancer Caitlin McAfee for this year's show, which is but one component to the Baltimore Dance Invitational. Set to Indian Wells' song "Cascades," the group will show through movement how the mind races, gets distracted, and follows its own trails of thought. Gordon Center for Performing Arts on Thursday, February 15, 2018 at 7:30 p.m. Feb. 15 at the Gordon Center for Performing Arts, 3506 Gwynnbrook Ave., Owings Mills. 

Beyonce vs Rihanna Dance Party: Round 2
The Ottobar event flier states it best: "Are you 'Drunk In Love' or 'Drunk On Love'?!" At the Beyonce vs Rihanna Dance Party, that is precisely the question. And also, are you ready to duke it out—through dance, of course, to support your diva de jour. The dance party battle will light up with Beyonce tracks from DJ Mills and Rihanna tracks from Ottobar owner Craig Boarman. 9 p.m. Feb. 16 at the Ottobar, 2549 N. Howard St.

Miscellanea
African-American Arts Festival
The University of Baltimore helps us to celebrate Black History Month specifically through art at its annual African-American Arts Festival. Its offerings span an array of artistic mediums: film, visual art, music, theater. Some highlights: a panel with Black Ladies Brunch Crew of D.C., an African drumming circle, readings of Langston Hughes poetry spliced with live, improvised jazz piano, and a screening of Jonathan Demme's film of Toni Morrison's novel Beloved. Feb. 15 to 18 at the University of Baltimore, 1420 N. Charles St.
We may be 2,500 miles from Hollywood, but John Klisavage brings us a touch of its wonder by way of costume. At his bookstore in Havre De Grace, he's displaying several outfits worn in major motion pictures, including Hunger Games and The Notebook. February and March at Washington Street Books & Music, 131 N. Washington St., Havre De Grace.
A culinary documentary on Basque cuisine
Parkway Theater has teamed up with a local restaurant to bring a food and film pairing, naturally. After a screening of The Txoko Experience: The Secret Culinary Space of The Basques, scriptwriter Marcela Garces and director Yuri Morejon will answer any questions the audience has, and then . . . everyone can partake in the food portion of the evening: passed pintxos from the Basque-inspired La Cuchara restaurant. Renowned Basque chefs serve as narrators of the culinary documentary, which explores Txokos, groups of people who gather to explore innovative and experimental ways of cooking. As Morejon puts it, "Txokos represent a distinctive, albeit enigmatic element of Basque gastronomy. As the private temples of traditional Basque cuisine, they captivate people with their warmth, ambiance, and great respect for fresh products." 7 p.m. Feb. 22 Parkway Theater, 5 W. North Ave.