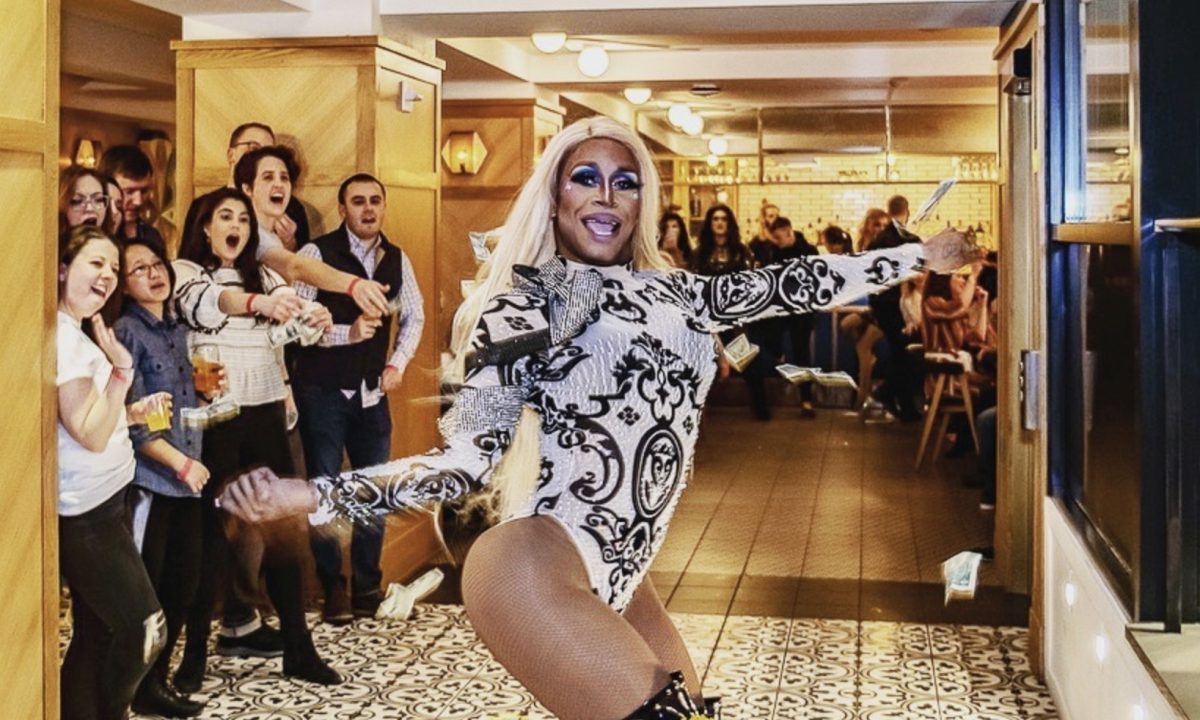 Courtesy of MGC Media
From New York magazine's recent story on the most powerful drag queens in America to the cover of our June Pride Issue (featuring the one-and-only Betty O'Hellno), it seems like drag has finally gone mainstream.
It's no secret that drag is a visually-stimulating spectacle, with its kicks, splits, and bodaciously-beat mugs. So why just look at it on magazine covers or on television? Baltimore has its own crop of crazy-talented kings and queens that are worth shelling out cash to see.
Bryan Tarka, who performs as Baby, thinks the popularization of drag from shows such as RuPaul's Drag Race has trickled down to the local level. "We're on the best track possible to have drag be appreciated as an actual art form, just as any other art form," says Tarka, who hosts the show Metro/Sexual X at Metro Gallery.
In Tarka's three years of performing in drag, he's noticed that the local field has expanded to include more diverse performers, such as drag kings, non-binary performers, and bio queens, which has helped evolve Charm City's drag scene.
"I feel like the scene has taken a switch from being more traditional pageant style drag," Tarka says, "We're really embracing what I view as Baltimore's roots with Divine, and having more of that trashy, gender-bending, out-there, outlandish, rock and roll type of style drag, which I'm really excited about."
With Baltimore's vibrant drag community on the rise, there's tons of sickening shows to sissy over to for a guaranteed good time. Don't be one of those people who only sees Ru-Girls when they come to town on tour—spread the love to some local performers at these must-see drag events. So, get to it henny!
Bodacious Brunches
Angie's Seafood: Keep the second Saturday of each month clear because Angie's Seafood is offering a bottomless brunch, mimosas, and a can't-miss show for a great deal. The ever-busy Evon Michelle hosts this gig, along with her gaggle of glamazons. $40
Drag Me to the Beach: Enjoy the sweet serenity of sand between your toes and a twirling queen before your eyes at this new addition to the Charm City drag brunch scene. Held at Sandlot in Harbor Point, this weekly show includes two drink tickets and stars the winner of two seasons of DC Drag Wars, Bombalicious Eklaver. $20
Points South Latin Kitchen: This weekly Sunday brunch features a host of affordable drink specials, so fill up on mimosas, sangria, and Bloody Marys until you're brave enough to attempt a death drop (aka a dramatic dance move where you descent backward with one leg folded). Prepare to dance the afternoon away with local queens such as Brooklyn Heights, Iyana Deschanel, and Jasmine Blue. $35
Zen West: Every first Sunday, Venus Fastrada hosts this fabulous fete with a rotating theme. (The most recent performance was dedicated to Disney numbers.) Head to the Towson cantina to order mimosa or margarita pitchers for the table before digging in to specialty brunch plates during the show. There's no cover charge, but be sure to bring bills to tip generously.
Drag Dinners
Drag Revival: Hosted by Baltimore's 2019 Performer of the Year Dee Dee Derèon, this monthly dinner-and-show affair at Hotel Revival features a rotating cast of popular area queens, including Baby, Venus Frastrada, and Hazel Derèon. Treat yourself to an all-you-can-eat buffet —and don't miss out on the bottomless Italian Bellinis. $25-40
Illusions: Have you ever wondered what it would be like to have Liza Minnelli and Cardi B in the same room? If so, this is the celebrity-tribute drag dinner for you. Come see comedy and burlesque performances by local queens in the shoes of icons such as Whitney Houston, and Britney Spears. $10-750
Sassy Shows:

Grindhouse 2.0: Throw it back to the times of bump and grind burlesque. Held on the first Friday of the month at the Baltimore Eagle, you'll get a hell of a show for a measly $10 cover. $10-150
Golden West Bingo: Only a drag performer could make a chore as mundane as calling out bingo numbers so lively and exciting. Hit up this vegan paradise every second and fourth Tuesday of the month for rounds of bingo hosted by Evon Michelle and Pariah Sinclair, as well as taco and margarita specials. $5
Metro/Sexual X: Chock full of fashion, art, rock n'roll, tease, filth, and drag, attendees can expect to be entertained when this steamy show pops up at Metro Gallery every few months. Hosted by Baby, the show has featured everything from hard rock to sultry burlesque, and occasionally features other talents from across the DMV. Did we mention this won the 2019 Baltimore Drag Award for Best Drag Show? $15
Sidebar Scandalous Saturdays: This monthly downtown show boasts an all-star line-up, hosted by Pariah Sinclair and featuring queens like Shaunda Leer and Saaphyri Wildz. Pro tip: The first ten attendees receive a specialty cocktail, so be sure to get there early. $8-10