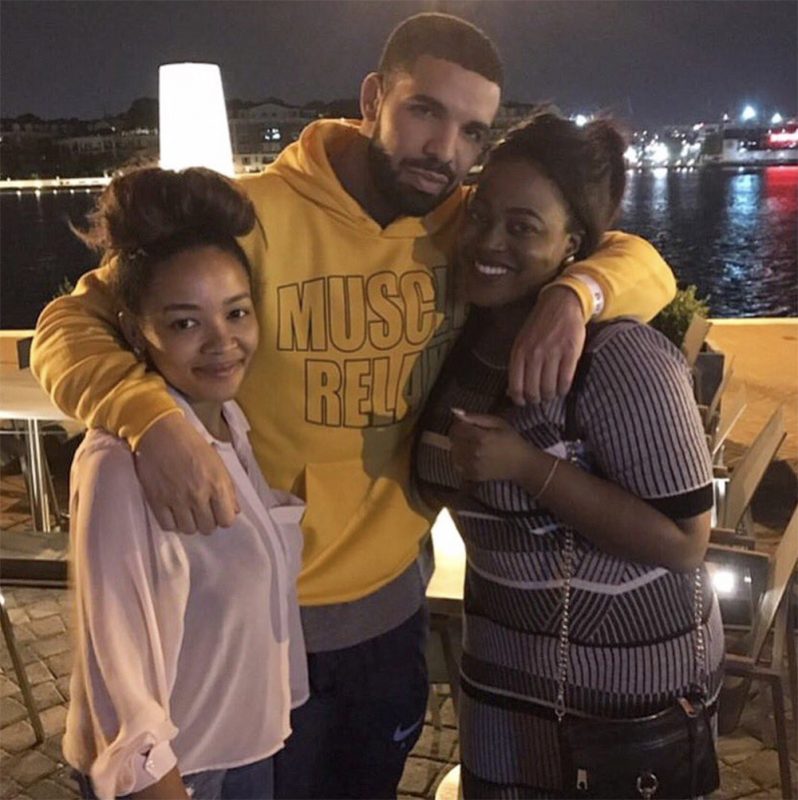 Candice Law
Disclaimer: I am a huge Drake enthusiast and still recovering from the fact that he was down the street from our office and I did not get to meet him. Consider this a part of my recovery process. 
Mythical wingless angel Drake was spotted enjoying sushi and drinks at Azumi in Harbor East last night. While we are unsure as to why he is in town, the luckiest people in the universe received the dinner surprise of their lives. 
Candice Law was downtown celebrating a family member's birthday, she said on Twitter, when she received the news that the Canadian rapper himself was at the sushi restaurant with some friends. 
The group went to Azumi in Harbor East around 11:55 p.m., requesting to sit outside on the patio, Joe Sweeney, spokesman for Atlas Restaurant Group, told The Sun. 
The 6 God requested to listen to Jay-Z's brand new "4:44" album and we're assuming that Azumi didn't have Tidal (because who does?), which is the only streaming service it's available on. So, Sweeney said, they "were able to accommodate him."
Once Law arrived at the restaurant with her cousin, she was understandably hesitant to approach Champagne Papi, who was surrounded by a tight security team. But she got up the courage, shaky hands and all, to walk out to the patio to "give the speech" of her life.
Law, who described the former Degrassi star as "delicious," said she is a huge fan and that she drove 10 hours up to Toronto for his annual OVO Fest. 
They also discussed venues that Drake could play in Baltimore, and he pointed across the water to Pier Six and said he'd want to play there. ("He's too adorable, so I don't think to tell him that he's too big to play there," she wrote.)
From Law's account, Drake was nothing but the king we all already knew he was, offering to connect her with tickets to an upcoming show and not batting an eye when getting a picture with her. Though, she did admit that she was so flustered she forgot her phone passcode a couple of times. She is all of us. 
"I said thank you more times than I can count," Law wrote. "The rest is history. Most epic moment of my life."
While we don't know if Drake is still in the area, I plan on starting my weekend off staring listlessly at the Four Seasons, contemplating picking up a shift at Azumi just in case he returns.