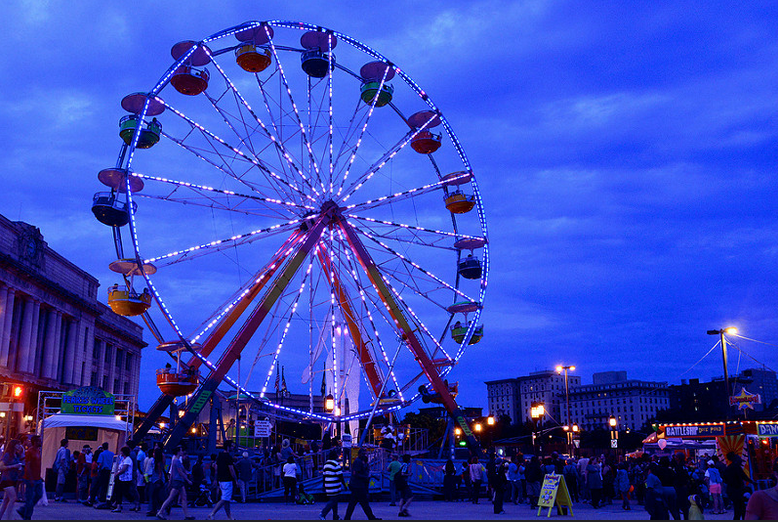 Flickr / Creative Commons
No matter how stifling it is outside, the crowds always flock to our massive July party Artscape. And who could blame them? It's the country's largest free arts festival in the country, with choice people watching, mind-expanding performances and art work, and, best of all, the inclusive, creative, eccentric spirit that is the essence of Baltimore.
The list of what to do during Artscape's three days—July 15-17 this year—is extensive. There are more than 150 artists, fashion designers, and craftspeople involved as well as dozens of performances, family events, street performers, installations—you get the drift. So we've taken the liberty of giving your our picks for this space-themed Artscape. (You can check out a full list of events here.)
BGE MAIN STAGE AT MARYLAND INSTITUTE COLLEGE OF ART
Starting Friday night, you won't be able to avoid the pulsating beats—or the electric energy emanating from the hill in front of the B&O Railroad building. Beginning a weekend of '90s throw backs, Wyclef Jean headlines Friday at 7:30 p.m. with his bopping hip-hop rhythms and liquid smooth reggae lines (it might be wishful thinking, but we're really hoping he's got some Fugees tracks on his playlist). And on Saturday, catch our own exciting hip hop duo Bond St. District before '90s hit ska/punk band The Mighty Mighty Bosstones hits the stage. Hopefully, they'll be in their trademark plaid, and you can copy the moves of the band member whose only job on stage seemed to be dancing (remember him?). Then, on Sunday, let it all wind down with old-school reggae godfather The Legendary Burning Spear. 1400 Cathedral St., near Mount Royal Avenue
INSTALLATIONS
When you ask artists to explore the theme of "space," you have to expect that your mind will explode—and that's the case with these seven installations. Take Fred Scharmen's "The Grand Tour," where the sizes of the planets and their distance from one another in proper scale—that means Pluto is a grain of sand. Or The Mothership Connection, a "funky adventure into other worlds," that features a maypole, people sculptures and ornaments, and a metaphysical stage which will features performances by Ama Chandra, Ada Pinkston, and Blaqstarr. Mount Royal Avenue and North Charles Street

JOHNS HOPKINS UNIVERSITY STATION NORTH STAGE
If the main stage crowd is a little overwhelming, or you'd rather hear a cadre of up-and-coming Baltimore bands, this is the right stage for you. After Wyclef Jean's show Friday, head here for a Prince tribute dance party, with Wendel Patrick and DJ Dubble8 of the groundbreaking Baltimore Boom Bap Society (their performance with the Baltimore Symphony Orchestra has been one of our year's musical highlights). Two of our favorites on Saturday are art rockers Surf Harp, and the infectious psychedelic sounds of the so-hot-right-now Sun Club. And on Sunday, ultra-smooth R&B group Chiffon performs before Bmore Beatscape, where Eze Jackson hosts a night of hip hop, including the winner of a beat competition, who gets a five-minute slot to play beats while the MCs rap. Charles Street, near North Avenue
ARTIST-RUN ART FAIR and ARTISTS' MARKET
Our visual arts scene is blessed to have its share of fabulous artist-run galleries—Terrault Contemporary, Platform, Current Space. Check out the work of emerging artists that they showcase, as well as work from other artist-run galleries from as far as Portland, OR, and Chicago, displayed at the Charles Street Garage (1714 Charles St.) Then, peruse the art of more than 100 talented creatives that's for sale along Mt. Royal Avenue.
DREAMGIRLS AT MOTOR HOUSE
This iconic musical about the early days of Motown girls groups (think the powerhouse anthems "Love You I Do" and "And I'm Telling You I'm Not Going") is at the hands of the Motor House's resident company, and in its intimate theater on Friday night at 7:30. Plus, Motor House is warming everyone up for Artscape July 8 and 9 when you can catch dance performances, workshops, and a dance party. 120 West North Ave.
DANCE AND BMORE ELDER ENSEMBLE
Every once in a while, a group of performers comes along
that truly touches on why the arts are so important. Made up of resident from
the J Van Story Branch Apartments, which is a home for elderly and disabled
residents in Station North and led by the ever-energetic Broadway alum CJay
Phillip, this troupe transcends physical limitation to move, dance, and enjoy
music—and along the way tells us their stories. 7 p.m. Saturday, Motor House, 120 West North Ave.
SOLARIUM
We've all likely seen the pictures of the sun's bubbling, lava-like surface, but this work transforms that understanding. Artists use data from NASA's Solar Dynamics Observatory recorded on solar flares and eruptions to create a large-scale projection that will transport us into space. MICA's Pinkard Gallery, 1401 West Mount Royal Ave.
POP-UPS
Per usual, there will be talented performers roaming the streets with acrobatics and clown antics galore, but these pop-ups are something special. Throughout the festival, performers will emerge from the crowds to shake things up—and, of course, they'll be decked out in space gear. From The Marching Elite Marching Band on Friday to giant aliens and OrchKids on Saturday (and don't forget to look for the samba parade on Sunday), you won't know when the pop-ups will happen, but when they do, trust us, they'll be memorable.
MICA'S BROWN CENTER and BALTIMORE THEATRE PROJECT
Pacing yourself is a must at Artscape (we've had one too many heat meltdowns ourselves). Take a break, get off your feet, and let your body temperature regulate in the ol' AC while taking in the Debussy opera The Prodigal Son, produced by Lyric Opera Baltimore twice on Saturday, or on Sunday, take in bands that showcase a fusion of musical styles, like Black Masala, who plays a "unique" (we'll say) blend of punk rock, Balkan brass, Indian bhangra, and New Orleans funk. At Baltimore Theatre Project on Friday, check out a ballet based on best-selling science fiction novel Dune. Falvey Hall, 1301 Mount Royal Ave.; 45 W. Preston St.
BALTIMORE SYMPHONY ORCHESTRA
Any time you get to experience a world-class orchestra, it's a treat. Even better is when it's free. On Friday, the symphony will play Beethoven's Eighth Symphony in the lobby, and, on Saturday, it will perform classical favorites alongside adult amateur musicians. Best of all, Baltimore City Public School students, as well as OrchKids, will perform on the Meyerhoff stage throughout the three days, showing us a little of the talent we have to look forward to. Joseph Meyerhoff Symphony Hall, 1212 Cathedral St.