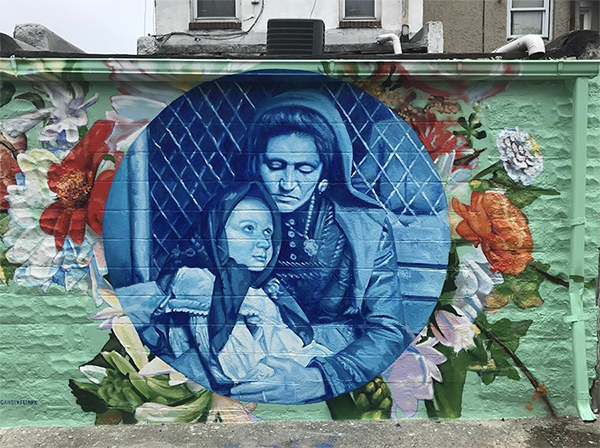 Gaia
The latest in a series of murals by Baltimore-based street artist and MICA grad Gaia is now on view in Remington behind W.C. Harlan.
Sponsored by Greater Remington Improvement Association (GRIA) and Baltimore Office of Promotion and the Arts (BOPA), the piece depicts a pair of immigrants arriving at Ellis Island around the turn of the last century posed in the style of a Madonna and child.
In reference to the subject matter, Gaia wrote on Instagram that, "My great grandfather came to this country and started a garbage business. One hundred years and four generations later, it is important to remember that migration is a human right."
Rendered in shades of blue and based on a period photograph by Lewis Hines, the one-story image is placed over a background of flowers arranged by local florist Steelcut Flower Co.
Gaia requested permission to use an arrangement featured on Steelcut's Instagram, and owner Mary Ellen LaFreniere was happy to contribute her work to the project.
"We all have a different lens of perception, and I'm honored that Gaia took my image, transposed it with another through his own lens, and created something new that can assist people in emoting, thinking, feeling . . . whatever they take away from the mural," LaFreniere says.
While the chosen arrangement was created for a bride, not as part of the mural project, LaFreniere says the blossoms featured lend themselves to the message.
"The white bloom on the bottom left is a tuberose, the one on the top left is a Mexican sunflower, both flowers that have origins in Mexico, both uniquely beautiful," she says. "Also, many of the flowers shown in this bouquet were grown by Hillen Homestead, a Baltimore City farmer who grows on abandoned lots, and her farms are just a few minutes away from the site of the mural. I think you all can probably infer your own metaphors about Mexican flower varieties and flowers grown on abandoned lots and how that overlaps with Hines' image."
The Hines-inspired mural is the third and final wall to be painted by Gaia as part of his Transformative Art Prize collaboration with GRIA and BOPA. His other works from the project can be seen at Wyman Park Drive and Remington Avenue and at 26th Street and Hampden Avenue.