After a Decade-Plus Hiatus, Hammerjacks Parties On
How a lifelong music lover and his business partner brought the iconic concert venue back to life.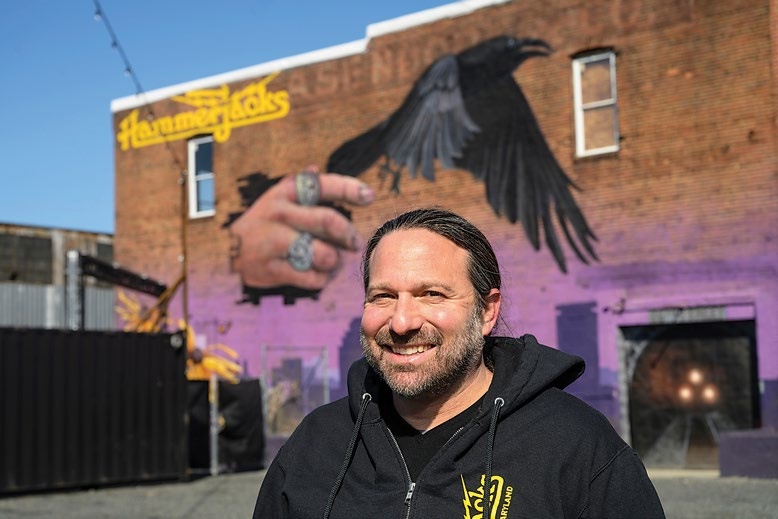 In 1982, Baltimore became home to a pocket of rock-and-roll paradise when the South Charles Street dive bar, Hammerjacks, established new roots in Federal Hill.
What had started five years prior in a rowhome as a rough-and-tumble watering hole would soon serve as a revolving door on South Howard Street for headlining acts like Guns N' Roses, The Ramones, and Iggy Pop. Even before the move, Hammerjacks had become an impromptu destination for music royalty, with former Rockville resident Joan Jett filming her "I Love Rock 'N Roll" music video there in the early days of MTV.
Admittedly, Andy Hotchkiss wasn't old enough to visit Hammerjacks during its fabled, metal-tinged heyday. But in 2018, the Rockville native, real estate broker, and lifelong music lover (pictured,) joined business partner Mark Dinerstein to bring the concert venue back to life, this time in the former home of another iconic Baltimore club, The Paradox.
The industrial building, housed on the 1300 block of Russell Street, has been in Hotchkiss' family since the mid-1980s, "So it made a lot of sense," he says. It's also just about two-and-a-half blocks from Hammerjacks' Howard Street location, which closed up shop in 1997 to make room for M&T Bank Stadium.
Much like its original iterations (a third, now-shuttered Hammerjacks also opened in Charles Village in 2000 with a starkly different dance-club vibe), this new space intends to put entertainment at the forefront.
"Hammerjacks is known for good times," says Dinerstein, a veteran L.A.-based agent, who had heard about the venue through the music industry. "We want to keep the good times going."
And since opening last year in the pandemic-friendly form of an outdoor venue, the newest brand of Hammerjacks has honored that tradition with prime tailgate space adjacent to sports stadiums, a stage to hold live music, and lawn games (think novelties like oversized beer pong).
Dinerstein recalls that in the throes of the COVID-19 pandemic, he and Hotchkiss made a choice to "flip the plan" and open Hammerjacks outdoors first, with an indoor space to follow. Still, they wager that the outdoor space will continue on as Hammerjacks expands its programming.
Hotchkiss shares that concerts, movie nights, and cornhole tournaments will fill the venue's calendar, adding that he's proud to resurrect a space with so much local history behind it.
"Obviously, [Hammerjacks] is never going to be what it used to be—the world is a vastly different place," says Hotchkiss. "We hope the city puts their arms around us. People love good music and people love good times, and that's what we're hoping to provide."