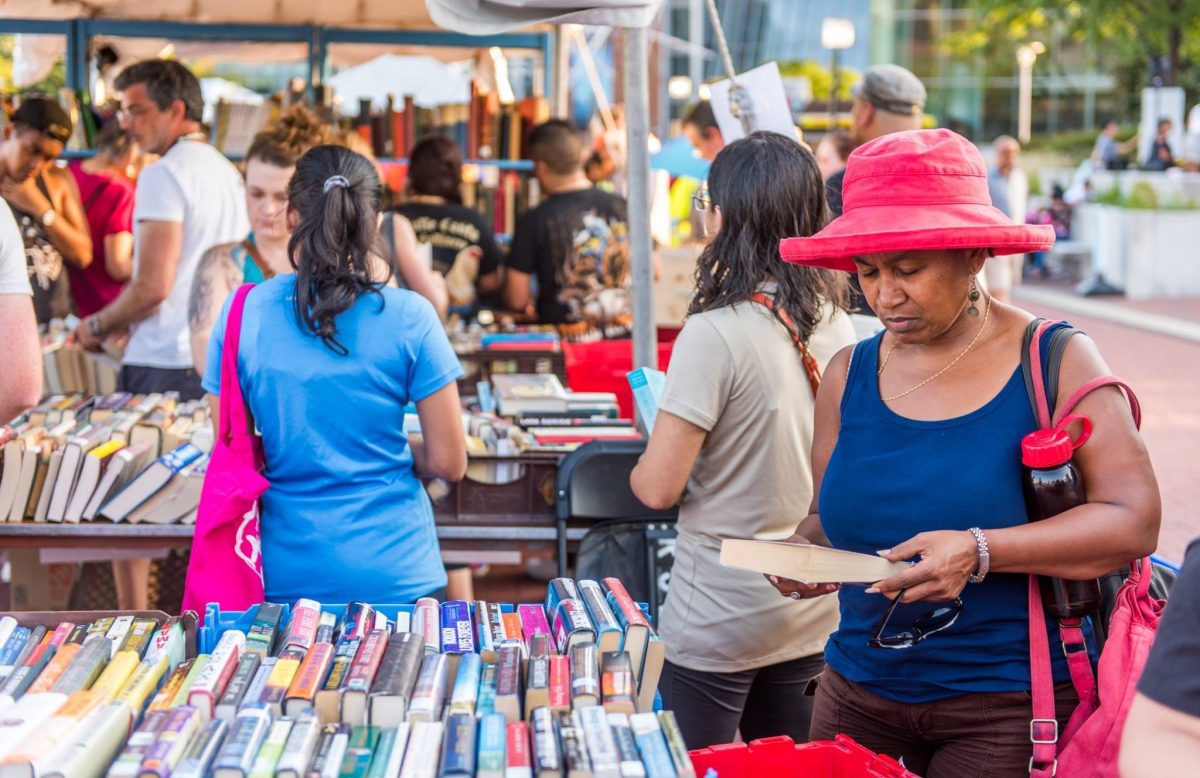 Baltimore Book Festival
For the first time ever, two of the city's wildly popular festivals—Light City and the Baltimore Book Festival—will be combined into one free celebration called Brilliant Baltimore, which is taking over the Inner Harbor November 1-10. Since this first-of-its-kind festival is packed with tons of interactive light-art installations, thought-provoking panel discussions, kids' activities, and everything in between, use our guide to create your own itinerary of things to do and see.
If you want to learn more about local history:
Nov. 1-10: An Abstract Baltimore Story
View area painter Jeffrey Kent's installation, An Abstract Baltimore Story, which will display his animated abstractions about the history of Henrietta Lacks—whose immortal cells were harvested and cultured without her knowledge at The Johns Hopkins Hospital in 1951—on a large outdoor LED screen. 5-10 p.m. Inner Harbor.
Nov. 2: Cherry Hill: Raising Successful Black Children in Jim Crow Baltimore
Hear Linda Morris discuss her new book, Cherry Hill: Raising Successful Black Children in Jim Crow Baltimore, as well as the politics surrounding the first planned community for African Americans with fellow local leaders. 12 p.m. The Inspire Stage, 401 E. Pratt St., 27th floor.
If you want to entertain your kids:
Nov. 1: Book Buggy with Miss Kelly
During Book Buggy with Miss Kelly, dance the day away as part of a Zumbini music and movement class for children under 3 years old. 12:30 p.m. Enoch Pratt Free Library Children's Stage.

Nov. 1-10: Waterlight Graffiti Installation
Draw or write a message on the Waterlight Graffiti installation, and then watch it fade away thanks to the wall's thousands of LEDs that light up when in contact with water. 5-10 p.m. Inner Harbor.
If you want to rub elbows with celebrities:
Nov. 3: Karyn Parsons in Conversation with CBS Baltimore's Ava-joye Burnett
Hear from producer and author Karyn Parsons, best known for her role as Will Smith's cousin Hillary on The Fresh Prince of Bel-Air, as she discusses her award-winning series of children's animated films and debut novel. 3 p.m. Literary Salon, 701 E. Pratt St.
Nov. 5: Meet Celebrity Chef Carla Hall
Learn a few new culinary tips and tricks from beloved celebrity chef Carla Hall during her one-day appearance at the festival. 6 p.m. Literary Salon, 701 E. Pratt St.
Nov. 6: Meet Hill Harper
Pack the festival's literary salon to hear author, actor, and activist Hill Harper, known for his roles on The Good Doctor and CSI, talk with audiences about his life's work, including four New York Times bestsellers and seven NAACP Image Awards for his writing and acting. 6 p.m. Literary Salon, 701 E. Pratt St.
If you want to avoid the Inner Harbor crowds:
Nov. 1-3: Opening Weekend at The Ivy Bookshop
During the festival's opening weekend, attend readings and roundtables at The Ivy Bookshop, including a panel on the city's small presses and a presentation from revered local author D. Watkins. Times vary. 6080 Falls Rd.
Nov. 1-10: Neighborhood Lights
As per Light City tradition, bop around Baltimore to see how various neighborhood centers and library branches light up their outdoor spaces in honor of the annual festival. Times and locations vary.
If you want to jumpstart your literary career:
Nov. 1: The Business and Craft of Self-Publishing
The first day of the festival kicks off with a discussion at the Science Fiction & Fantasy Writers of America stage about what it takes to self-publish your work. Learn about the business savvy needed to publish and promote personal literary works from authors Scott King, Natasha D. Lane, and Alex Shvartsman. 12 p.m. 701 E. Pratt St.
Nov. 1: Welcome to the Hive: Collaborative Writing with Jamaila Brinkley, Rebecca Norinne, Terri Brisbin, and Christi Barth
Learn about the pitfalls and potential rewards of writing collaboratively during this roundtable talk with best-selling authors. Topics ranging from dividing up responsibilities between writers and settling creative arguments are fair game during this in-depth discussion at the Maryland Romance Writers stage. 3 p.m. 701 E. Pratt St.