These Instrument-Making Baltimore Brothers are Old-World Craftsmen
Meet Ryan and Aaron Fini of Perrin & Associates Fine Violins in Mount Vernon.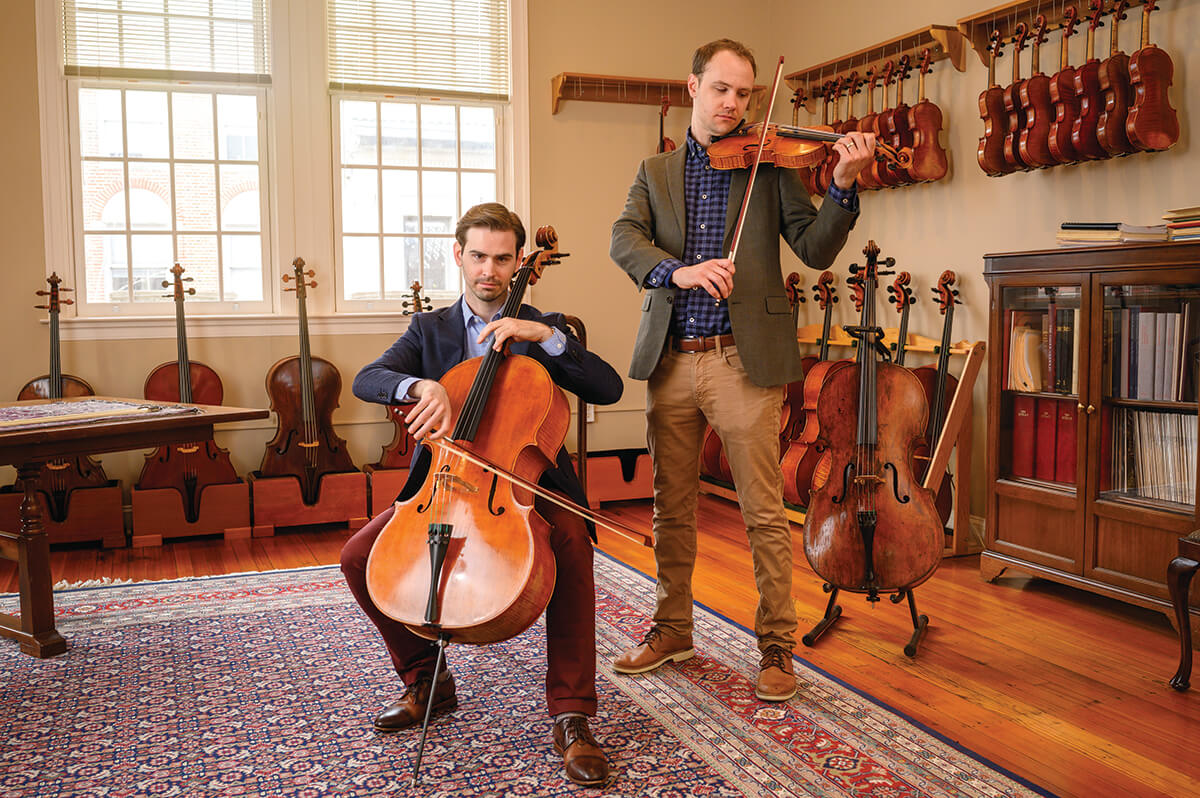 For decades, Mead Notkin searched for the perfect cello. A Silver Spring marketing professional who once dreamt of a career in music, he had stopped playing altogether out of his frustration at not being able to find an instrument to his liking.
"l'd been all over the East Coast," says Notkin, a hint of irritation, but mostly now relief and joy in his voice. "Then I went to Perrin and Associates looking for a bow and heard about their luthier, Ryan Fini, and basically played another cello Ryan made for two years while waiting for the completion of this cello," he says, handing the already beloved instrument (value: $36,000) to Ryan's brother Aaron.
Sitting in Perrin's sun-lit second-floor showroom in Mount Vernon, Aaron begins to glide a bow that he's made across the strings, filling the space with rich, baritone-like tones.
Just 32 and 35, respectively, Aaron and Ryan Fini, pictured left and right above, are essentially 18th-century craftsmen. Ryan, who studied music and architecture before being accepted into the prestigious violin-making program at Boston's North Bennet Street School, is believed to be the only violin, viola, and cello maker (the three instruments share a similar structure) in Baltimore. Aaron, who earned a master's degree in Cello Performance from the Peabody Conservatory, began working at Perrin first, rehairing bows for $12 a piece while in school up the street.
"That this small piece of wood can have such a huge effect on the sound you're able to get out of the instrument always fascinated me," he says. "I did some research and stole my brother's notes on rehairing. I'd done 600 by the time I left school and decided making bows was what I wanted to do. I started studying and apprenticing with Joshua Henry, who is a bowmaker in West Virginia and one of the best."
Soon enough, Roger Perrin, who opened the North Charles Street shop in 1994, saw the violins Aaron's brother was making back home in New Mexico and invited him to join the team. Focusing on violins—it takes him a year to produce four or five among his other duties—Ryan only recently turned more of his attention to cello-making, which, given their size, takes much longer.
What difference does a great instrument make in the right hands?
"I heard Mstislav Rostropovich play the Dvorak, Haydn C Major, and Tchaikovsky Rococo Variations at the Casals Festival in Puerto Rico at the height of his career in the 1970s as a child, and I remember being pressed back into my seat by the wall of sound resonating from his cello," Notkin recalls. "This cello can rise to the heroic accents and assertions of the great cello concertos, though not necessarily with the volume of, say, Rostropovich's Stradivarius. It also speaks with utmost intelligibility at the softest of tones, which means the player can completely relax in playing the instrument. In one week, it has transformed my playing from one of struggle to one of striving for perfect relaxation."
Obviously, it takes extraordinary skill to craft such an instrument; it also requires extraordinary wood. In fact, getting his hands on Pernambuco wood, used for centuries to make the finest bows, is an issue for Aaron. It only comes from the Atlantic rainforest of Brazil, with Pernambuco considered an endangered species—and illegal to harvest.
"The wood is so hard, it takes a decade to dry," Aaron says. "And it's so hard to get, I have to get most of my wood from auction after a bow maker passes away."
The raw material for Ryan's instruments, while not as threatened, takes a similarly long journey to his studio. Since Stradivari and Giuseppe Guarneri established themselves as the world's greatest violin makers some 300 years ago, the front wood of violins and cellos has come from spruce trees in the Italian Alps. Historically, their backs have been made from prized Bosnian maple.
"I don't have first-hand knowledge, but I've heard landmines left over from the Bosnian-Serbian War, and even shrapnel embedded in the trees, make gathering the wood dangerous," Ryan says. "Sometimes, you hear wood that isn't from Bosnia is sold as 'Bosnian maple,' that it's from Montenegro. But I don't really care as long as the quality is the same and you can see visually what you're looking for—the silky velvety texture—and I can measure the density and other mechanical properties."
No matter where his wood originates, Ryan adds, it will spend years drying and cycling through temperature changes in his attic before it's ready for his band saw and hand planes.
Meanwhile, one of his violins can be heard in the Baltimore Symphony Orchestra, which is convenient in that it allows him to watch his handiwork at play.
"Honestly, it feels great to see that because that's why I'm doing this," he says. "The same violinist actually just played a concert in Carnegie Hall and he sent me some pictures. He's like, 'Here's your violin at Carnegie Hall.'"