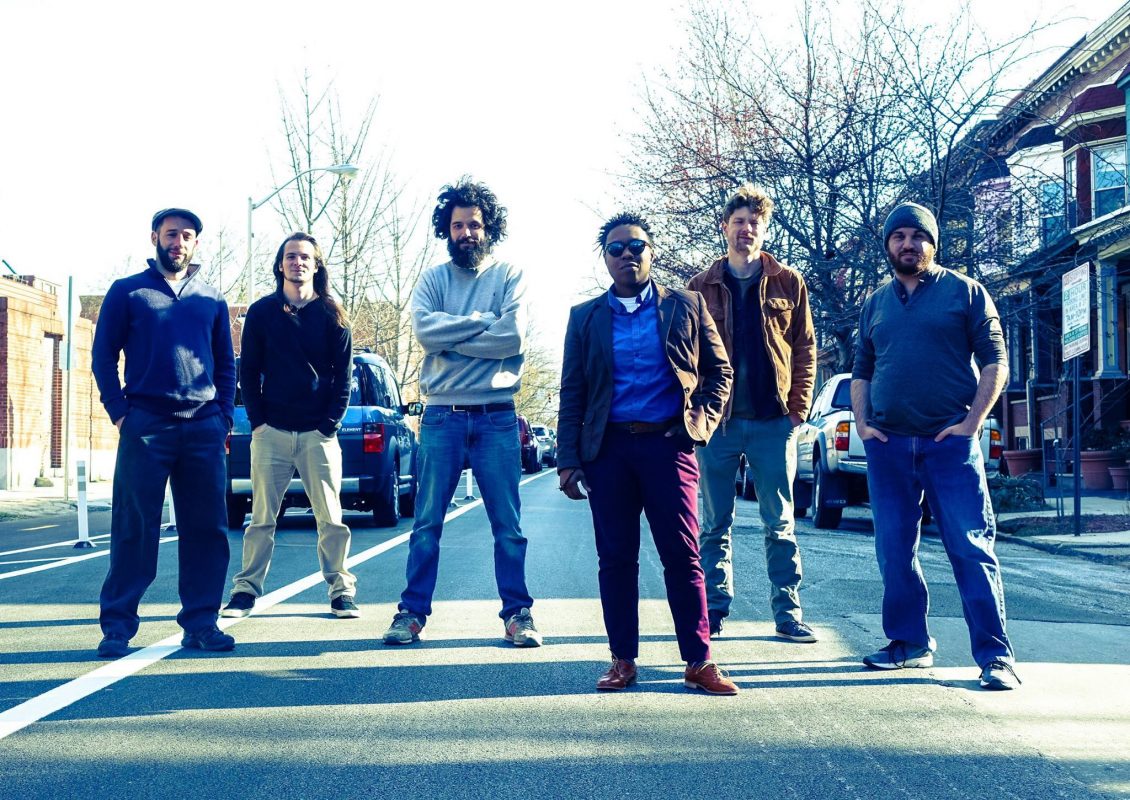 Hannah Friedland
Jasmine Pope, frontwoman of J Pope and the HearNow, has been a powerful presence in Baltimore's music scene for years. Her band is making waves right now for its debut album, Soul Searching, which was released this summer. She joined us to talk about influences, juggling practices with day jobs, and the band's first Artscape performance.
 I know people are familiar with you from outlets like the Baltimore Boom Bap Society, but tell us what the essence of J. Pope and the HearNow is.
 We are two entities that came together—me, J Pope, got together with Funk Friday around 2009, 2010. They were going to Goucher College and I had done a show there and they were the house band. We hit it off and since then we've been performing together. They were Funk Friday without me and our sound changed as we started performing together more. It shifted from funk and we started getting into alternative, soul, hip-hop, a bunch of other things other than funk. The name change came about because we didn't want to be pigeonholed as just a funk band—we wanted something that captured everything it is that we do.
How would you describe your sound? 
We had more of a jam band sound, but our sound now is much more intentional. Jacob Kohlhas, our guitar player, does a good part of our musical arrangements, so I'll do lyrics and an arrangement of vocals, but Jacob is very precise and has a lot of wonderful ideas about dynamics in the music. Where we used to be loose and jamming, we're now precise with swift changes now, and I think this album captures that. It comes off well in our live performance, but for a few years we've been trying to capture it in our recorded pieces and we hadn't gotten it exactly how we wanted it to be until we hooked up with [producer] Wendel Patrick and he was shaping that sound and bringing it out during the recording sessions. 
I feel like I hear this brought up a decent amount in Baltimore, where evolution of sound has more to do with a community of people who come together and work together.
I completely agree. The beautiful thing about Baltimore is, even though it's a smaller city, our scene is really robust and tight-knit and that's across genres. Being able to work with different folks, from what I do with Boom Bap and our performance with the Baltimore Symphony Orchestra, the different kinds of music that we do influences what we do when we come together. Our drummer plays with the Bumper Jacksons, which is a completely different type of music than we play, our saxophone player has a basis in jazz, but can play anything. Every experience we have as individual musicians translates when we come together to compose and write. I think that's another reason why our sound has evolved because we just individually as musicians are interacting with the community of folks who are around us. There aren't many cities that you can go to where you can hear someone who's classically trained on violin and a throat trumpet player and a classically trained opera singer from Peabody Conservatory and me. It happens in Baltimore regularly, and I think that's just so unique, and gives us an opportunity to make sounds that you aren't able to find in other places.
I wanted to ask you about what has influenced you and got you into music. 
So I came to music probably the way most brown girls will tell you they did, which is through the church. There was a gospel group that would come to my grandmother's Baptist church. They were five sisters and the only instrument was a piano that one of the sisters played, and they performed like there were 1,500 people watching, even though that church probably held about 200 and probably had only had 45 people in the audience. But the energy they created when they performed had me awestruck, and they came every year to the church, so that made me more interested in music. As I got older, I started getting into Donny Hathaway and Nina Simone. I heard Lauryn Hill and saw that girls could sing and rap and I was ok, I can do this. I was in a gospel/rap group when I was in high school in Prince George's County, and our administrators would let us out of school to go to other schools and perform. That started everything, and when I went to college at Towson University is when I started my first band. I had a history of jazz class there and the professor gave us the option of writing a paper for our final project, or forming a band, and little did he know there were some pretty amazing musicians in the class. I ended up forming a band and we did good stuff and we ended up staying together for five years. I stayed with them until I started rocking with J Pope and HearNow.
So what do you have planned for Artscape?
We've played Artscape a few times, but this is going to be our first time together as a band. Wendel Patrick will be accompanying us, and we're also going to have a background vocalist that we hope will make our live show feel a little bit bigger since this is a bigger venue. We're going to do a lot of really cool surprises, and we're going to do what we always do which is have fun and entertain.
Now that the album is out, are you thinking about future plans for you and the band?
I've wanted to do another solo, straight hip-hop album, probably because my little brother is always like, "Yeah, this is great, but when are you going to do more rap?" So I've been kicking that around in my head and writing a little bit. As a band, we're writing new music. Once we finally finished this album, it felt like a permission slip to be able to write new music. We've been writing and practicing and writing and practicing.
One thing I don't think most people understand is the time commitment that's required to be in a band like this. Can you talk a little about what your schedule is like?
(laughs) I also work a 9 to 5 job—I run an HIV and sexually-transmitted infection prevention program with Chase Brexton—so between that and having a five-year-old, I  practice with the band every weekend and sometimes during the week, getting off work at 5 and practicing sometimes 6:30 to 11. But that's just my schedule. Most of the guys in the band teach music professionally, so they're up early to do that, and then they practice all day individually, and they also gig with other bands. It's really about juggling, but we've been together for a few years, so I think that testifies to the commitment we have. We'll do whatever it is we need to do to make sure we can continue to make music together.