New Book Chronicles Life of Senator Daniel Brewster, the "Golden Boy of Maryland Politics"
Former state house reporter John Frece captures Brewster's very public highs and lows—and his quiet, three-decade recovery from alcoholism.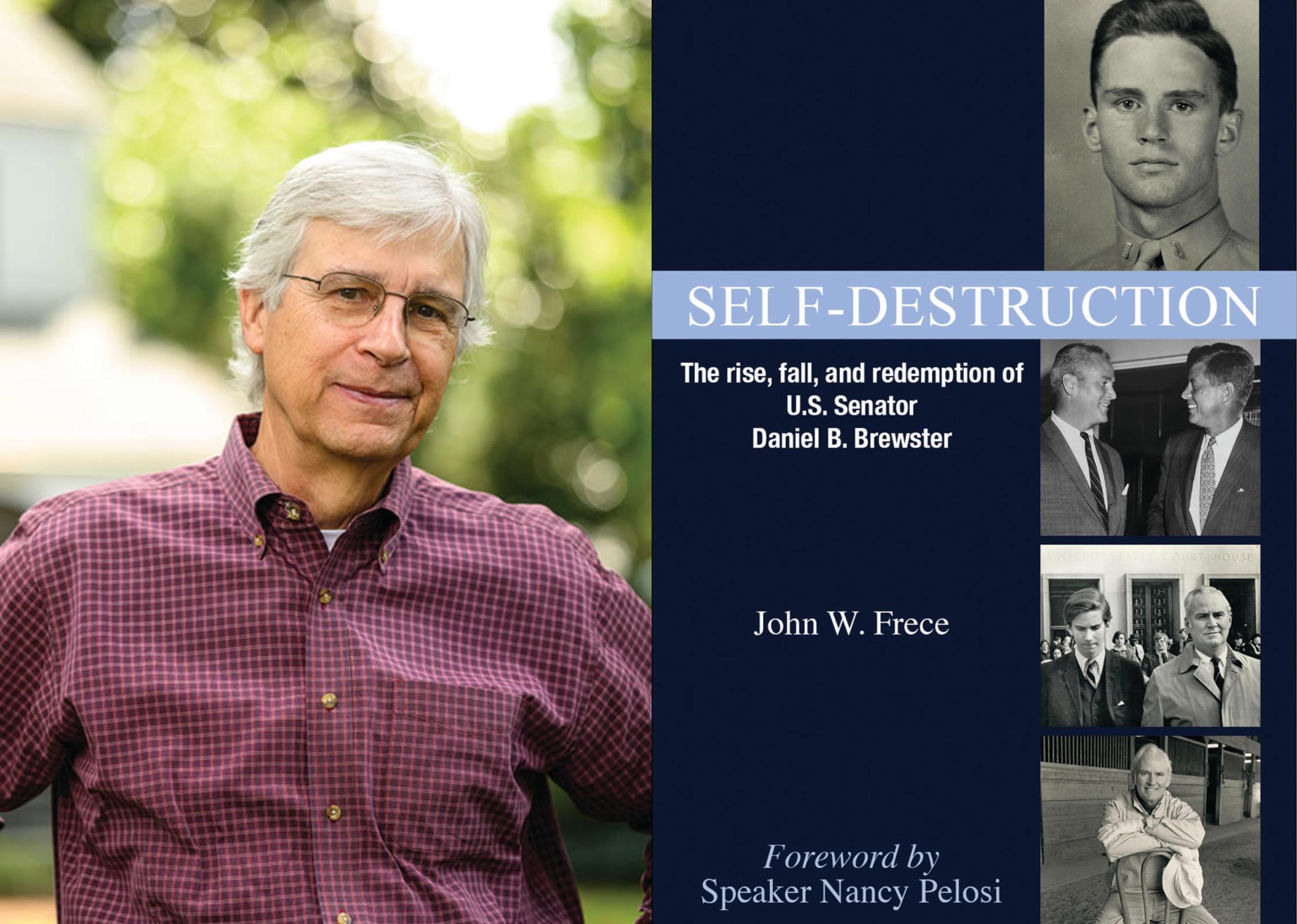 "Blue Blood" hardly begins to describe Daniel Brewster. The former U.S. senator descended from both a Mayflower passenger and Founding Father Ben Franklin. Raised on a Green Spring Valley estate near Wickliffe Castle (now Maryvale Preparatory School), built by his grandparents, he was educated at Gilman, St. Paul's School in New Hampshire, and Princeton University before going off to World War II.
After earning a Bronze Star and Purple Heart during the battle of Okinawa, Brewster became known as "the Golden Boy of Maryland Politics" following election to the House of Delegates at 26. His career and life, however, unraveled not long after he won a seat in the U.S. Senate due to his worsening addiction to alcohol.
In Self-Destruction: The rise, fall, and redemption of U.S. Senator Daniel B. Brewster, former state house reporter John Frece captures Brewster's very public highs and lows—and his quiet, three-decade recovery from alcoholism. The author of four books, including biographies of former Gov. Harry Hughes and former Sen. Joseph Tydings, Frece's examination of Brewster's compelling story—and the surrounding context of state and national politics—should not be missed by Maryland politics buffs.
One early thing in the book is this glimpse into the monied, Philadelphia-connected society in northern Baltimore County. F. Scott Fitzgerald and John F. Kennedy attended local parties and steeplechase races. There's embedded political power, too.
Money is political power. There are still huge estates and extremely wealthy people there, like [Kevin Plank], who runs Under Armour. It's valleys and hills all the way toward Philadelphia, where Brewster's first wife was raised. Her father and Brewster's father raced against each other in the Hunt Cup.
The entries from Brewster's handwritten war diary also jump out early on. In particular, his heartbreak at 19 when his fiancée ends their engagement, and his subsequent brutal combat experience in Guam and Okinawa.
After his engagement to Anne Bullitt fell apart, he actually used her [diplomat] father to get himself transferred to the South Pacific so he could get in a shooting war. He didn't care whether he lived or died.
From his experience fighting alongside Black U.S. troops, Brewster becomes a lifelong supporter of civil rights.
Yes. There were lots of stories of Black soldiers returning from the war, especially in the South, being treated like they were before the war, and horrible things happening to them. Brewster couldn't stand that.
When he joins the General Assembly in 1950, it seems like a mash-up of a boardroom and a college fraternity. When he enters Congress in 1959, it's more of the same, but with better suits. Less fraternity house, more Mad Men?
That's a good way to describe it. I talk about some shenanigans he and his cohorts were involved with in the General Assembly. I'm sure Brewster had no trouble finding someone to drink with. [Sen.] Tydings told me about prominent U.S. senators who had full-scale bars set up in their offices.
You note his father drank himself to death and speculate Brewster was also likely dealing with PTSD from the war. The consequences are severe—two divorces, broken relationships with the children from his first marriage—and eventually the loss of his Senate seat and indictment.
He has a tough Maryland presidential primary campaign [standing in for Lyndon Johnson in 1964] against George Wallace and he's drinking more after that. Then, he's reunited with Anne Bullitt, now breeding horses in Ireland, and ends his marriage to quickly marry her. He loses his re-election, continues to drink more, and the next thing, he's at an Irish hospital for seven months.
What's he grasping for when he leaves his wife for Anne Bullitt? He's got a beautiful family and stature on Capitol Hill.
He's trying to rekindle that feeling he had at 19, being in love with Anne for the first time. It's a midlife crisis fueled by alcohol, which totally corrupts all your decision-making.
Brewster eventually finds sobriety along with a woman he meets in rehab who becomes his third wife. Despite his issues, people generally seemed drawn to him.
One thing people kept saying was that when you spoke with him, he looked you in the eye and you had his attention. He wasn't looking, as politicians often do, over your shoulder to see if there is someone more important to go talk to. When Brewster talked to you, he talked to you because he was interested in what you had to say.